IWC Masterclass
Amsterdam, September 11, 2008
reception at IWC headquarters
A few months ago, my colleague and I got an invitation from my jeweler to visit the IWC Masterclass event in Amsterdam in the Richemont offices. Needless to say, I was more than delighted! The event would start at around 18:00 hours and since the Richemont offices are located in the centre of Amsterdam, parking would have been a major issue. Our jeweler however, arranged transportation to and from the event. This had another advantage since in the minibus we could get to know the other invitees. These events are always a great way to get to know other watch fans and this one was no exception.

The trip to Amsterdam was quicker than expected, for once there were almost no traffic jams. It's a good thing it didn't rain, otherwise we would have been seriously delayed. You should know that in the Netherlands, the saturation of the roads reaches a point where even a small problem can cause major obstructions.

The Richemont offices are very impressive and we were welcomed by Olav and a few of his colleagues. We took the elevator up and were greeted with champaign and very nice hors d'oevres. There was a nice display of IWC watches which we could examine closer later on.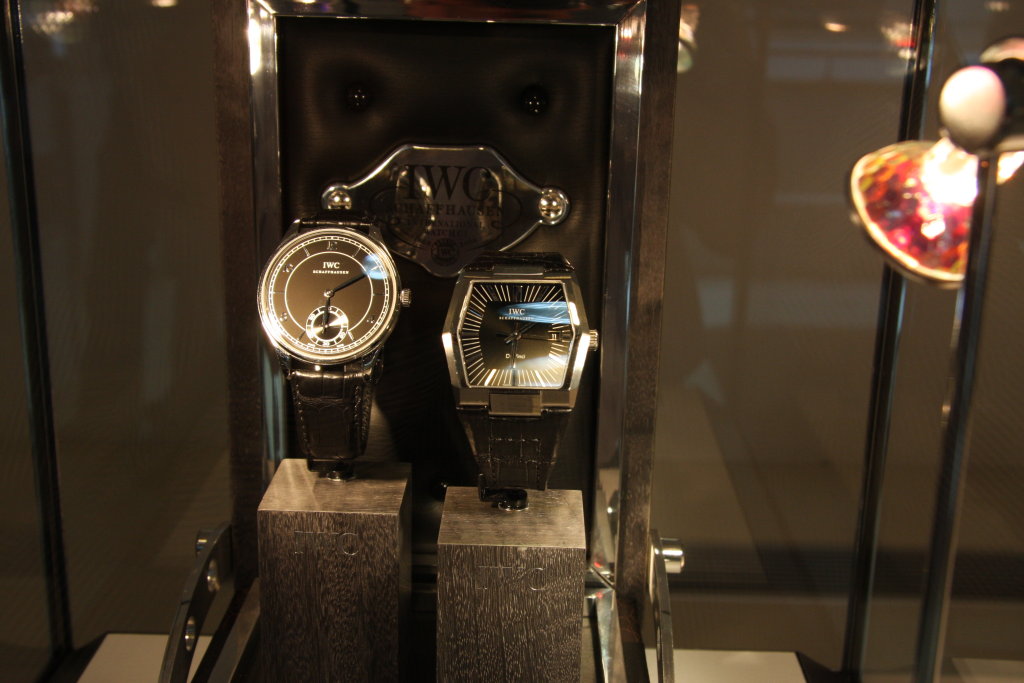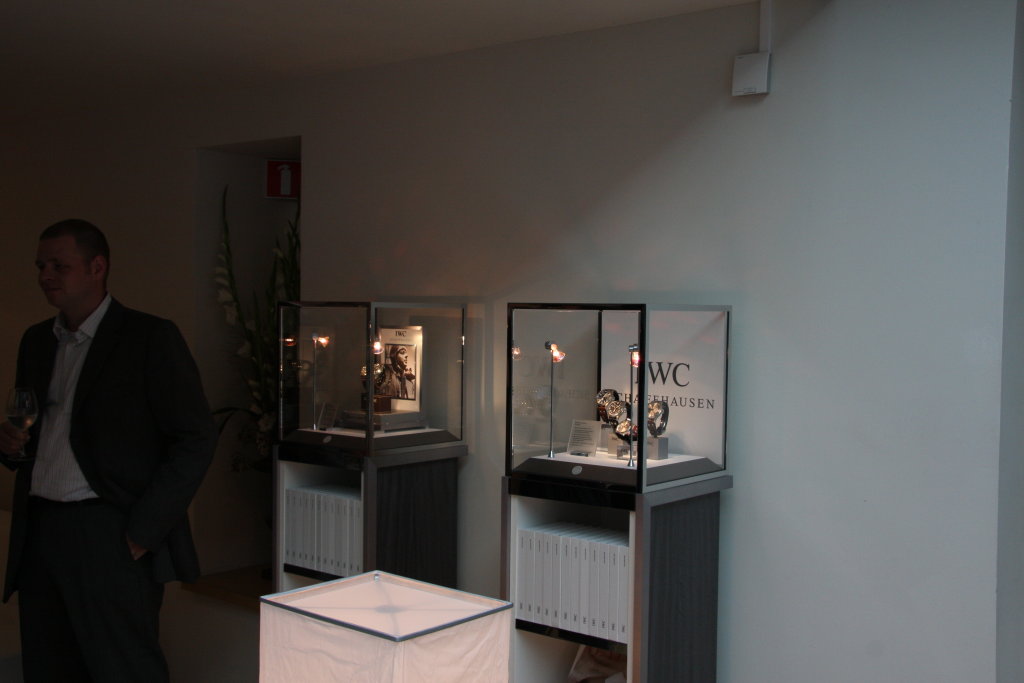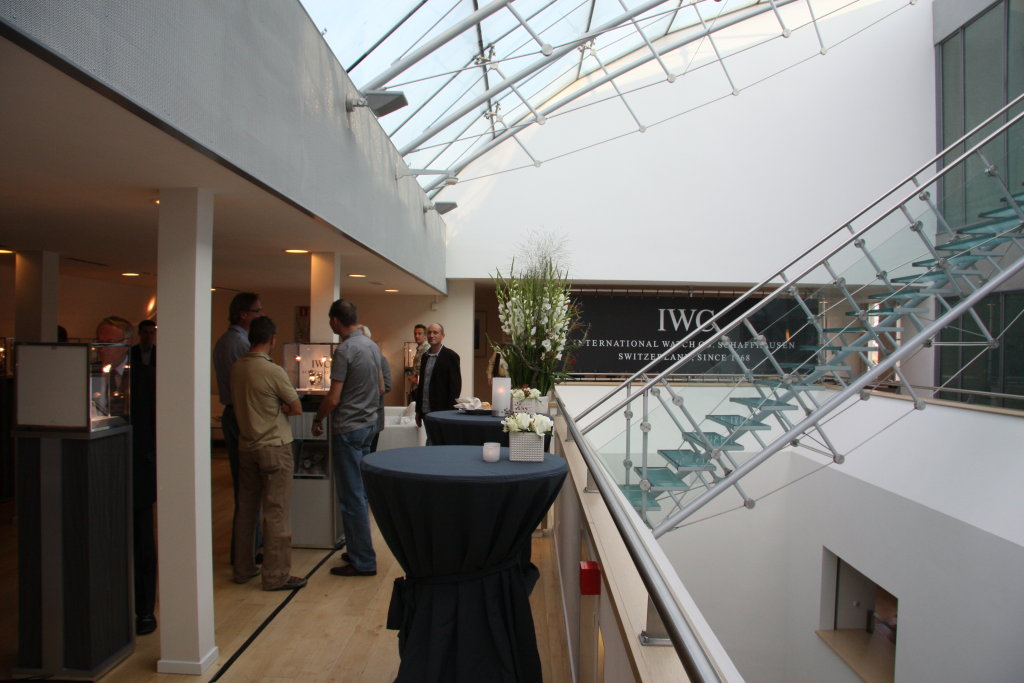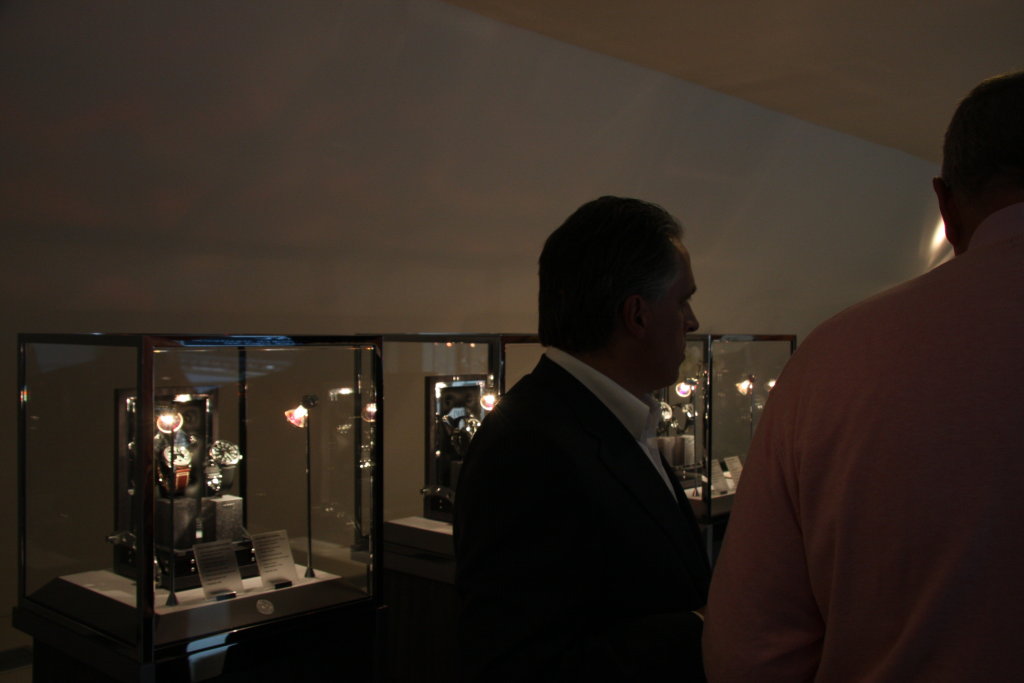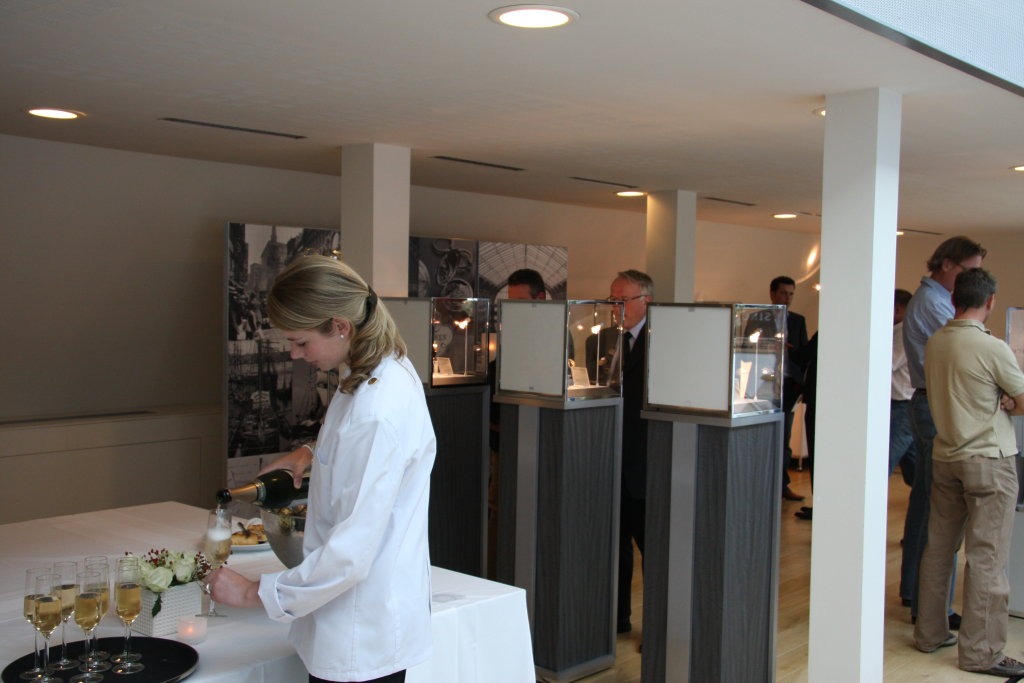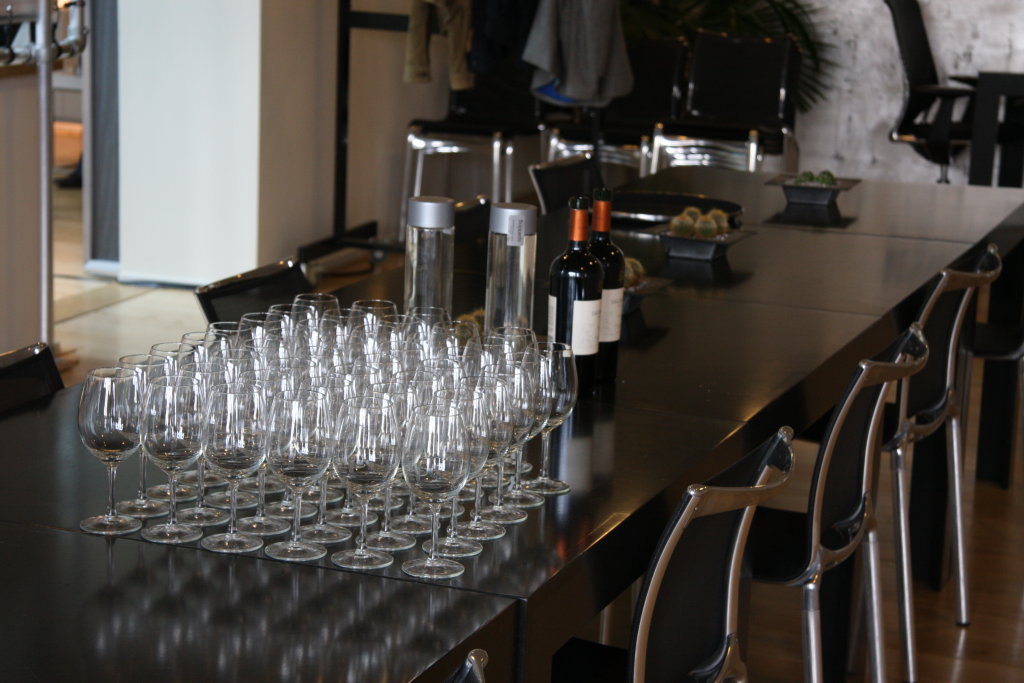 After a meet and greet, we had a wonderful dinner with lobster and a very nice desert, all of this accompanied by great wines. I decided not to drink too much, I knew we still had some work to do and I wanted to have a clear head for this!
Doing some serious work on an IWC movement
At about eight o clock, we went up a floor, traversing a magnificent 'vide' by a glass staircase. In the upper room, IWC placed about a dozen of watchmakers workbenches, several with two black boxes and a few with only one. Since I brougt two cameras, I decided to pick a bench with only one box. That way, there wouldn't be anybody looking too closely over my sholder either.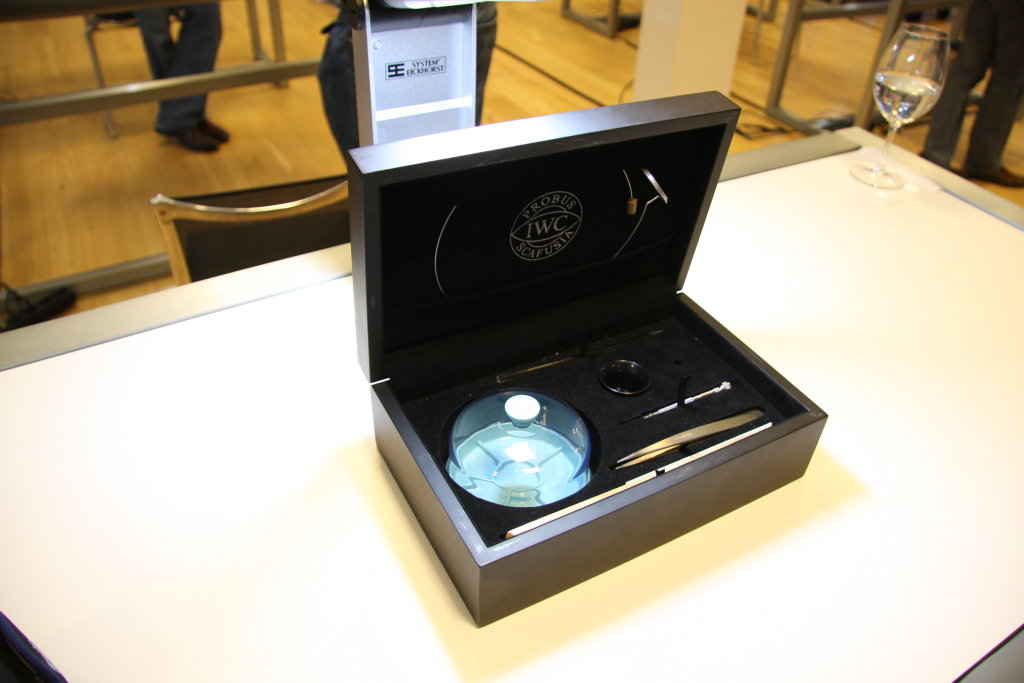 First, we got an introduction about IWC and the different lines of watches, followed by a video about the new Vintage line. I believe it was the video that also came with Watch International.
After this video, Olav presented the watchmakers to us. There were three, of which one spoke Dutch because his mother is from Belgium. This made the introduction a bit easier to follow. He explained us how a watch works and also told us explicitly what parts not to touch. Another Masterclass was scheduled for the next day and he told us that if we broke too much, he wouldn't get much sleep. Since we didn't want to have him working all night on the broken movements, we promised to be as careful as possible.
We were going to take out several parts of the movement, helped by slides and a magnified view of the movement from the watchmaker so in theory, nothing could go wrong.
Since I was very concentrated on working on the movement, I only took a few pictures and don't remember exactly the order of things but I will give it a try.
First, I had to remove the power from the barrel. For this, you hold the crown with one hand and with a pair of tweezers in the other, you have to pull out the blocking mechanism and gently let the crown slip through your fingers. I managed after a few tries and the movement stopped ticking. Then, I removed a tiny part from the dial side, the part that holds the hour and minute hands.
After that, the bridge over the crow could be removed and then the barrel could be take out, taking care not to hit the cente wheel. Then, some other bridges and a few wheels could be carefully removed. Needless to say that we were not supposed to touch the escapement!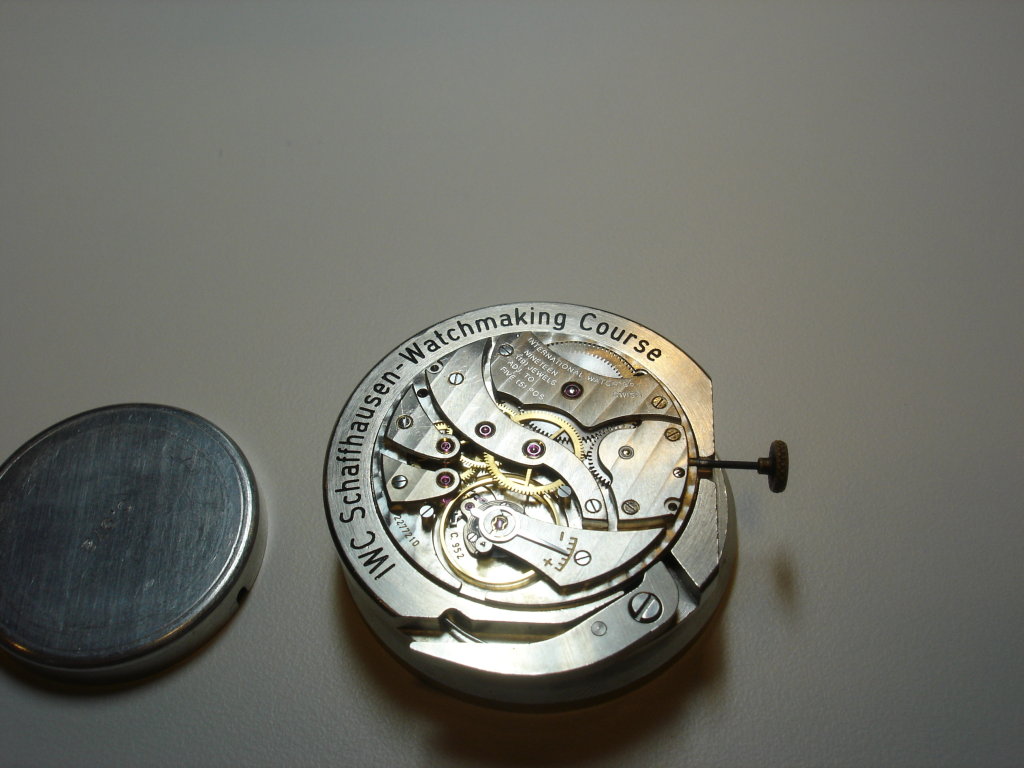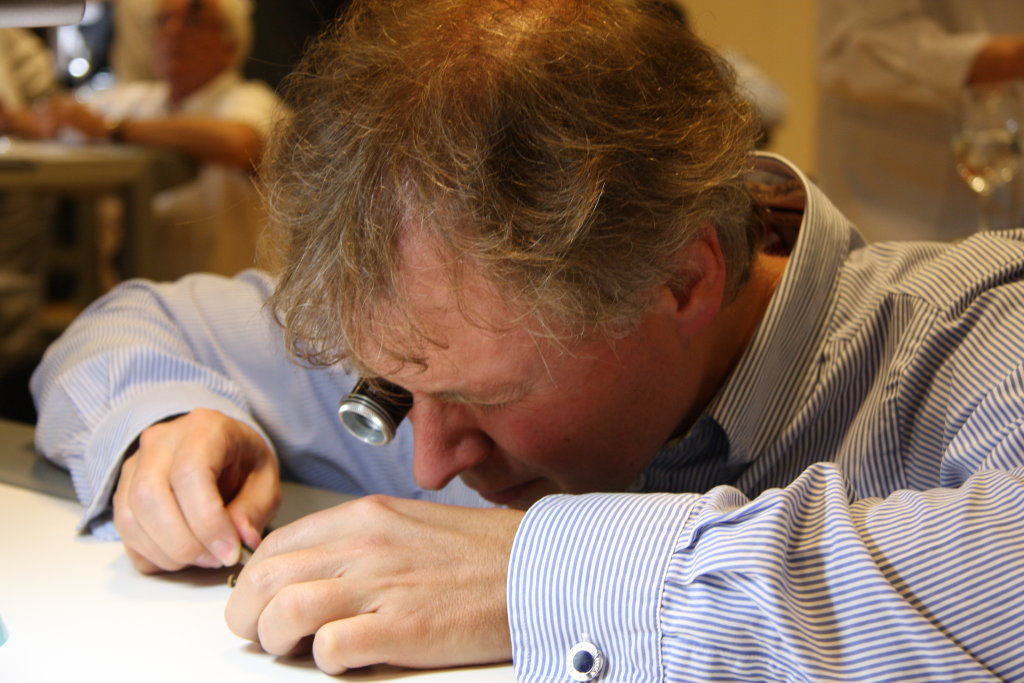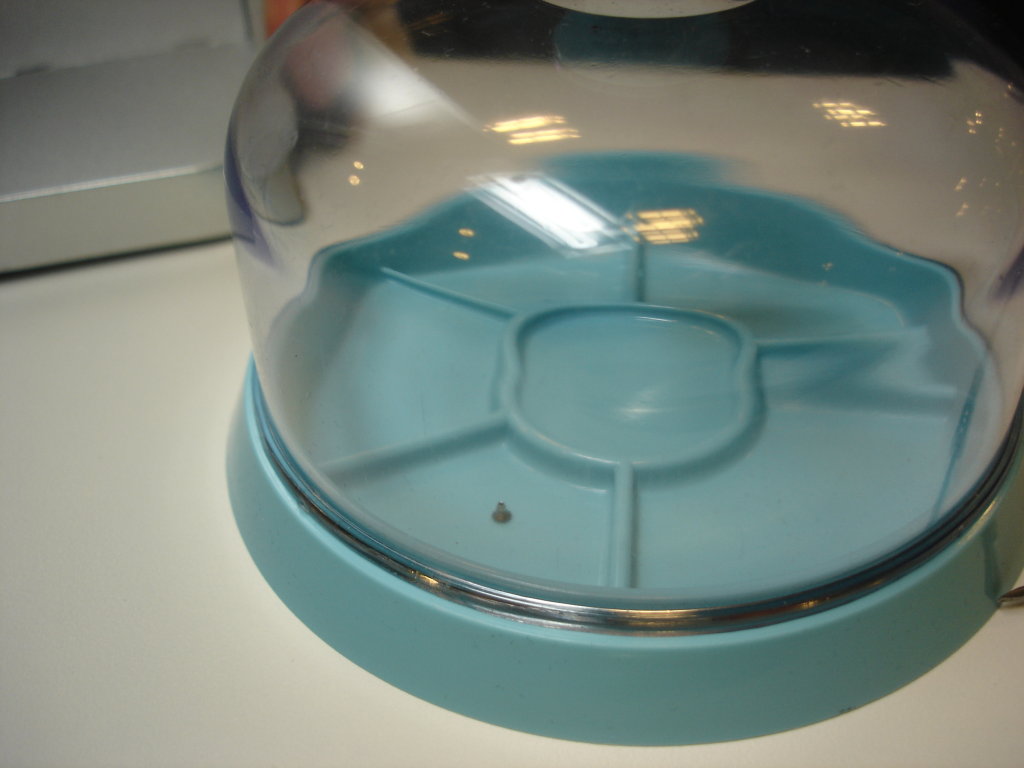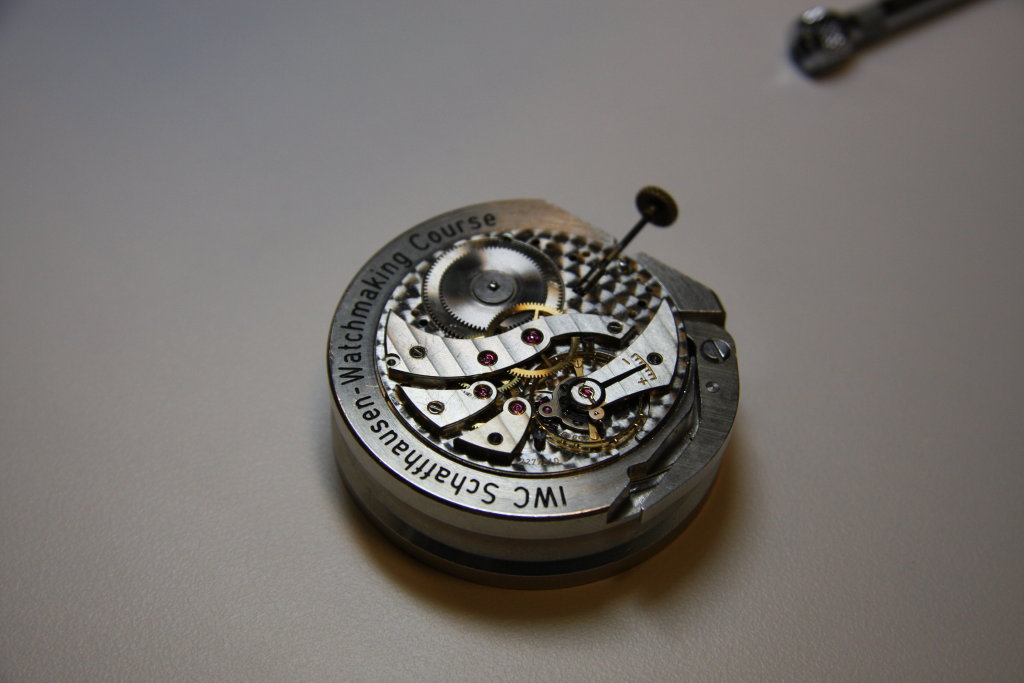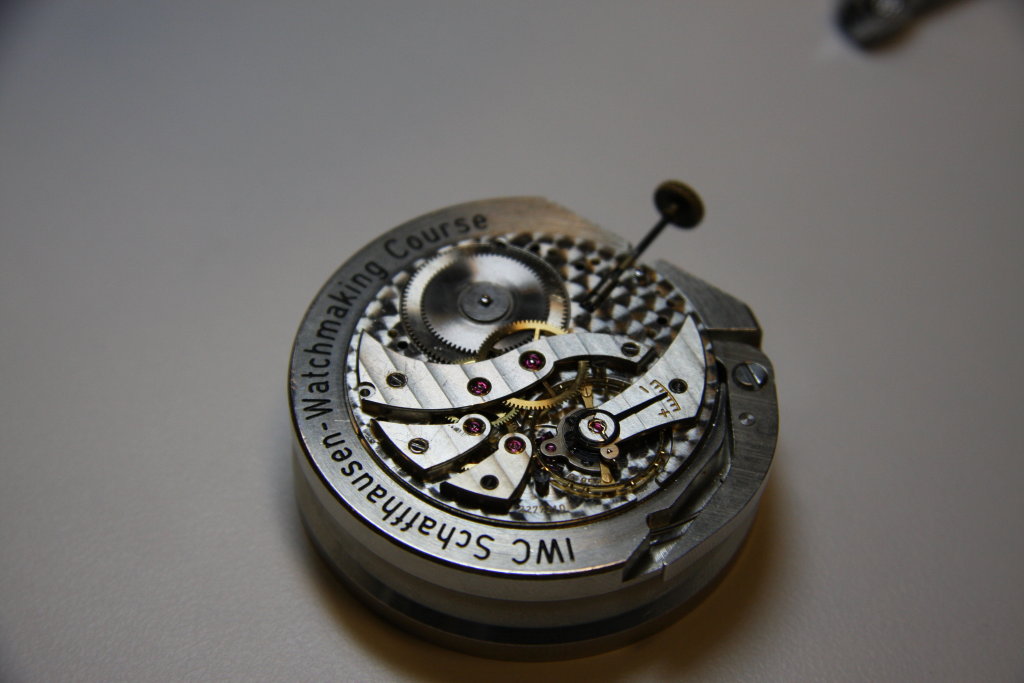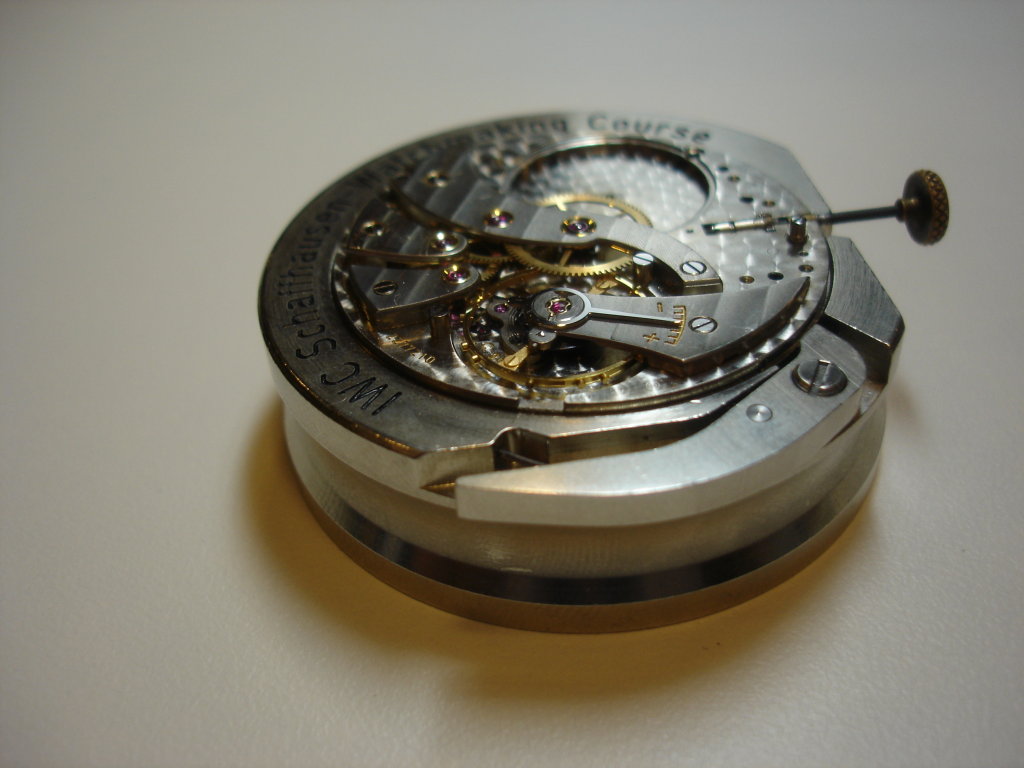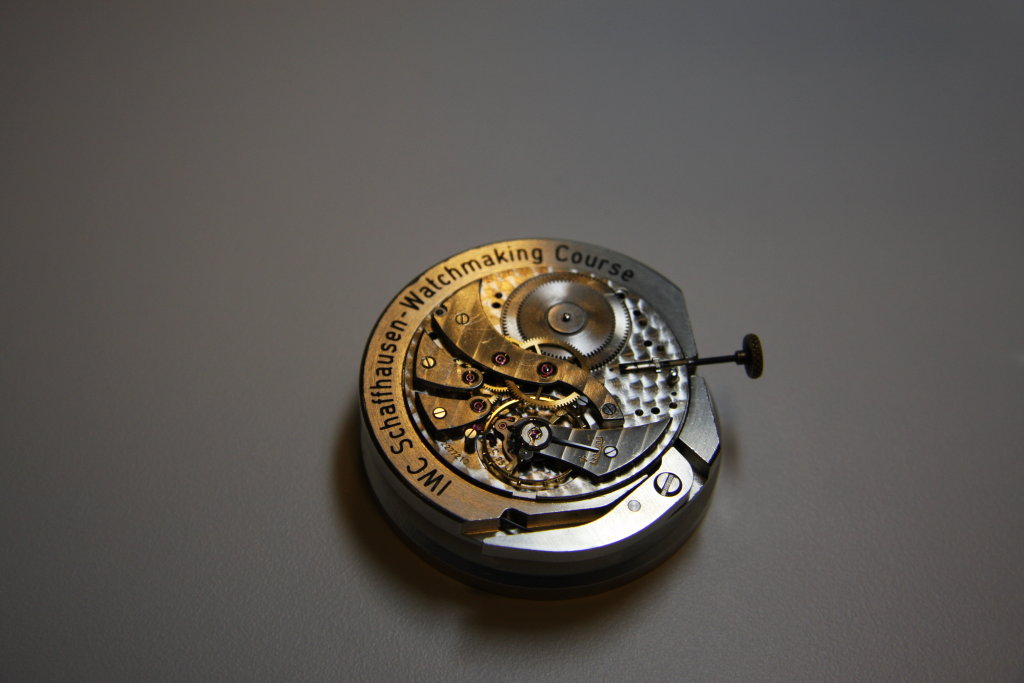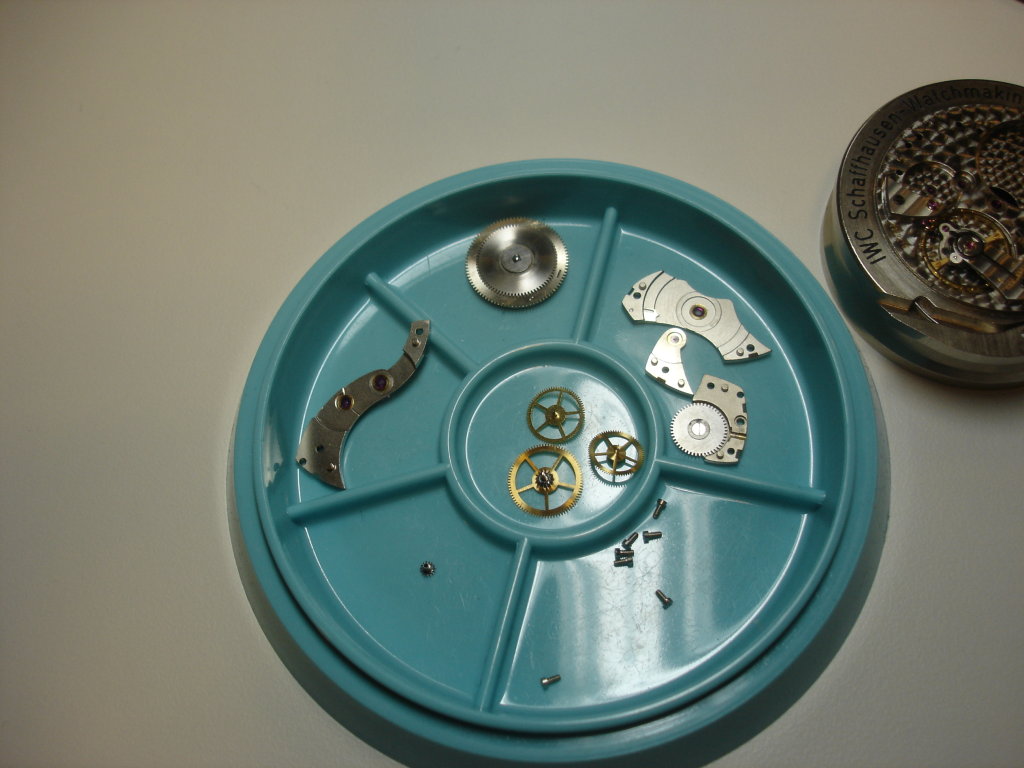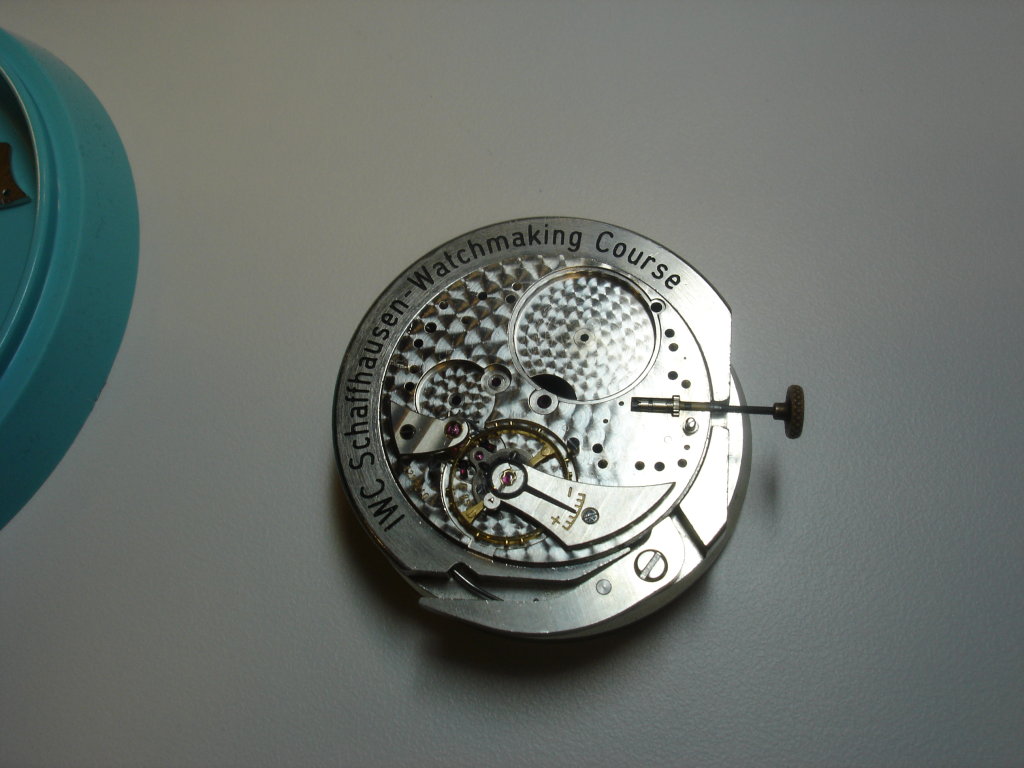 When all the parts were removed, we put them back in the right order and when I was done, the movement was working again! This means, I passed the test and got my certificate. It does not mean that I now feel confident enough to take apart my own watches. I leave this to the experts and simply enjoy my timepieces in one piece.
A few pictures to show the atmosphere of the 'atelier'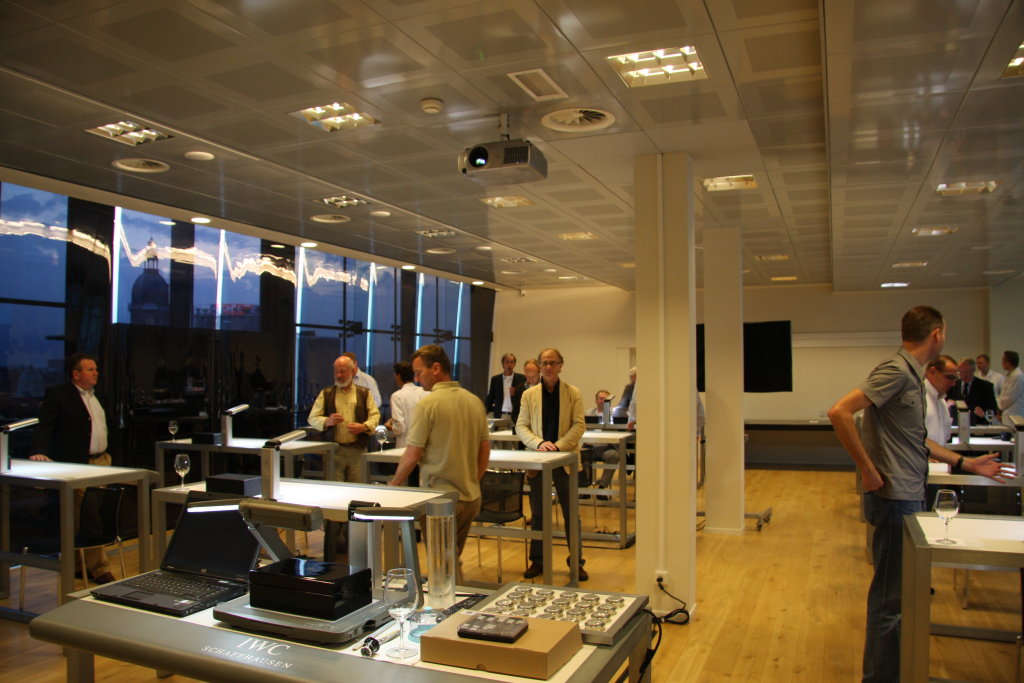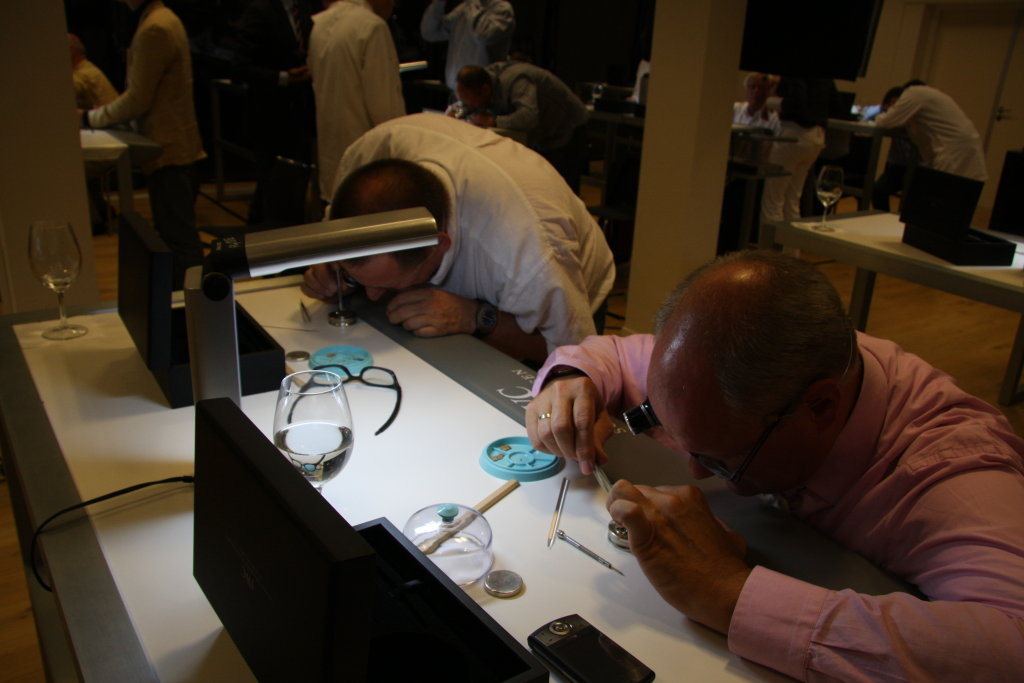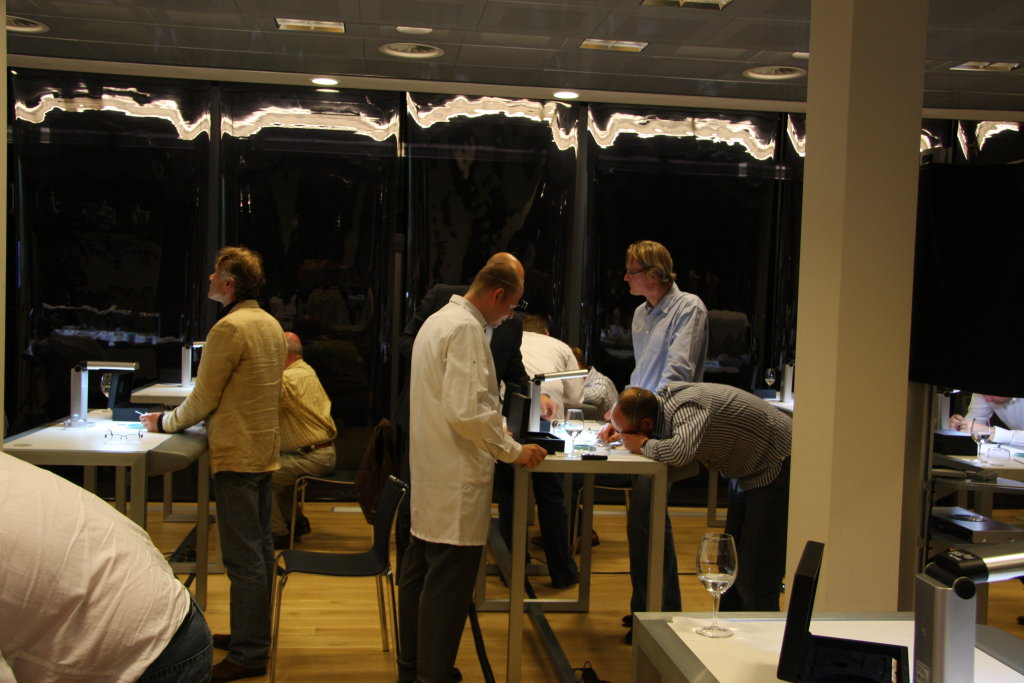 After the repair job, there was still time to look at the lovely watches on exposition. I had the chance to see the Big Pilot 'Father' watch and I have to say that I prefer both the steel and white gold dials. I was discussing this with one of the other guests who was very interested in the Big Pilot and a week after the event, I heard the he bougt the Big Pilot in steel. This meant that the one that my AD had in stock was sold, which made me feel a bit sad...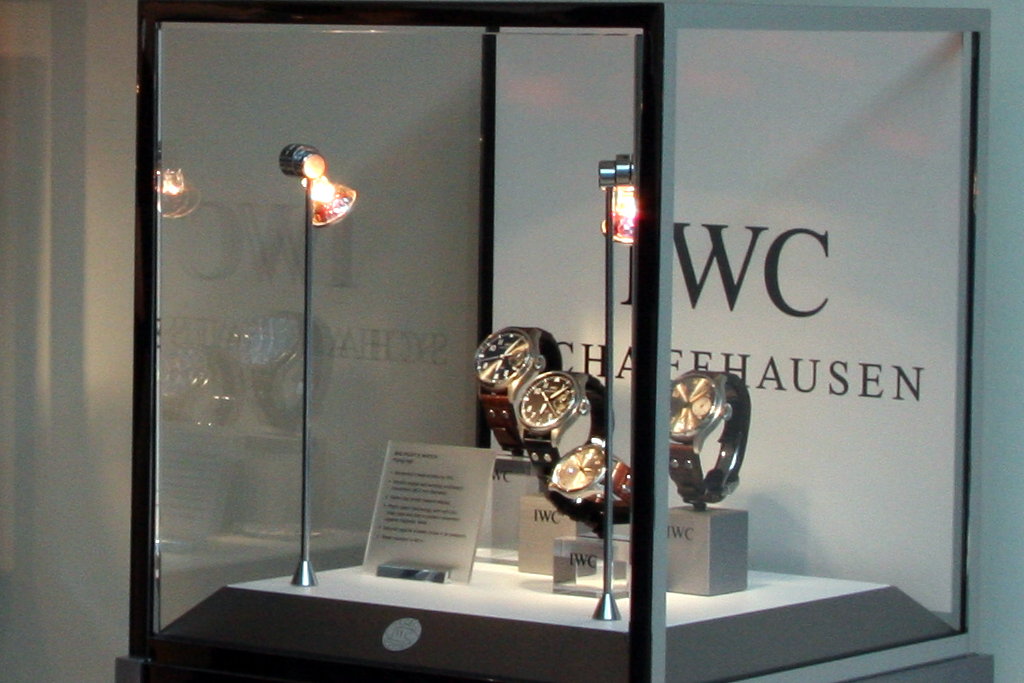 The VC Portuguese Automatic is a lovely watch and it looks great on my wrist too. Unfortunately, the picture is not that good but at 1/8 second and without tripod this was the best I could do.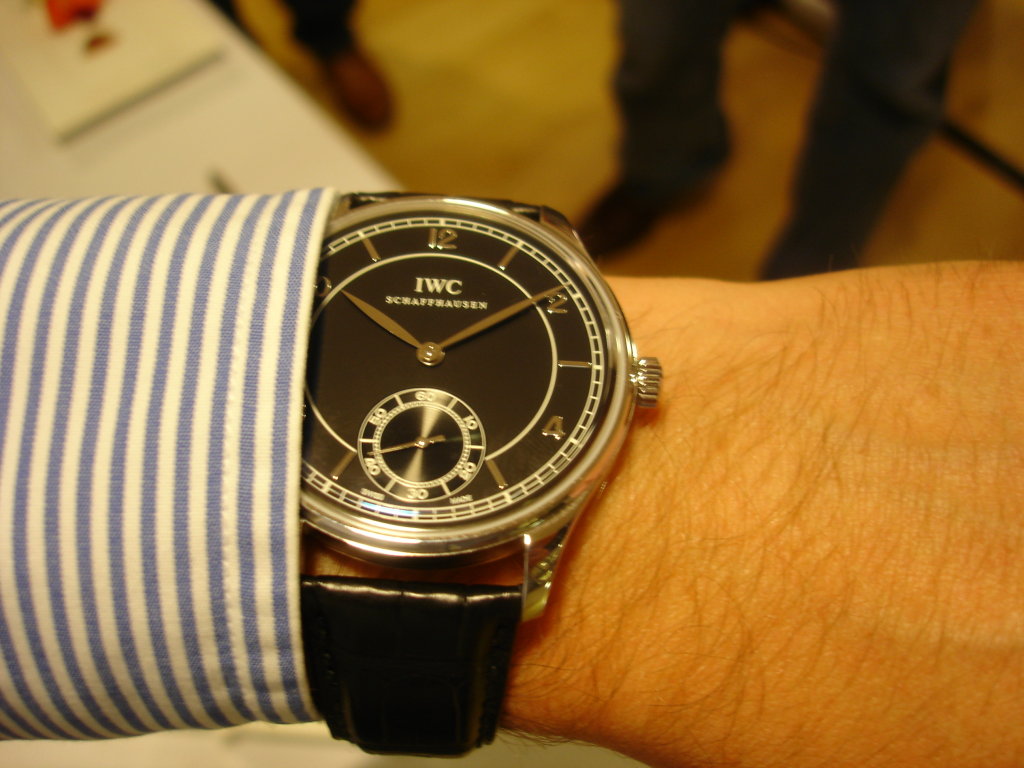 The biggest surprise of the evening was the VC Da Vinci. Even though several guests said they didn't like the looks of this watch, their opinion changed once they put it on their wrist. I don't know if it changed their opinions enough to make them buy one, but I will ask my AD that later.
We had a great evening and I want to thank IWC and my jeweler for this great event. I hope you enjoyed reading this report, I certainly enjoyed writing it and hope you will be able to attend one yourself.