IWC Ingenieur Experience Day at Circuit Park Zandvoort
On May 7, I was invited for a magnificent IWC Experience Day on the racetrack of Zandvoort in The Netherlands.

The event was held several times and on Tuesday, there was room for a few enthusiastic Benelux Forum members. One had to be active on the IWC forum, live in the Benelux and be the owner of an IWC Ingenieur watch. Since places were limited, a 'first come first served' inscription was opened and I was delighted to be one of the few to obtain a place!

Needless to say, the watch of choice to wear to the Event, was my trustworthy Ingenieur 322701: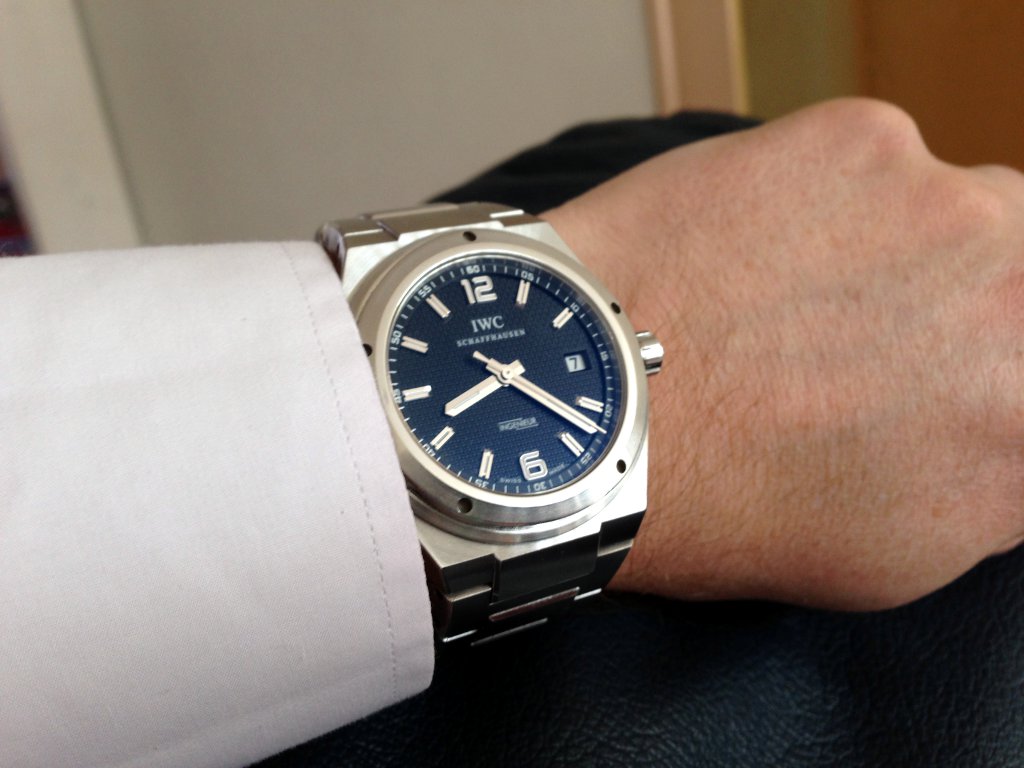 In the morning, a Forum friend came by to visit me at my workspace and we had a good time and were already quite excited about what was still ahead of us. The event started at 15:00 and since Zandvoort is quite close to where I live & work, it didn't take long for us to get there.
Arrived at Circuit Park Zandvoort, I noticed the Honda NSX of another good friend. This is a magnificent race-machine and to see it there was quite fitting.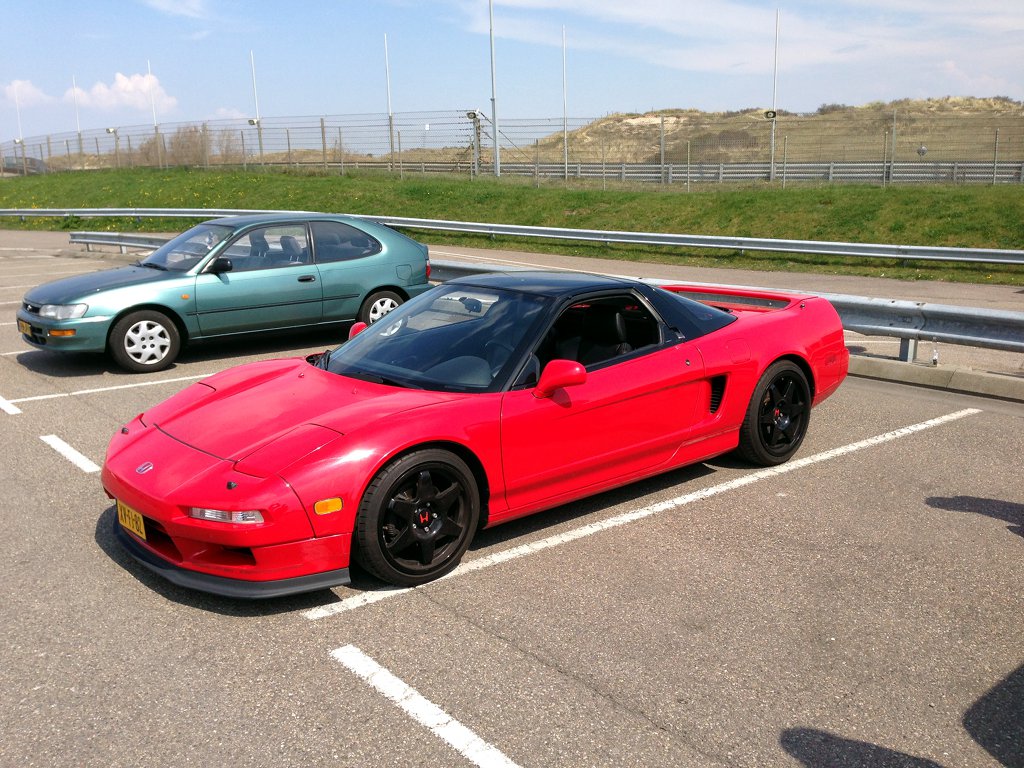 Picture of the 3 liter six-cylinder engine.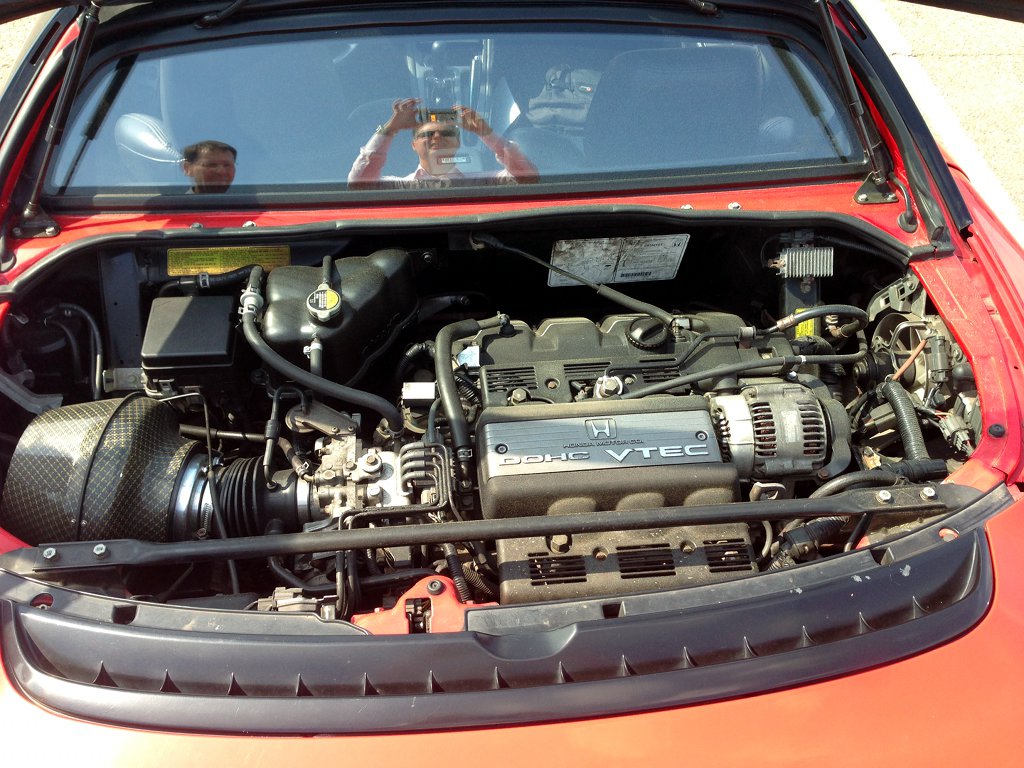 As you can see in this shot, this car is really low!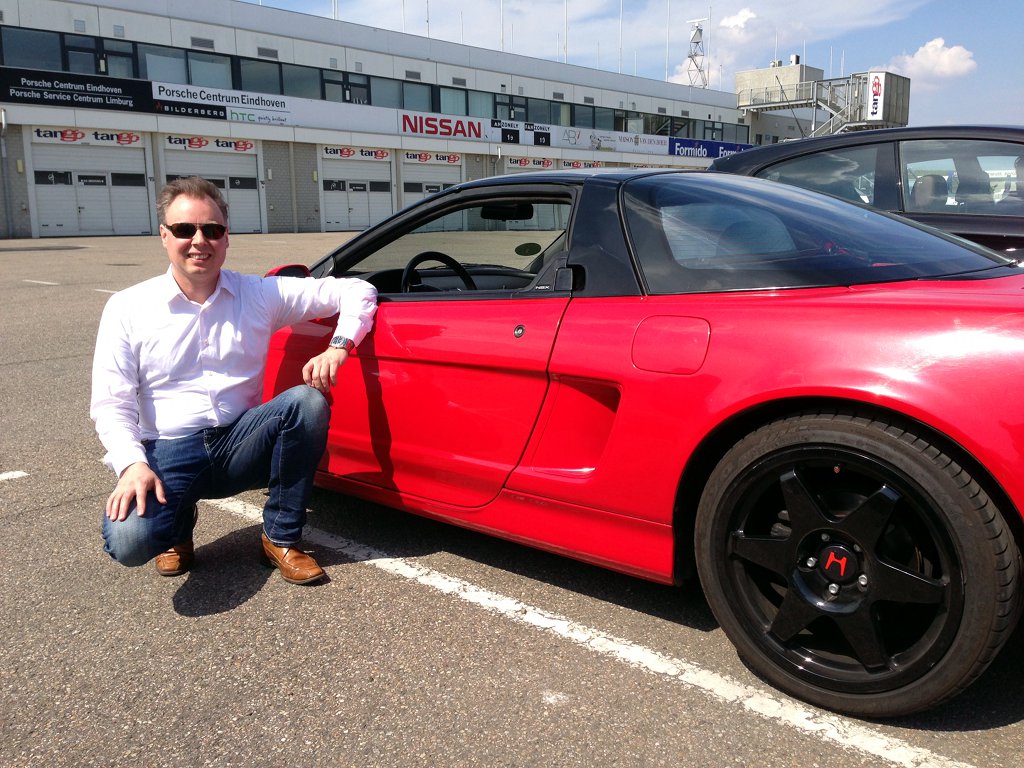 When we went upstairs to the VIP room, we saw a display box with three Vintage IWC Ingenieur watches: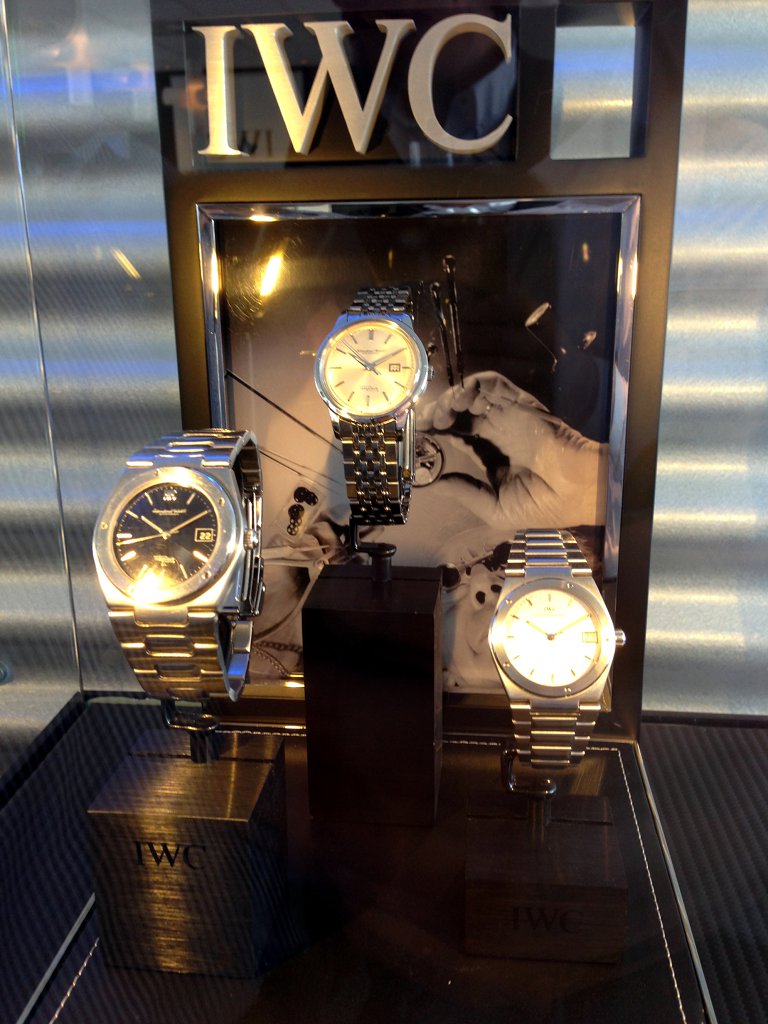 We were welcomed by some lovely ladies serving Champagne: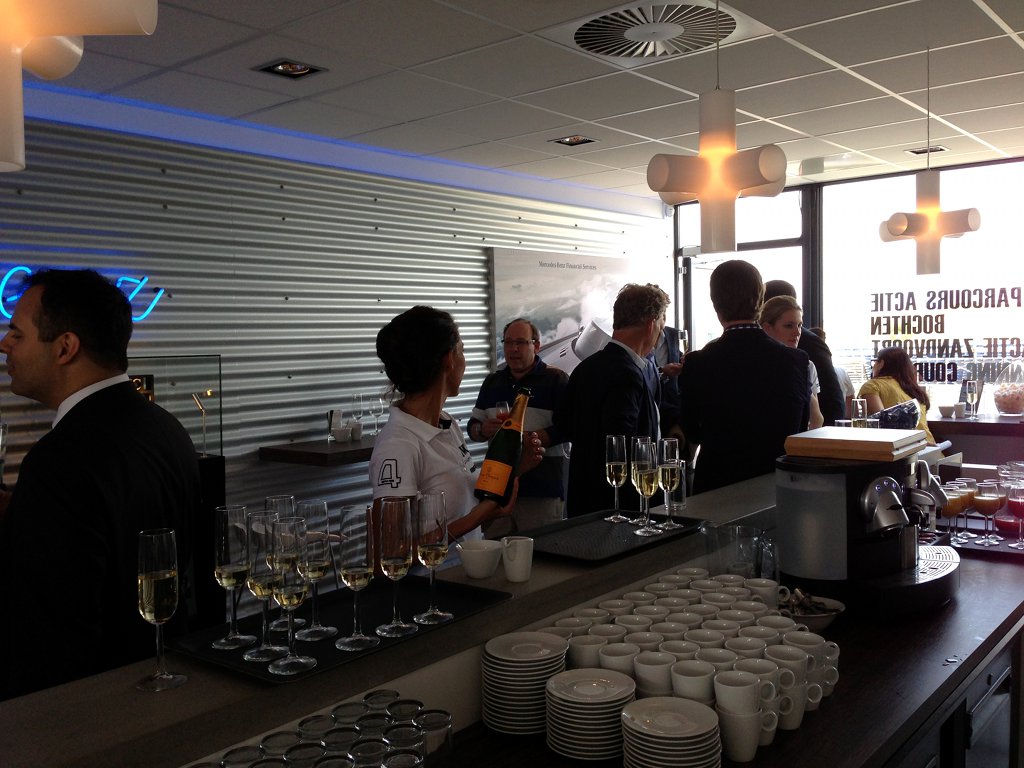 First, I asked if we were allowed to drive ourselves in the AMG's and as expected, we were only going to be passenger so I accepted the Champagne :-)
As always, IWC had done a magnificent job and the entourage was splendid!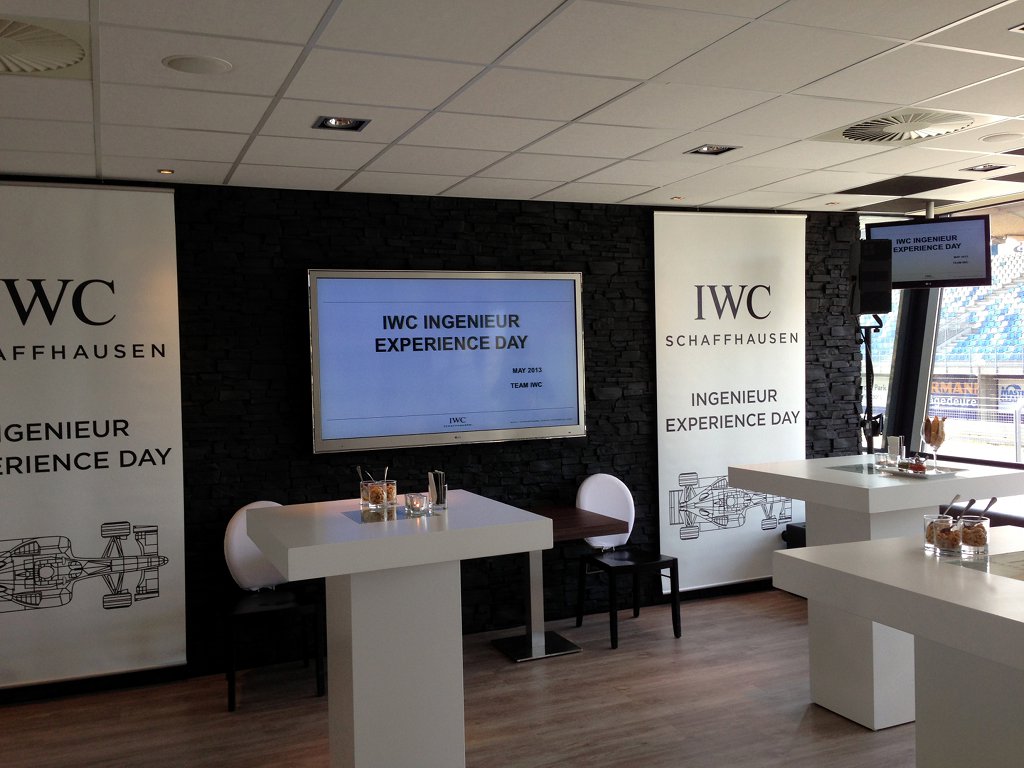 Robert, Managing Director IWC Benelux & Scandinavia spoke a word of welcome.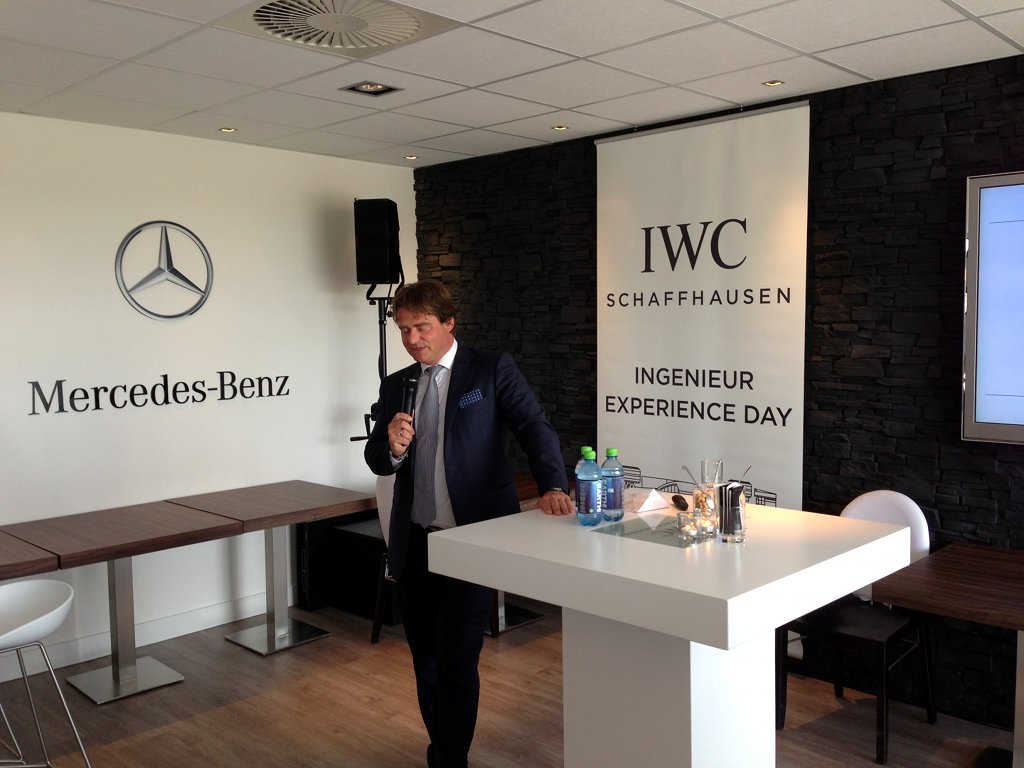 Then, we were all pleasantly surprised to see one of the greatest Dutch racers and a very warm and open man, nobody other than Jan Lammers! Jan had a great story about the link between engineering and racing.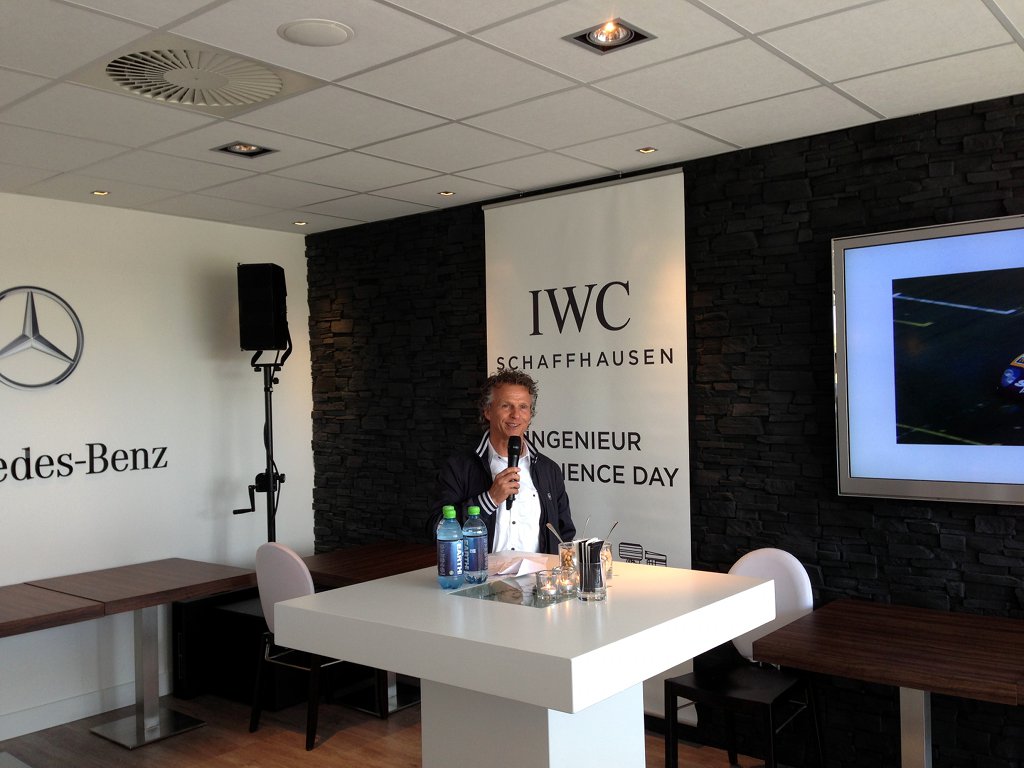 One thing he told us was that you don't win a race on your own but it's always a team effort. The only thing you can do on your own is screw things up, for example when you take too much risk and ride your race car in the tires and crash it.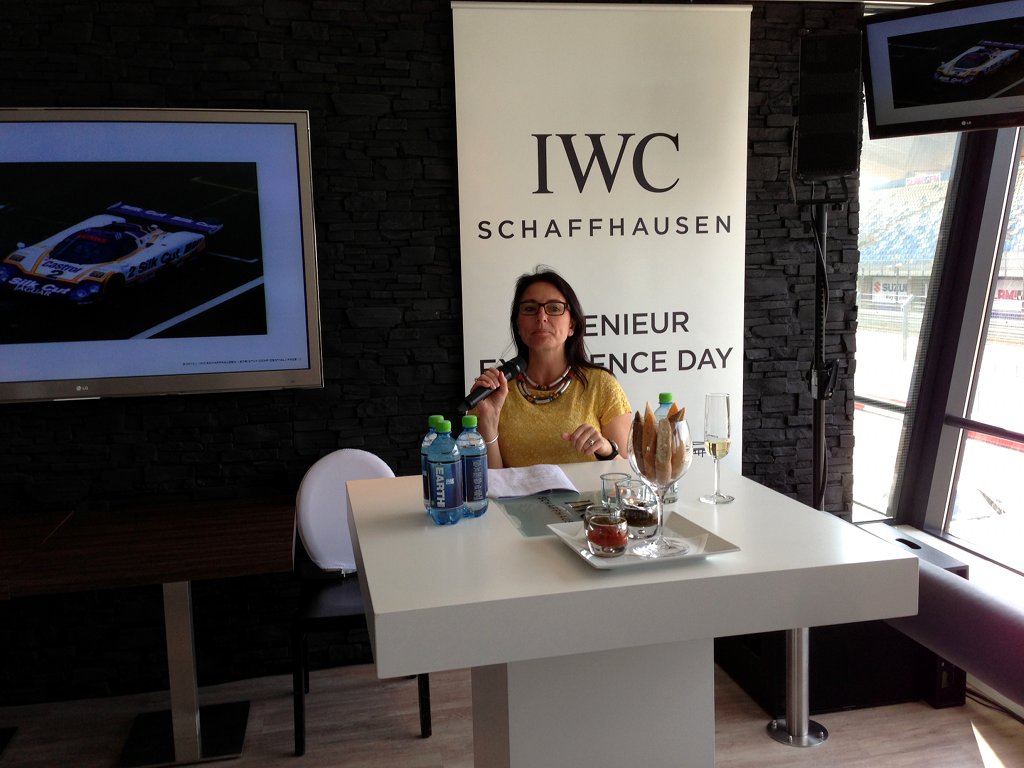 After this wonderful speech, Anne spoke shortly about the link between IWC and Mercedes AMG before passing the microphone to Alexander, Sales Manager IWC Benelux & Scandinavia.
Alexander presented all the new Ingenieur models and had some magnificent explanations about the details you can find in the watches.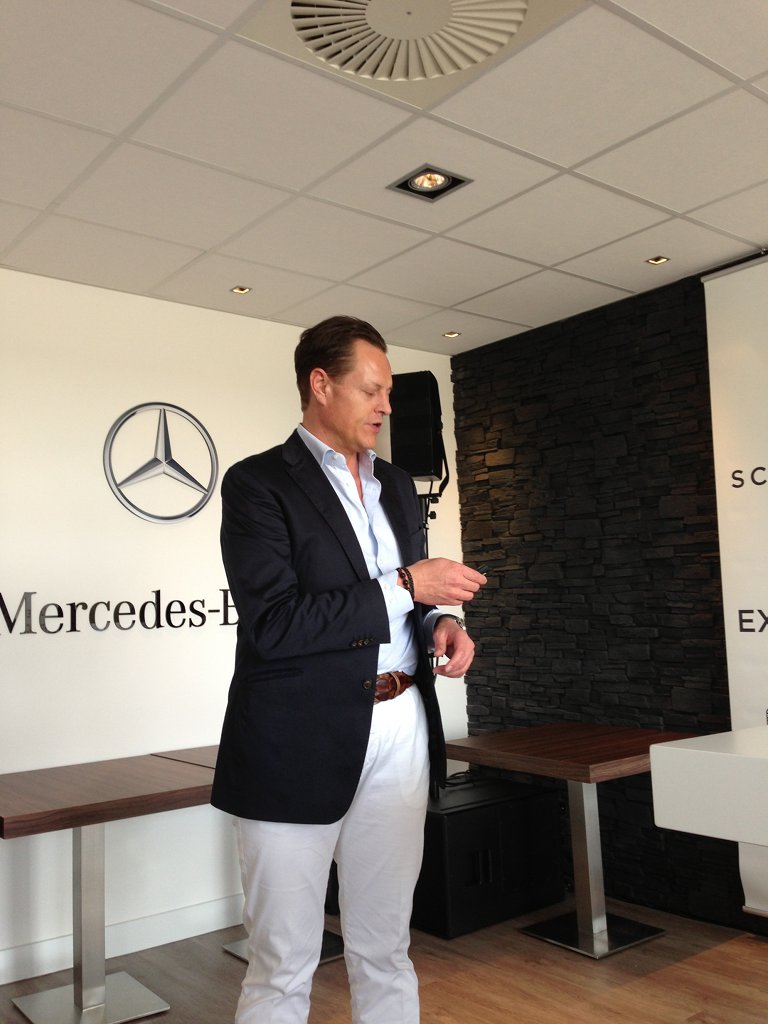 Did you know that the circular-grain motif on the dial of the Ingenieur Chronograph Silberpfeil was also used on the dashboard of the 'Silberpfeil' and that the reason for this was to avoid being blinded by the sun if it reflected off the dahsboard?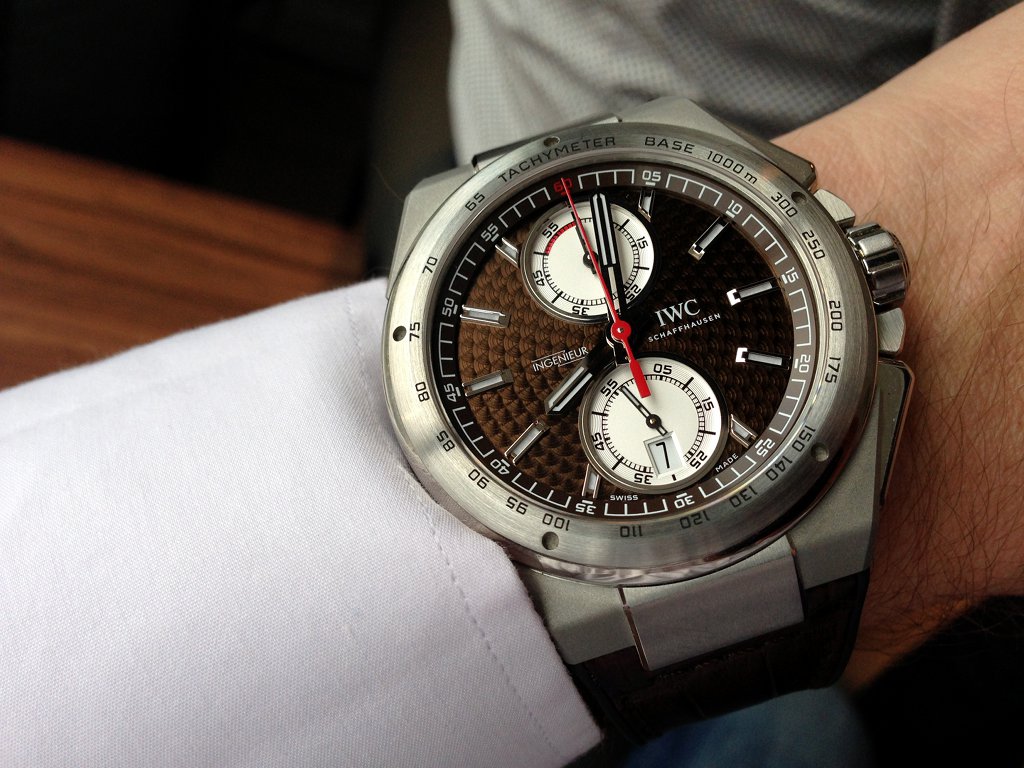 The presentation, with movies about details and filled with impressions from the high-tech racing world and impressive history was followed by the AMG event. We split the group in two. The first half went to the cars and could have a ride as passenger with a professional driver in the different AMG models. There was ample time to have a spin in all models!
The second group went to look at a Formula One car and Jan Lammers told some very interesting details. The current Formula One cars can go from 300 km/h to a full stop in just 80 meters! Jan also told that not too long ago, the gearboxes were too slow for this drastic braking power. On one track, they had to go back from full speed to second gear for a sharp turn but the gearbox would still be in third when they already should have been in second gear for optimal acceleration out off the corner. Nowadays, the gearboxes are smaller and faster. Another problem solved by great engineering skills!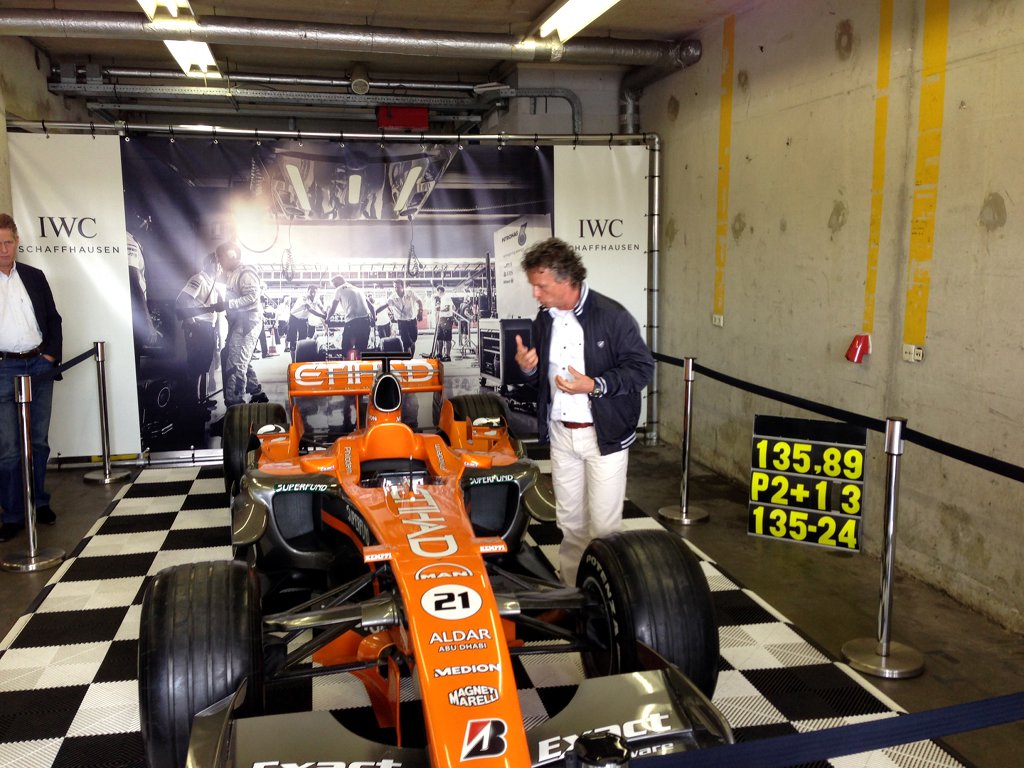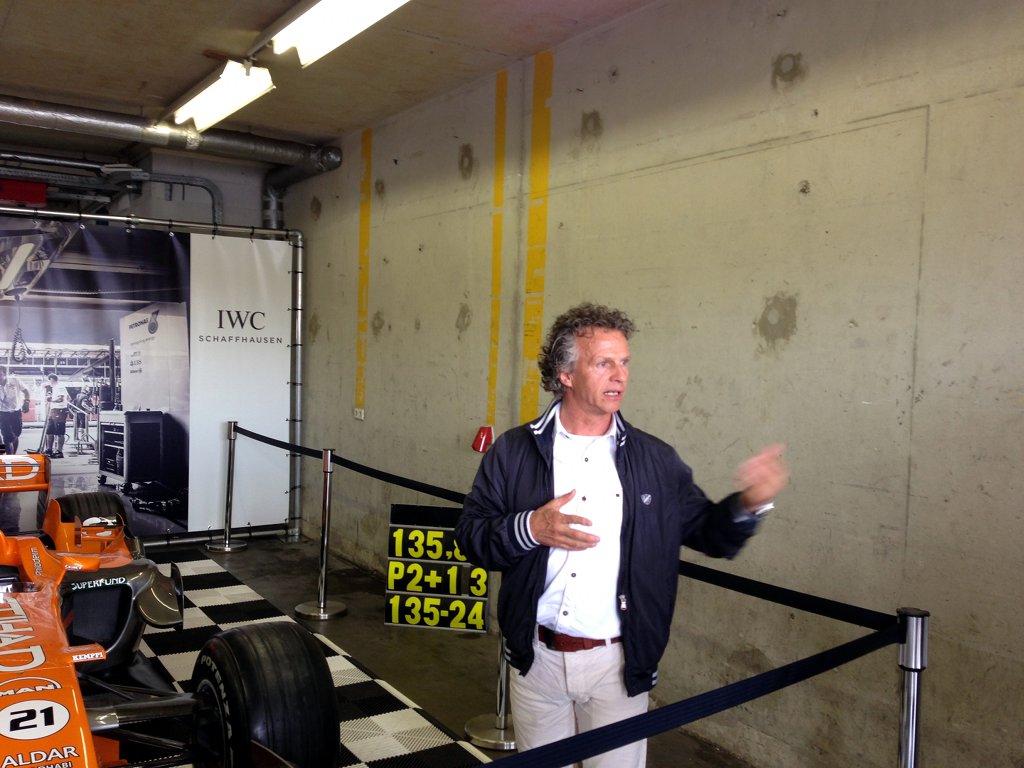 After this very interesting story, we could participate in a Pit Stop Contest. The goal was to change a tire as fast as possible.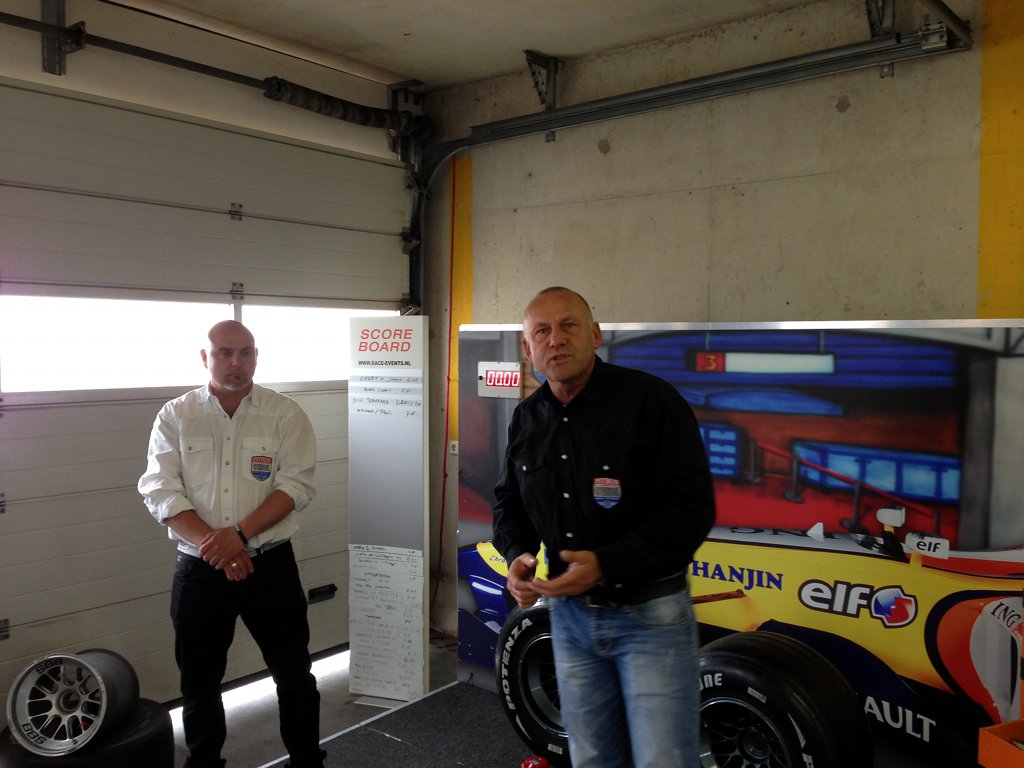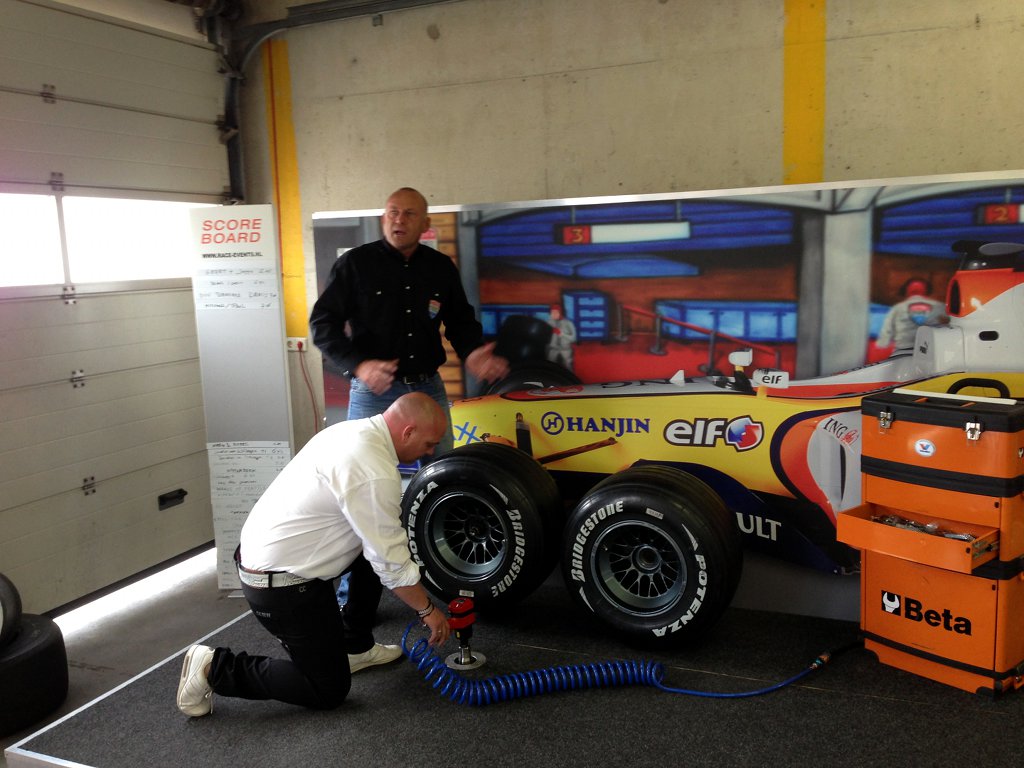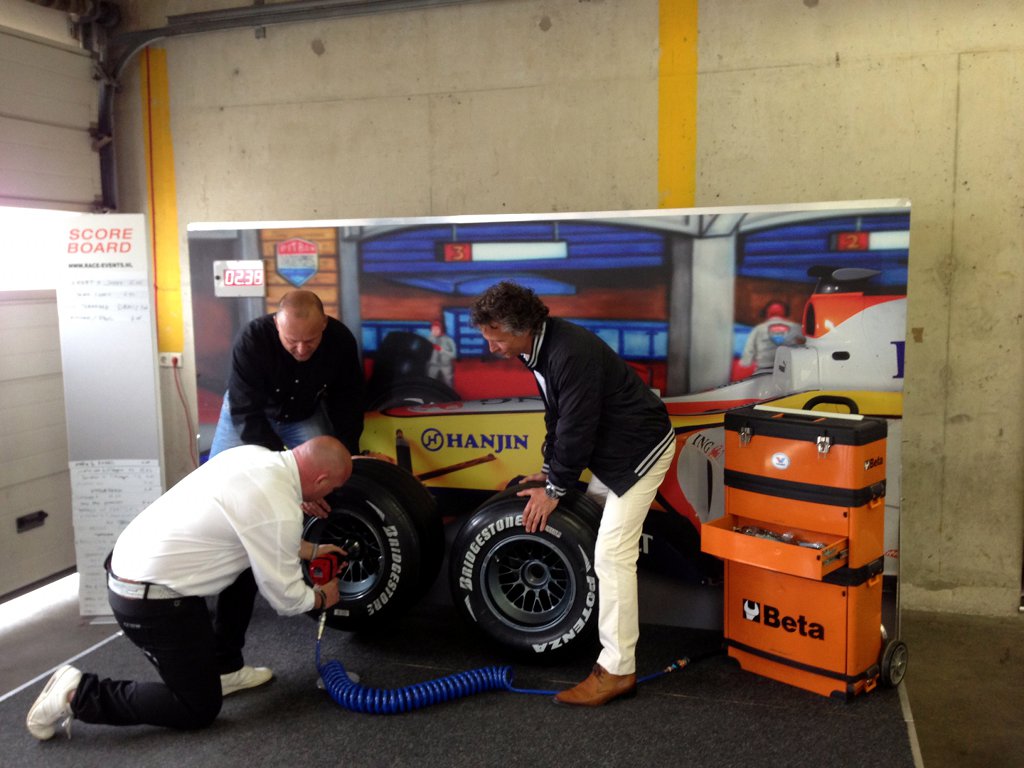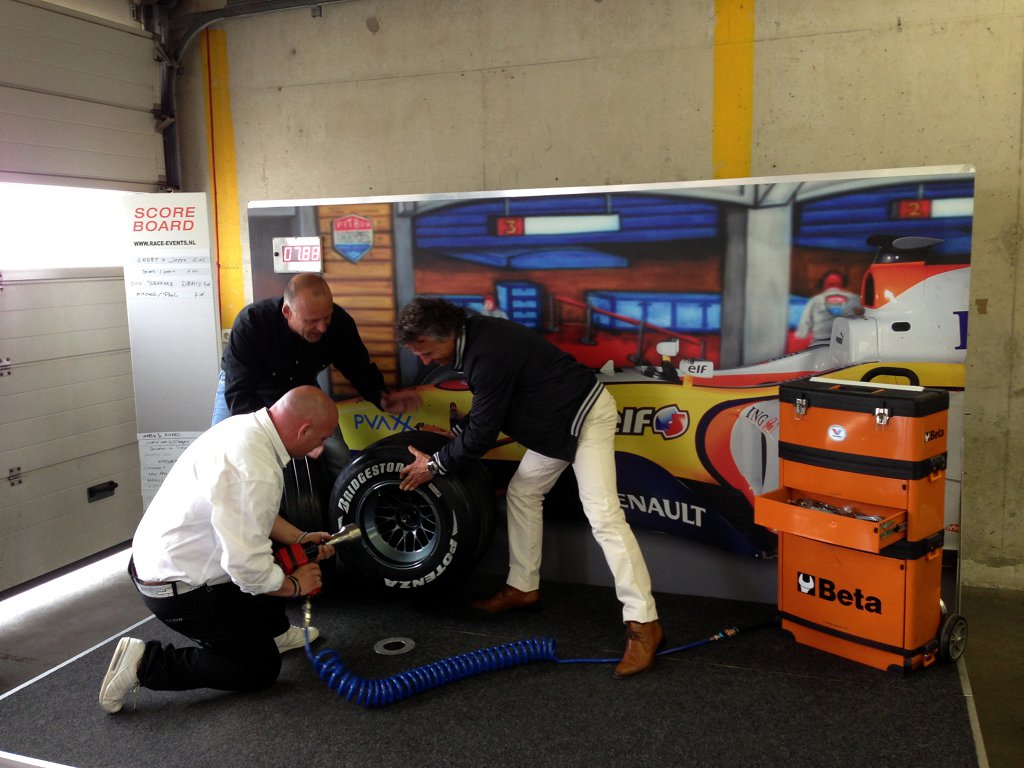 The prize for the winning couple was a hot lap in the Mercedes AMG SLS Cabrio with Jan Lammers behind the wheel! I teamed up with the driver of the NSX and we were the fastest of our group!
Another experience was a race simulator that also makes you feel the G-forces by tilting and swiveling. I had a good look at Jan driving: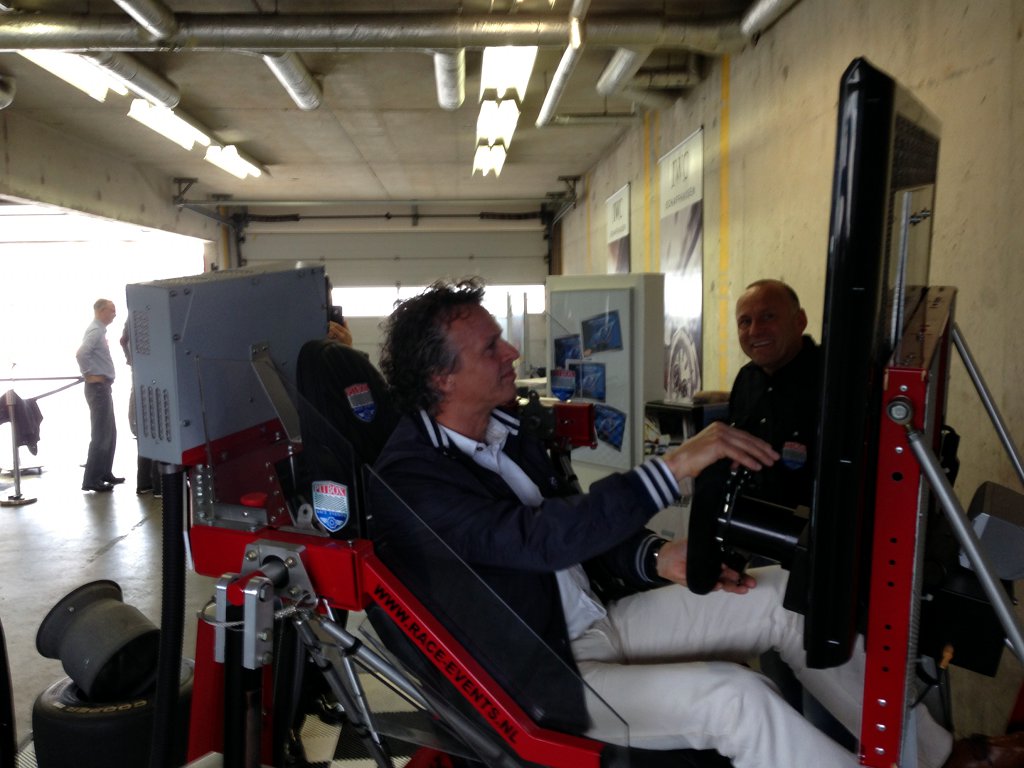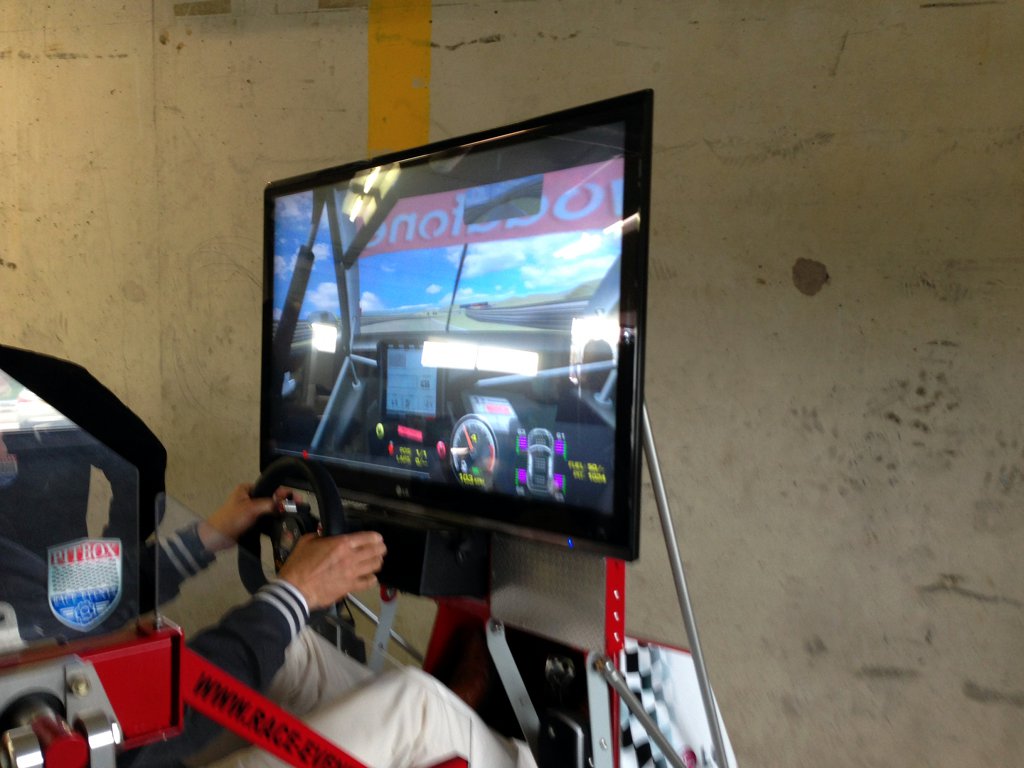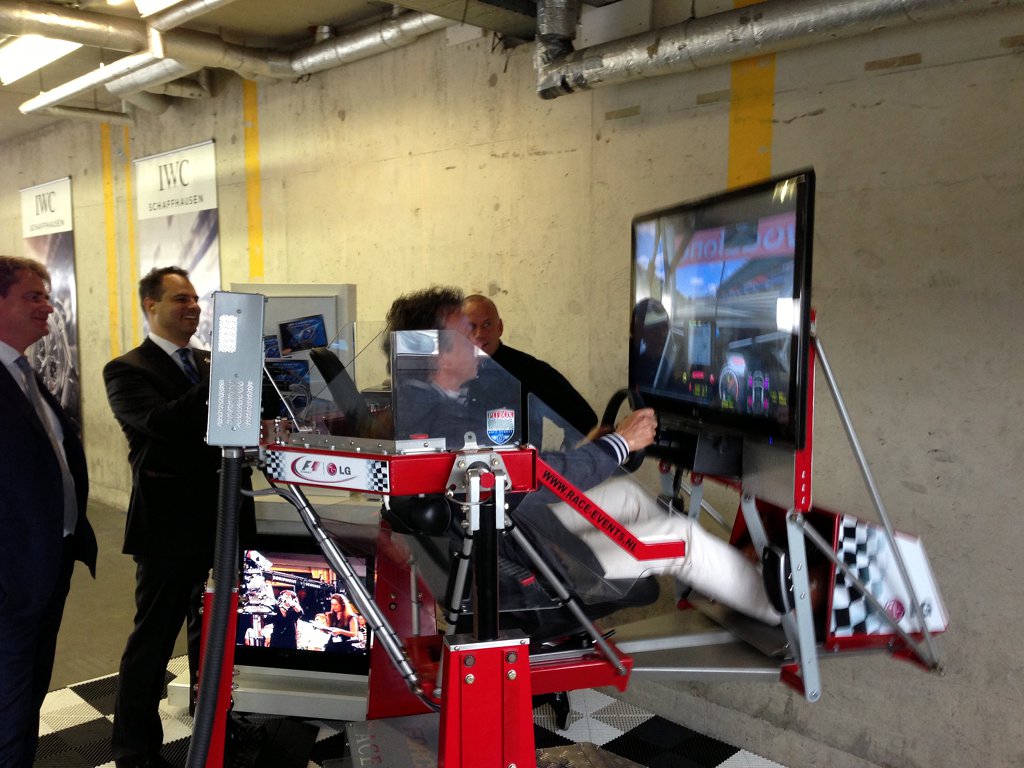 Then, I had a try myself: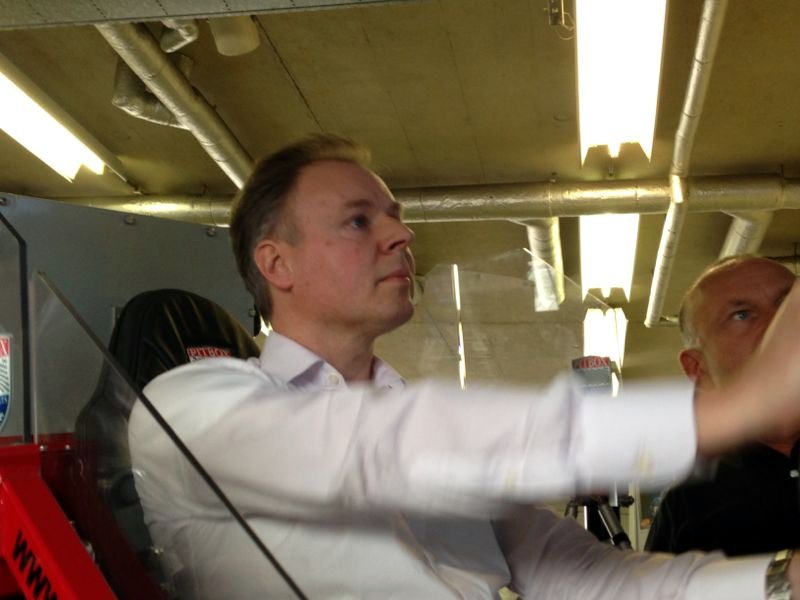 It was a wonderful experience! Since I had already some track experience on Zandvoort with my Red Italian sports car (Cinquecento Sporting from 1998 ;-) I didn't even do so bad. One of the operators provided useful information about what gear to take in the corners and this really helped. The virtual car was a very fast DTM machine, there can hardly be a bigger difference between that one and my Cinquecento. Cornering speeds though, were quite similar but braking and acceleration is from another world!
I would have loved such a simulator at my work so I asked how much they sell for. The model I just tried was about € 45.000 and a newer version goes for about € 85.000. Unfortunately, this was way over the budget!
And then it was our turn for some serious track time! Here are a few pictures: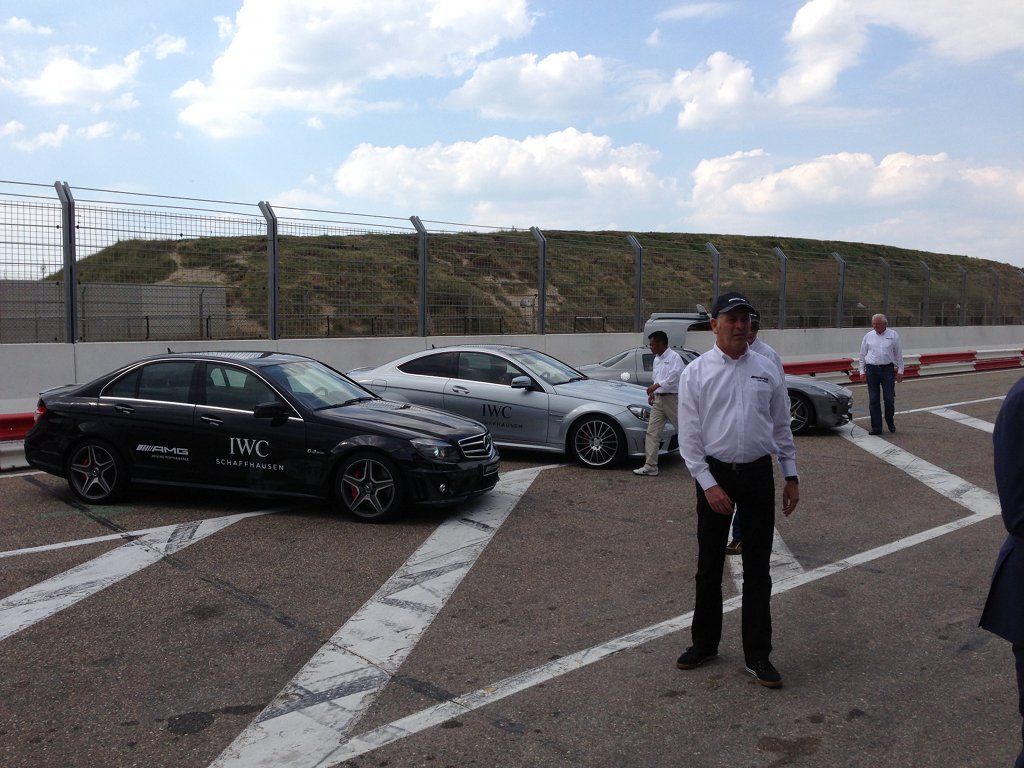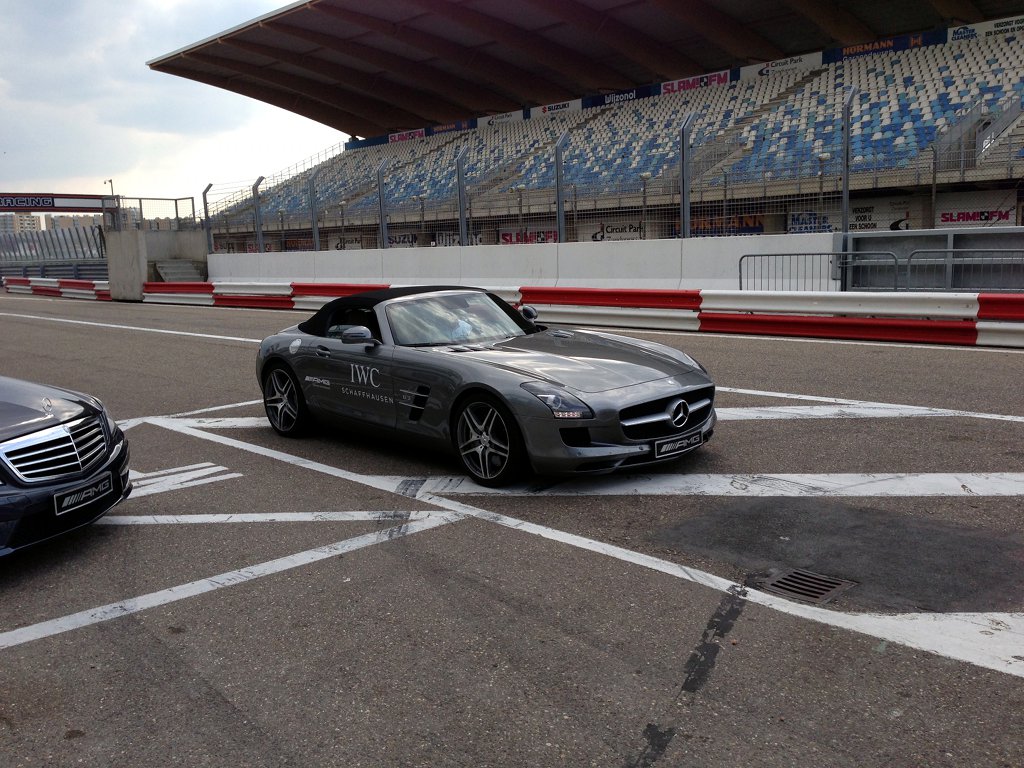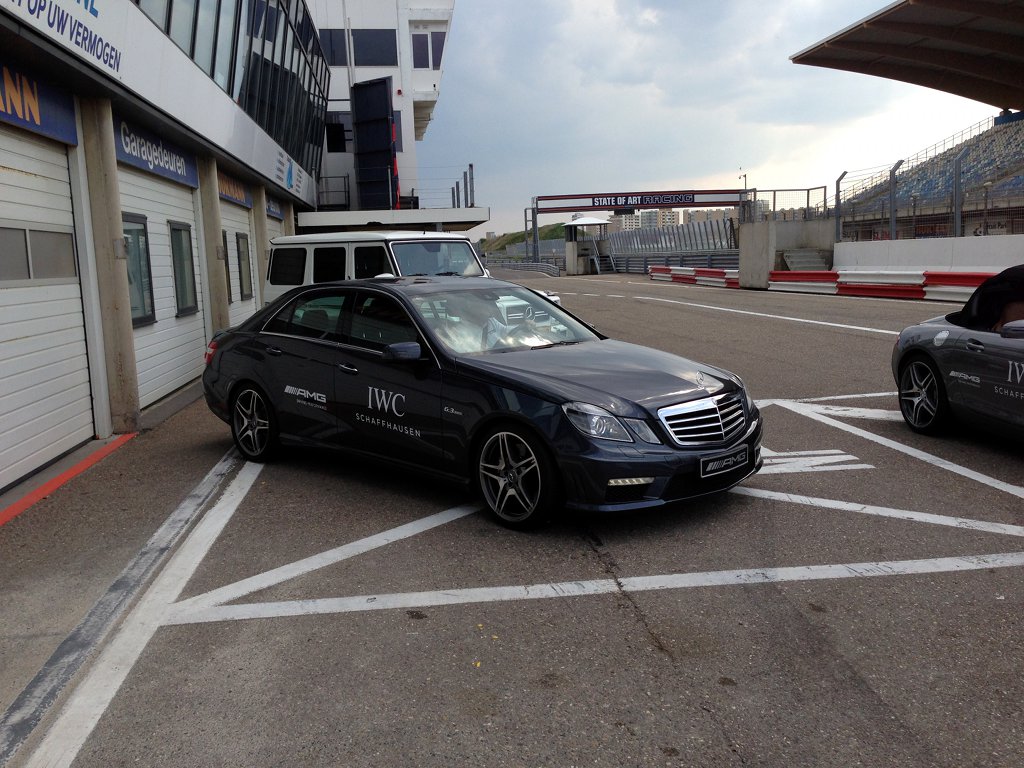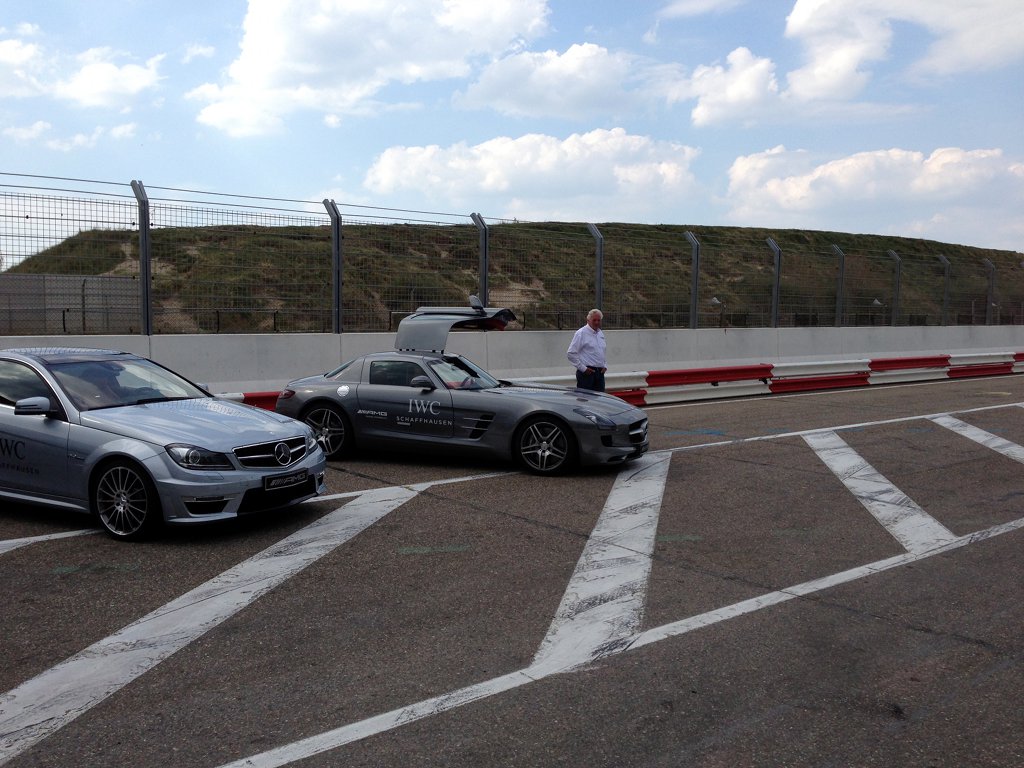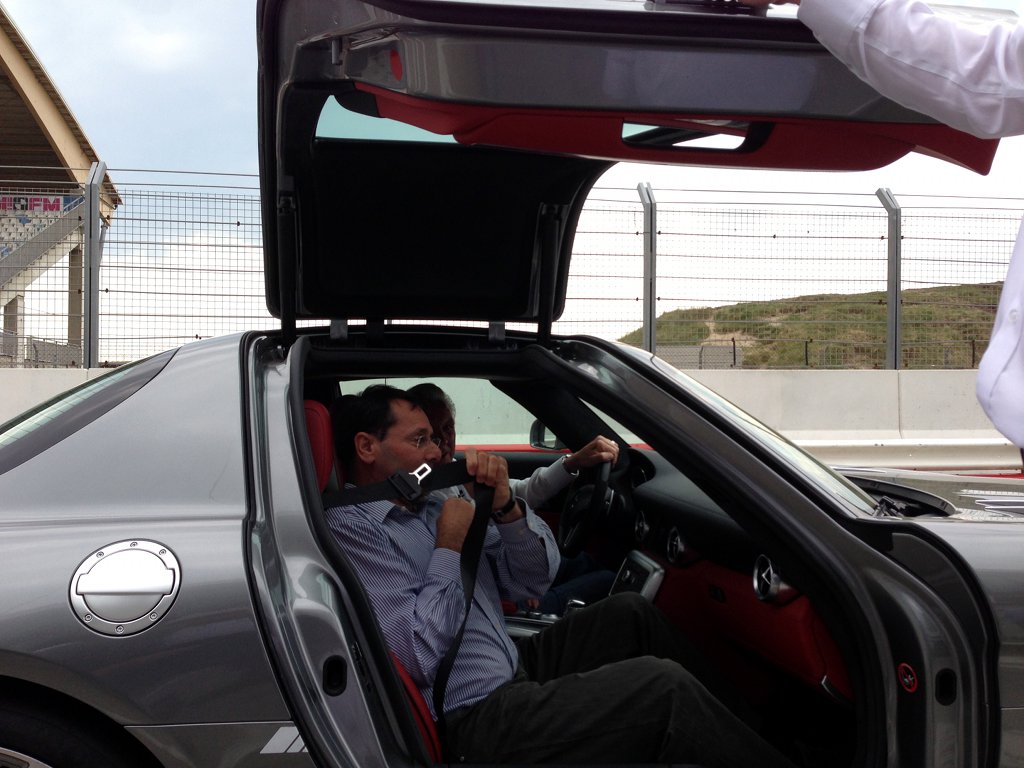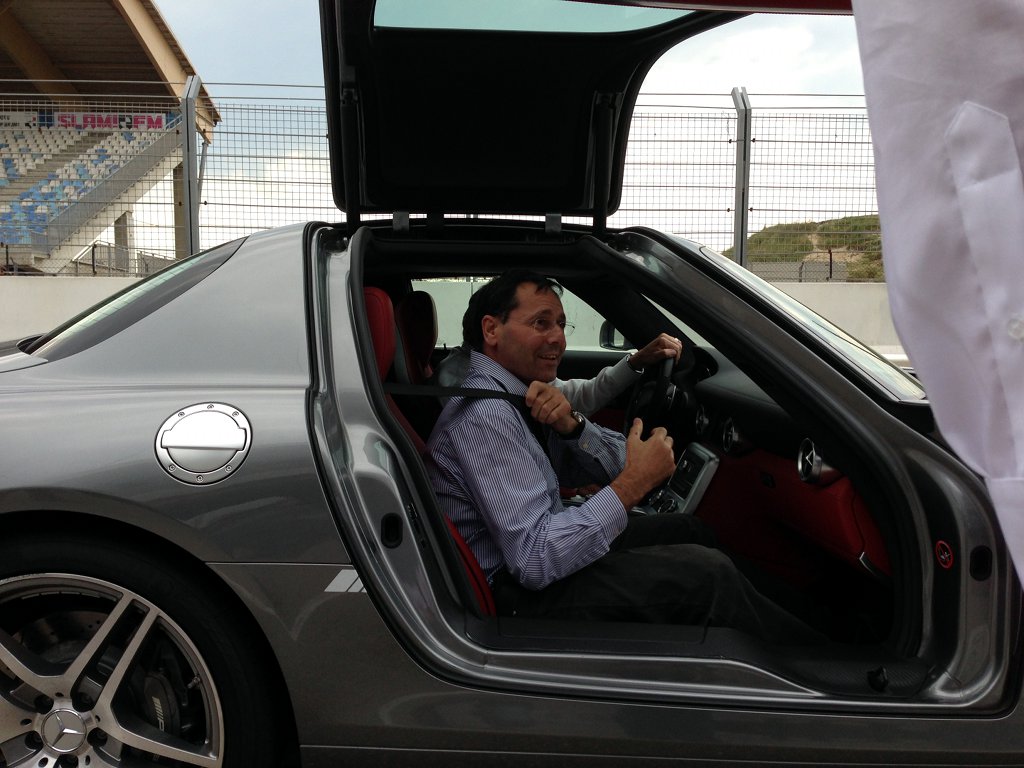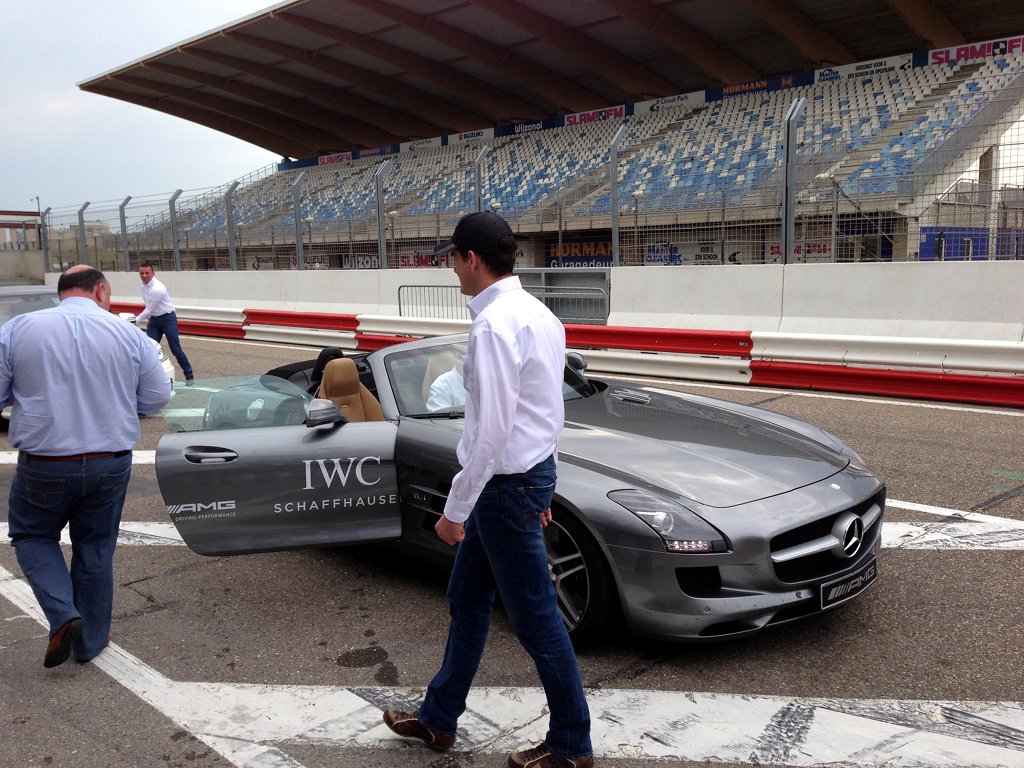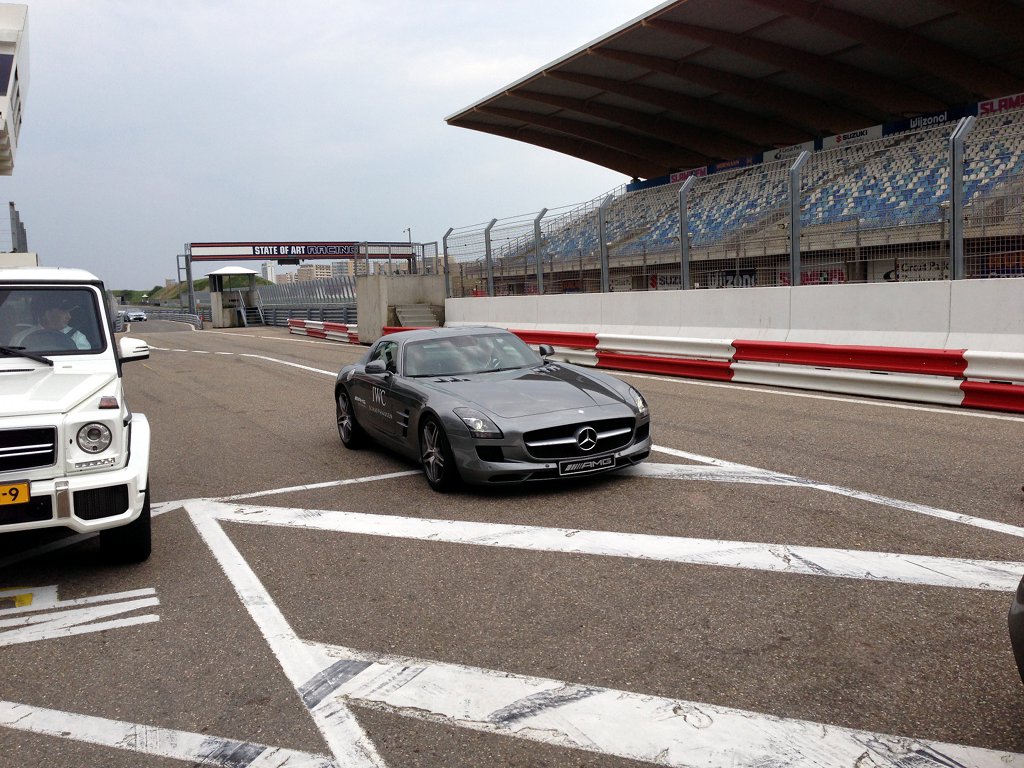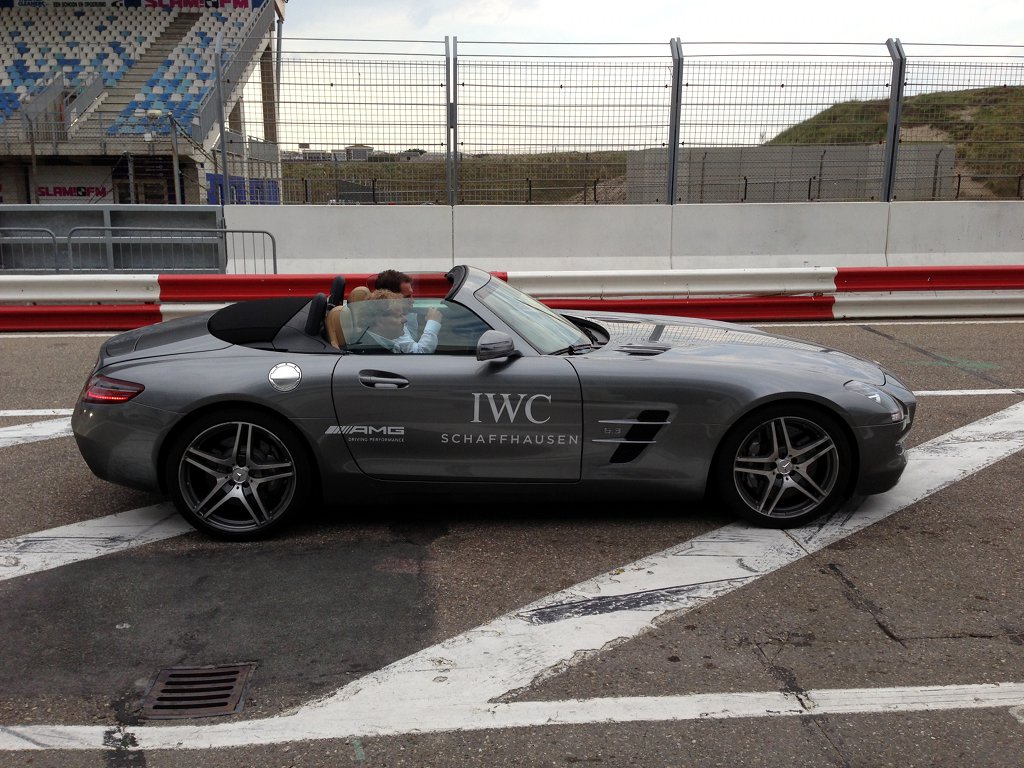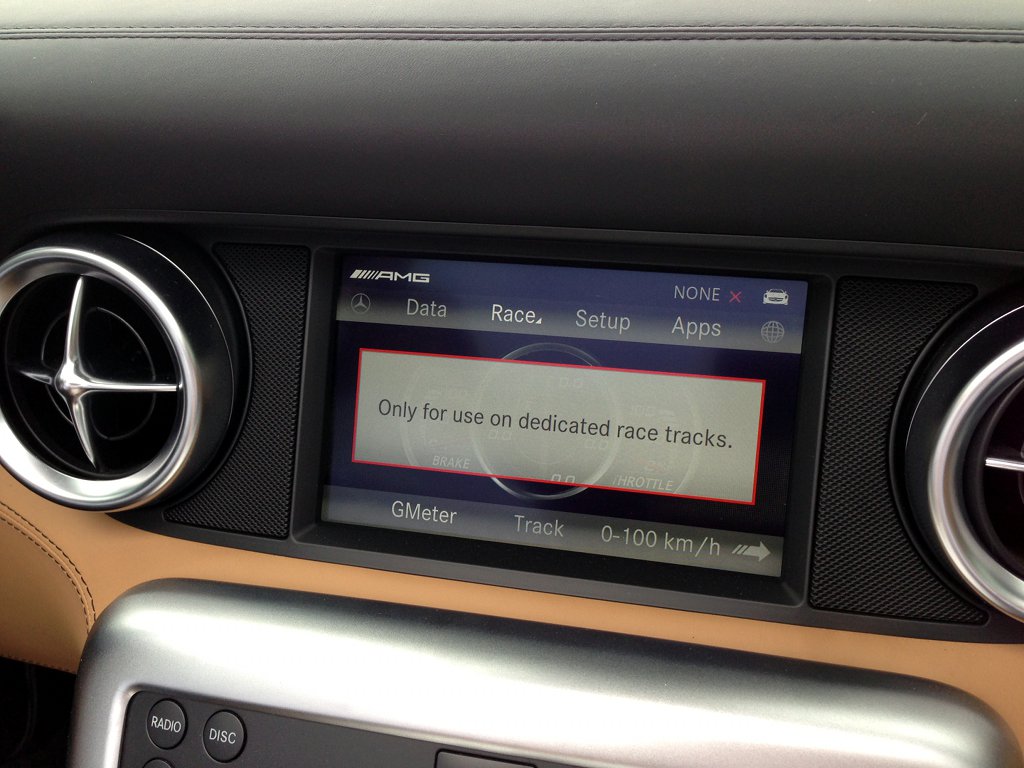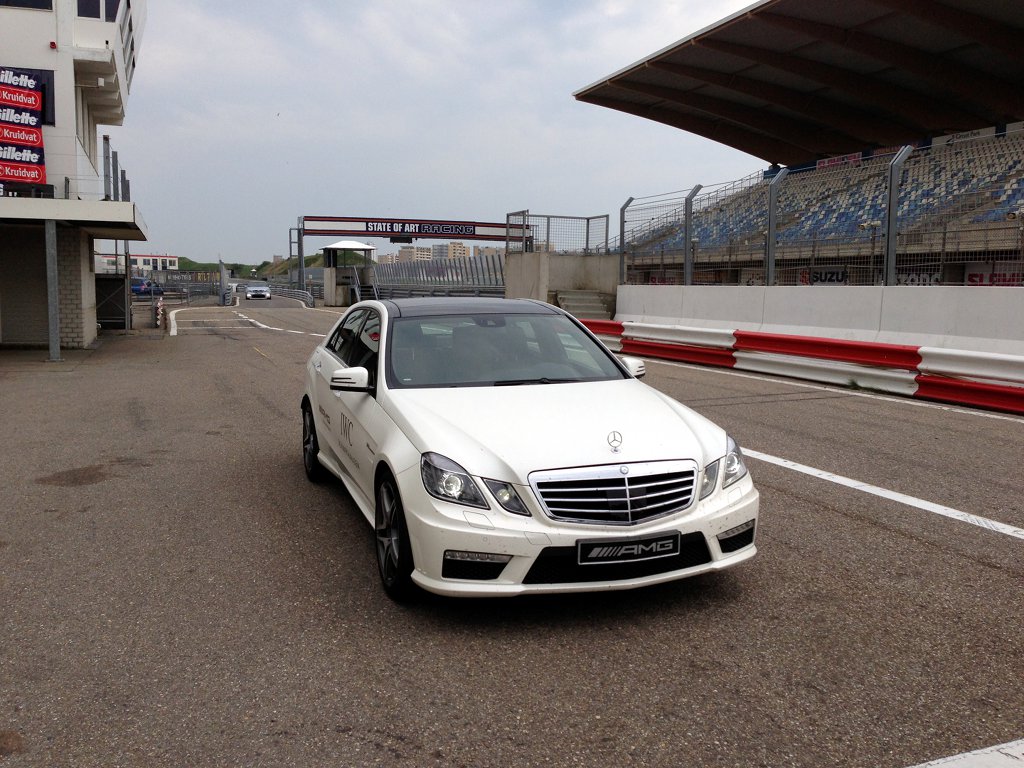 Thanks to yet another Forum friend for providing some pictures from me in the two most beautiful AMG's that day: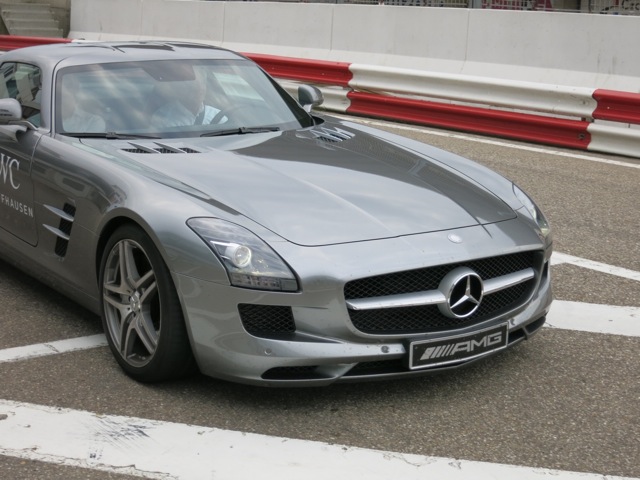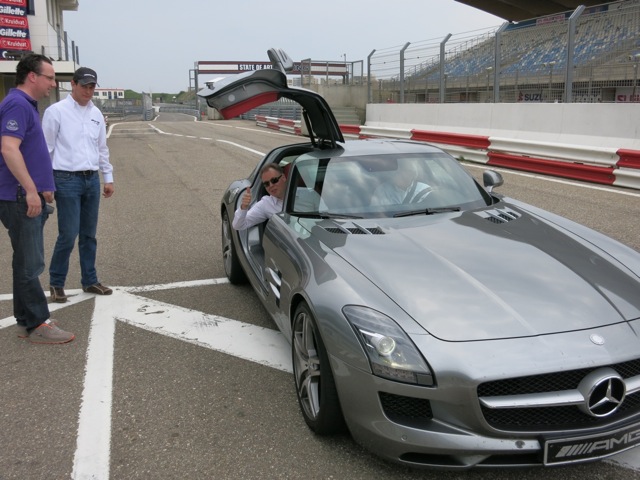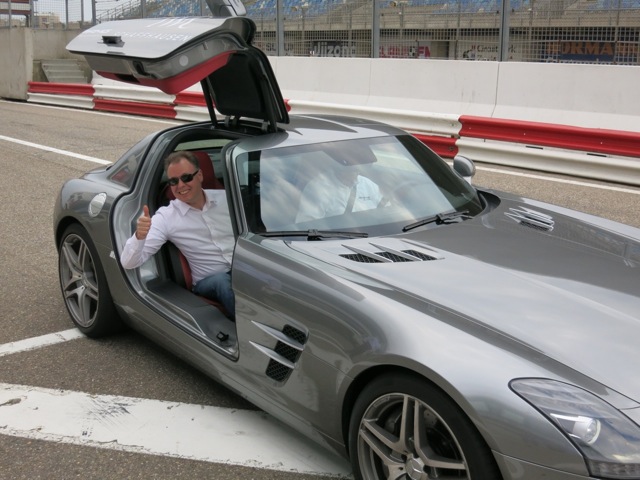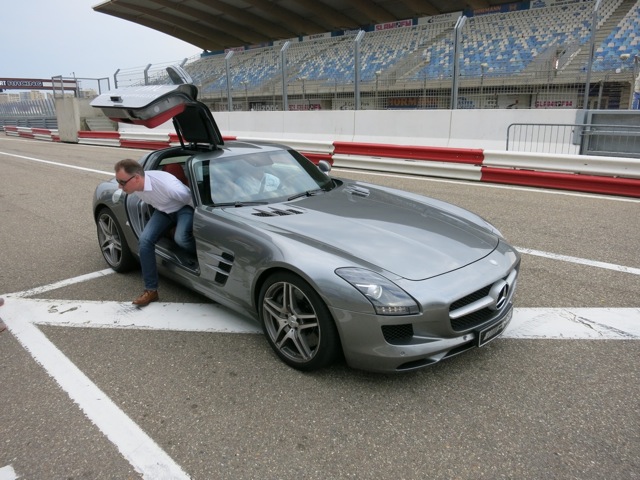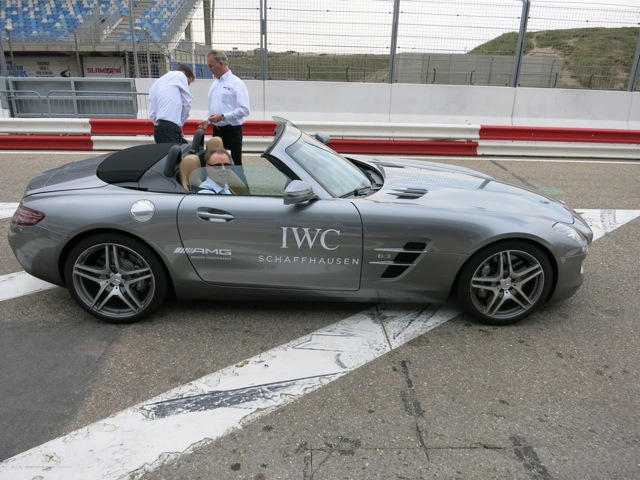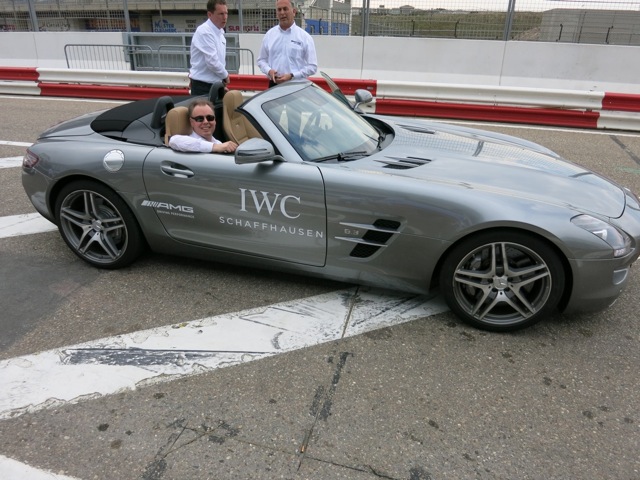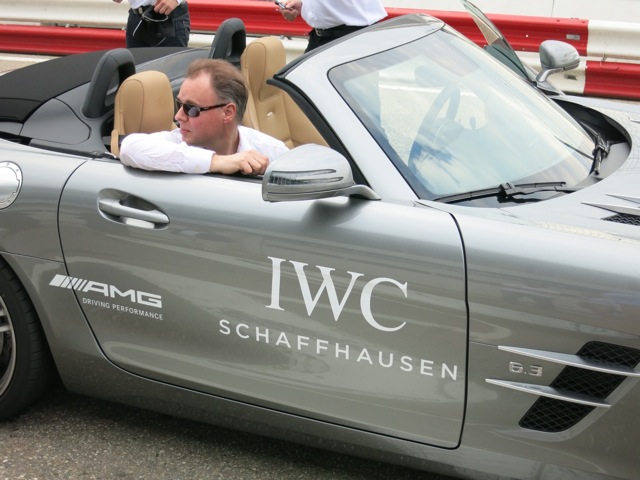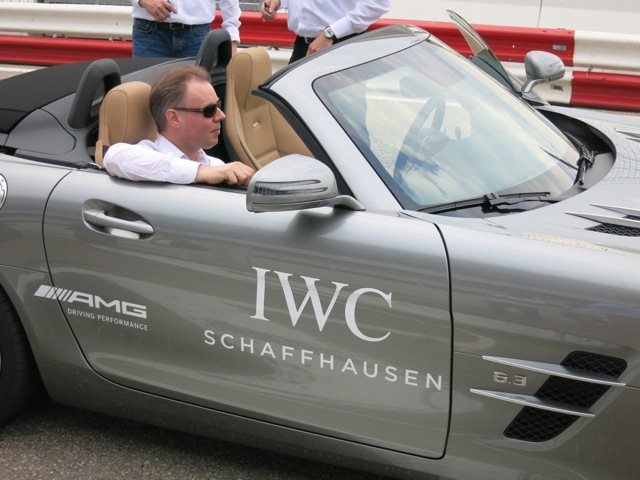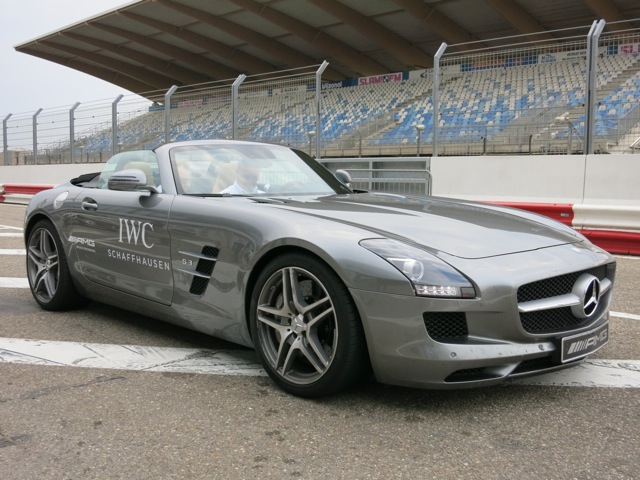 When the driving fun was over, I went over to the score board for the pit stop event and saw that we were beaten! Our best time of 6.58 seconds was pulverized, the new best time was 6.10! Unfortunately, this meant that we didn't win the fast lap with Jan but I know one of the winners very well and am glad for him that he won.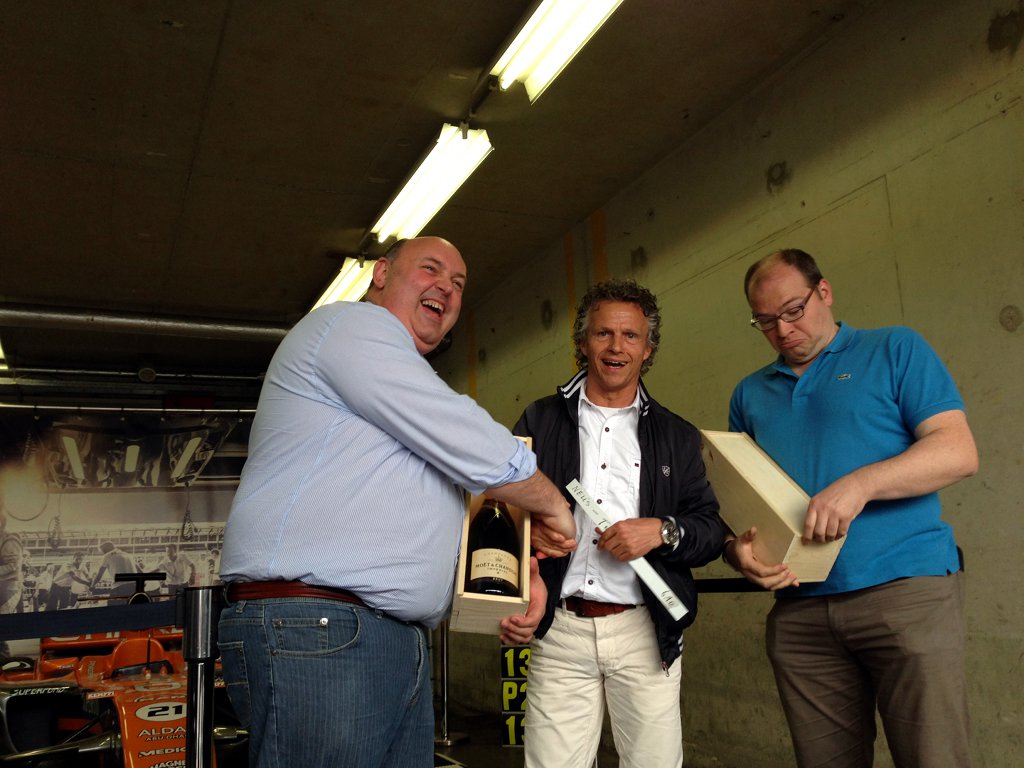 Here you see him getting in the car with Jan.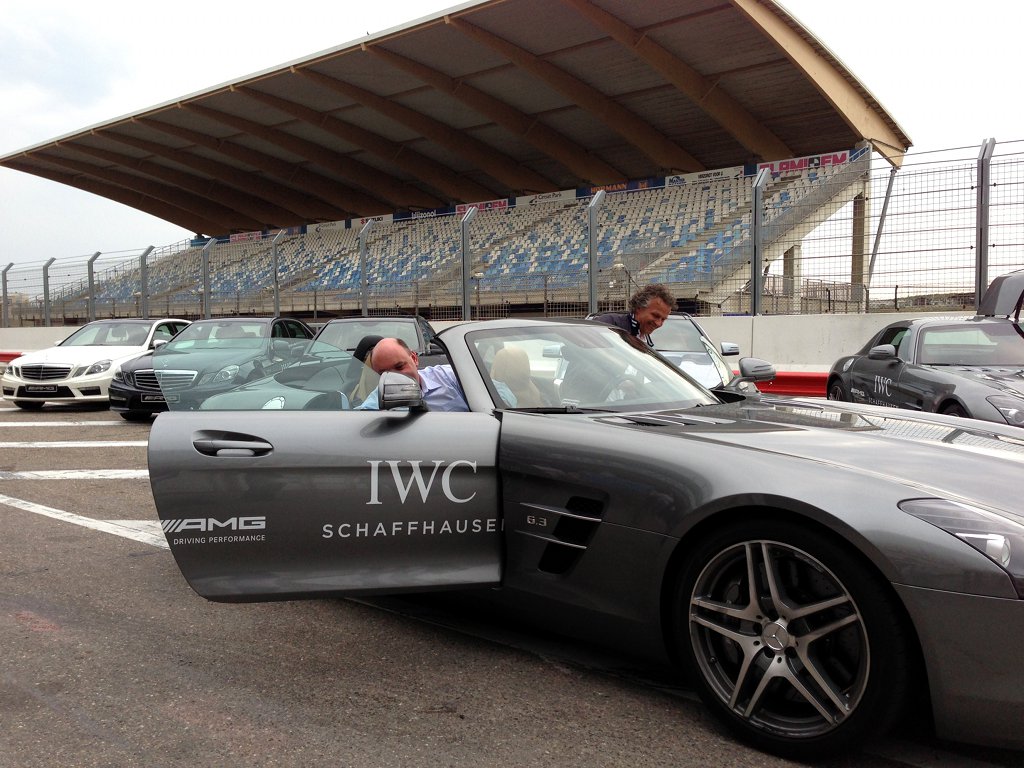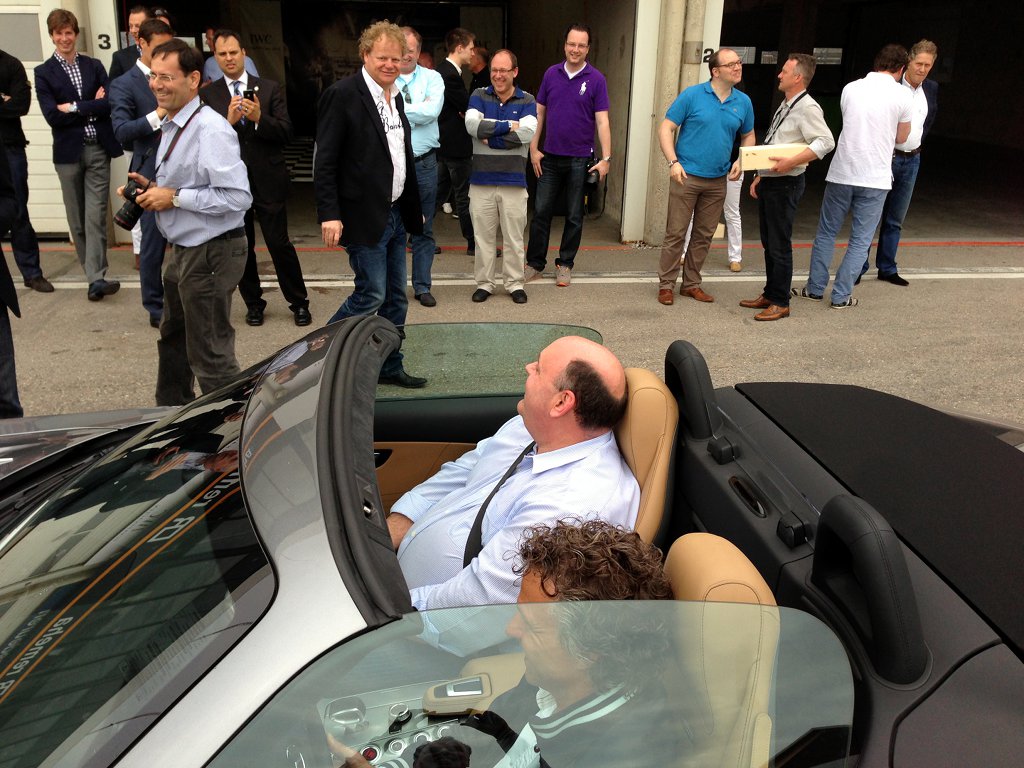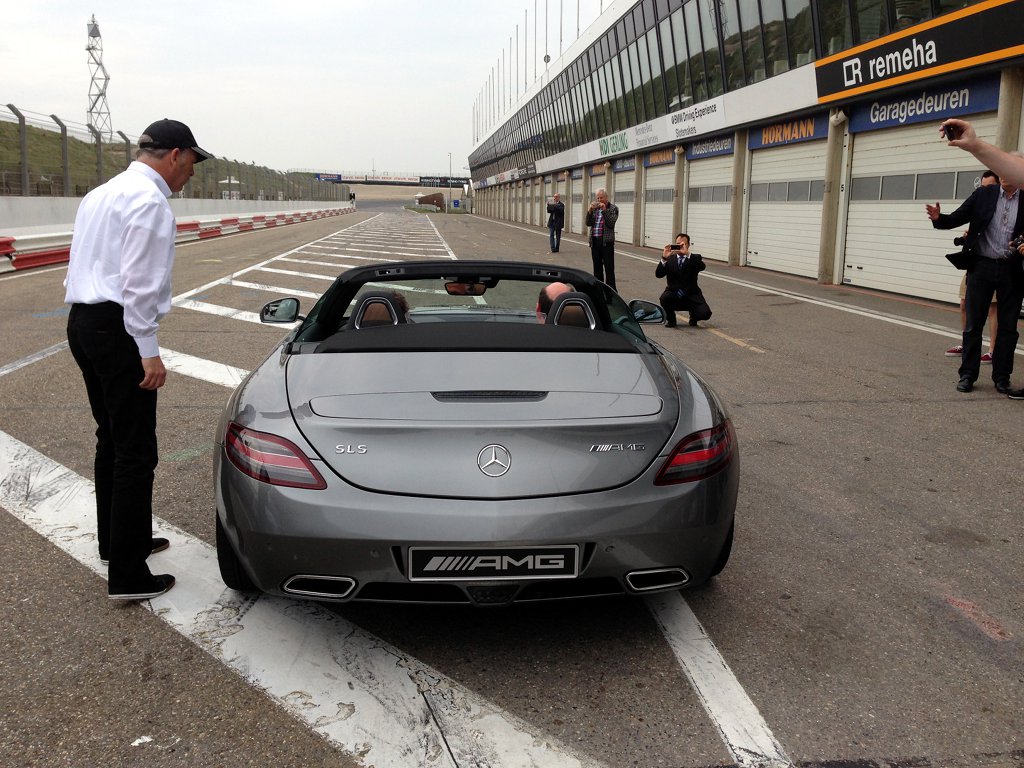 The rest of us were all listening to the squealing of the tires as Jan did his utmost best to make this a lap to remember for the rest of your life! Luckily, nobody got hurt and it was time for number two to take the shotgun position next to Jan. The lead engineer from AMG started to worry when they didn't turn up as fast as expected and as a matter of fact, others started to worry too! Then, suddenly, they came by blazing at over 200 on the straight. When we asked after the ride what had happened, Jan explained that by accident he had re-enabled traction control and other unnecessary 'features'. At first, he thought he was out of gas but quickly corrected this error!
I told this to my forum friend and he had an equally horrifying story: Jan had been driving in the wing-door SLS just before the designated driver started doing laps with us and that driver was expecting for the traction control and ABS to help but it was all turned off! It was a good thing these are skilled drivers so nobody got hurt and nothing ended up in the gravel but it was a hairy moment anyway!
Too soon, the track time was over and we headed back in where, Christian, a highly skilled watchmaker from Schaffhausen, member of the Complications team, had prepared a lecture about the new materials IWC uses in the new Ingenieur line.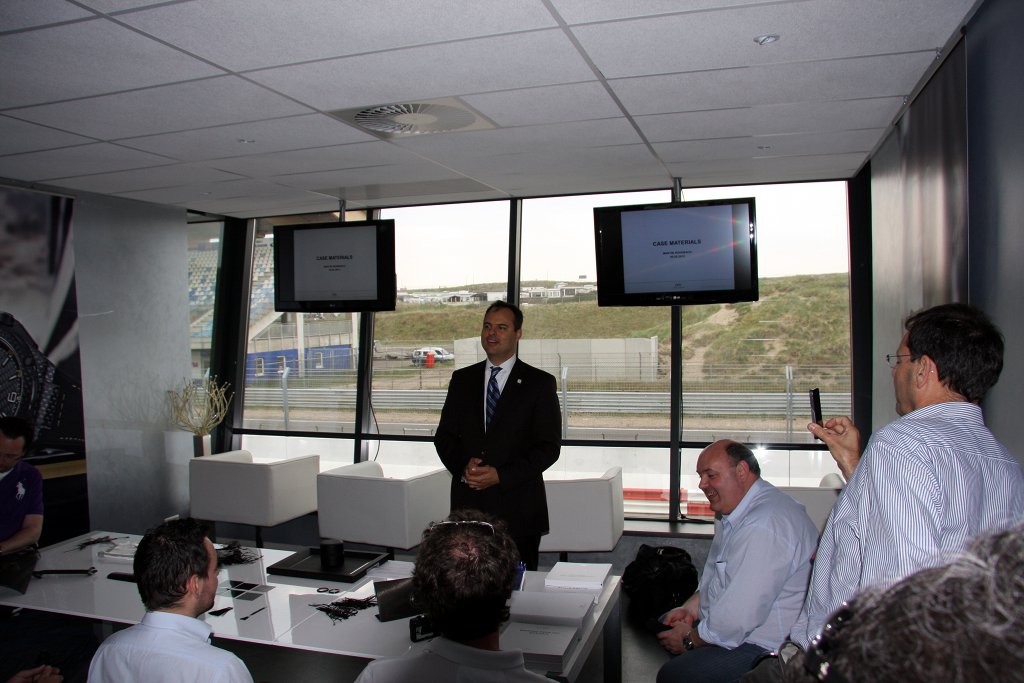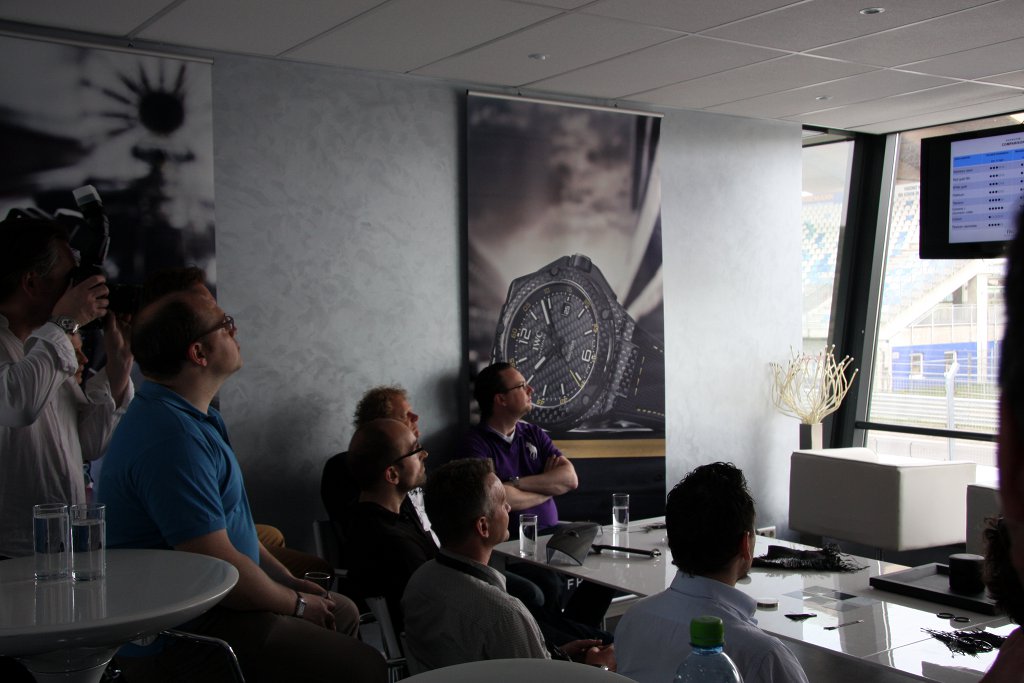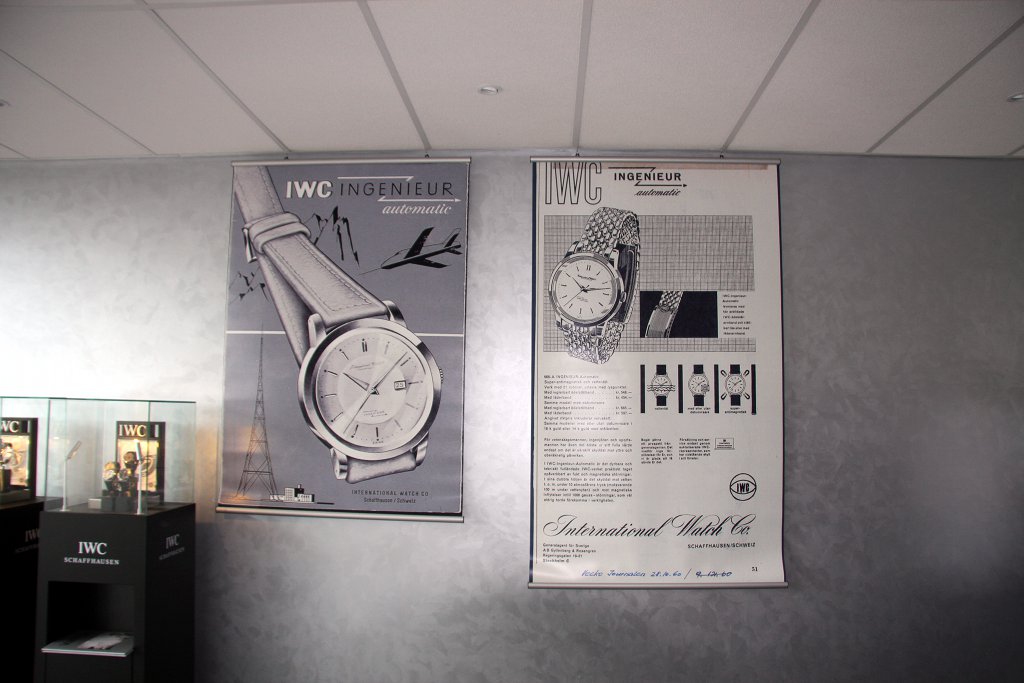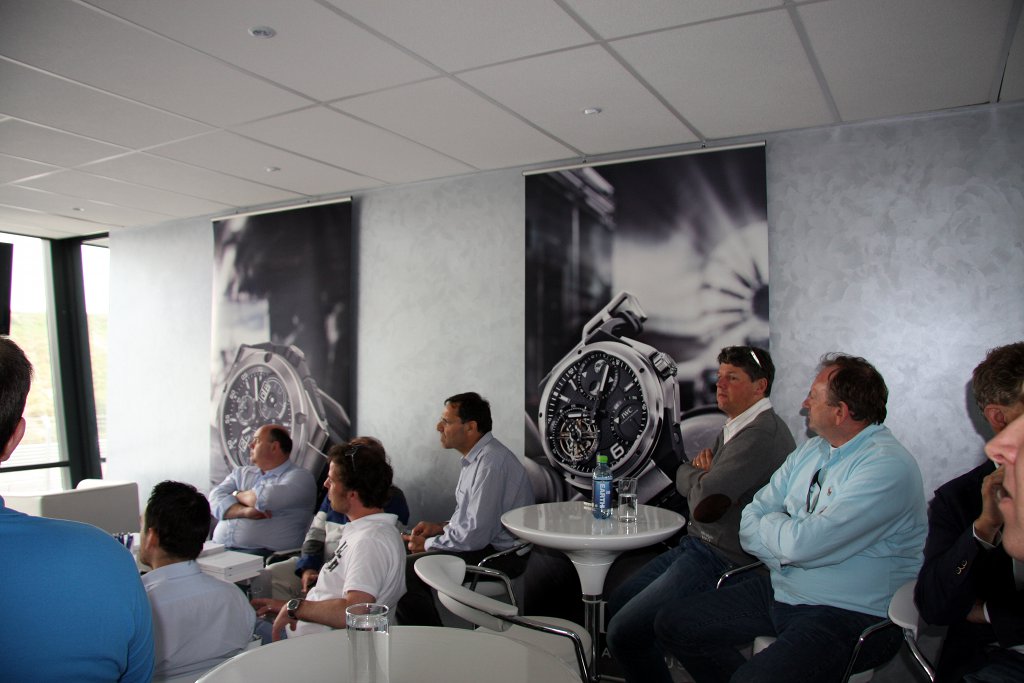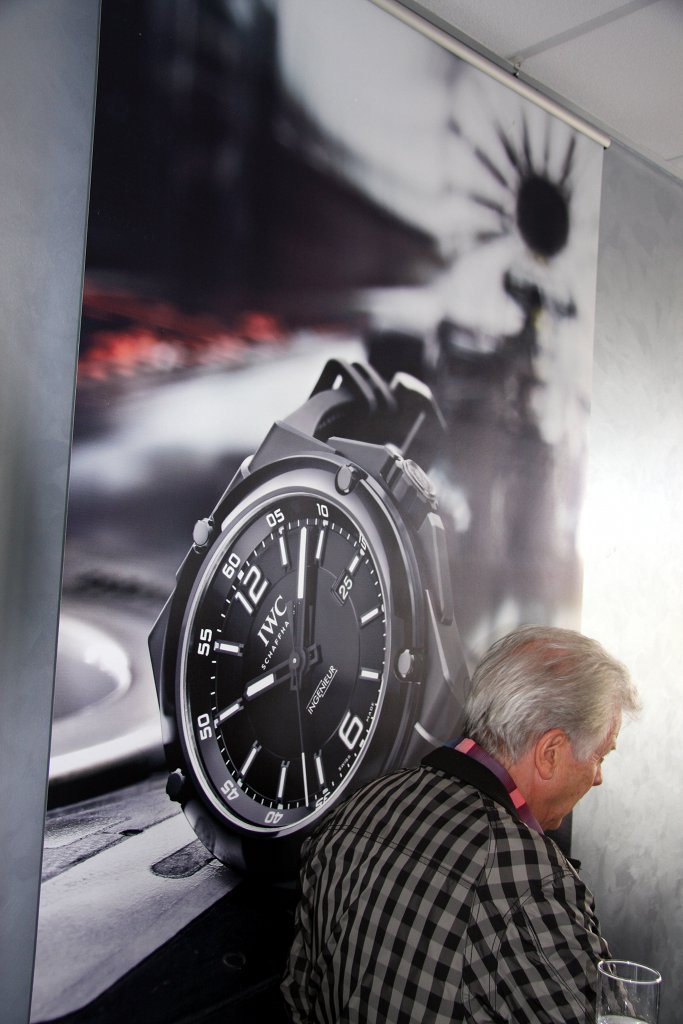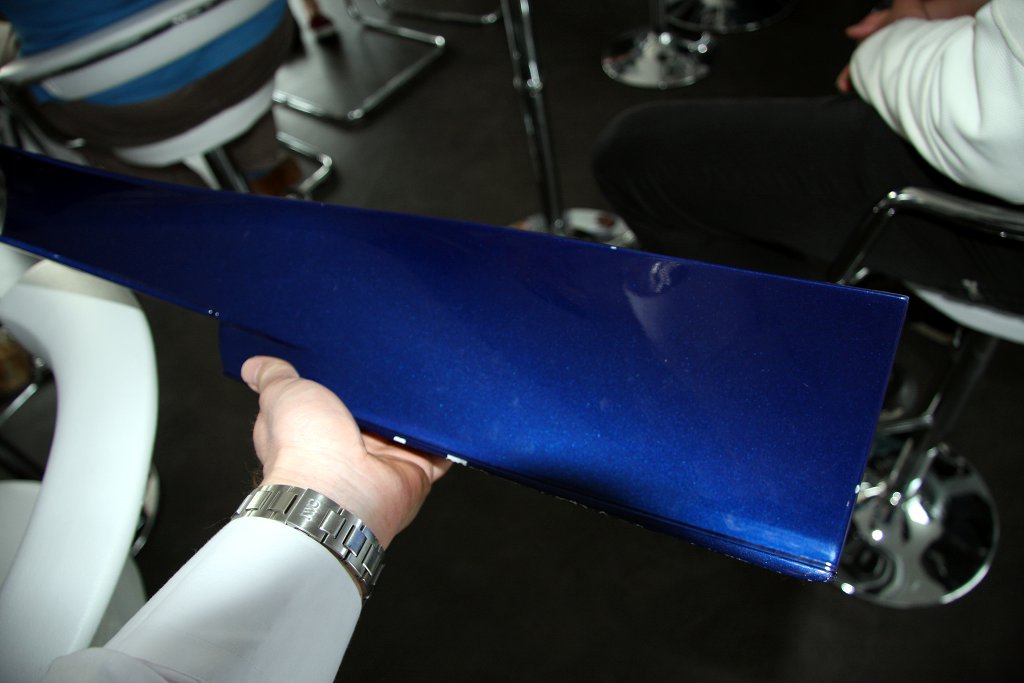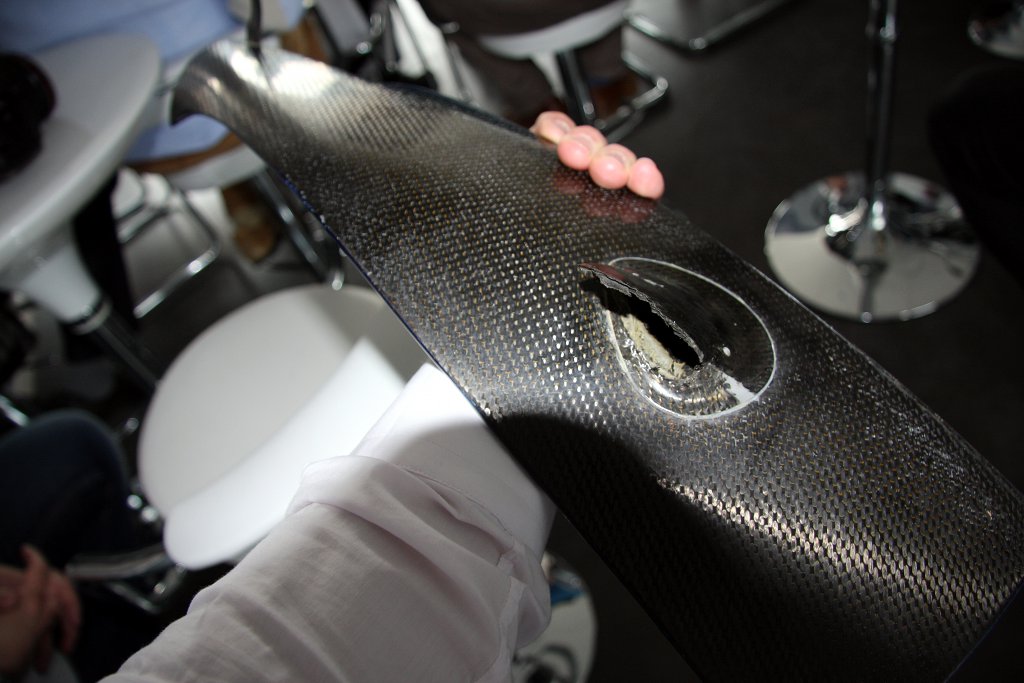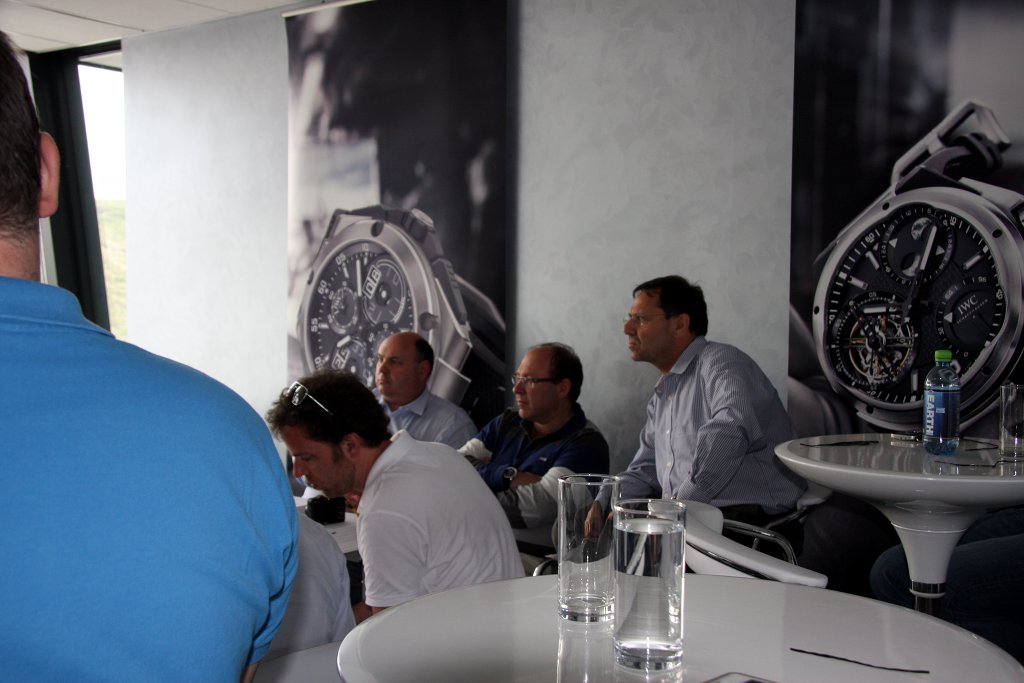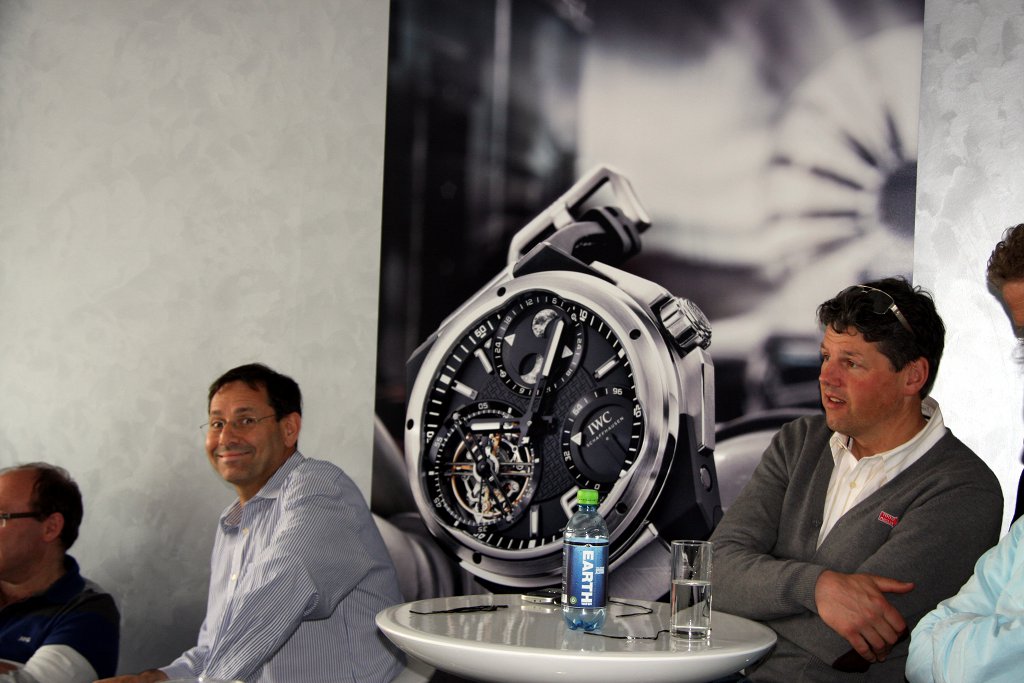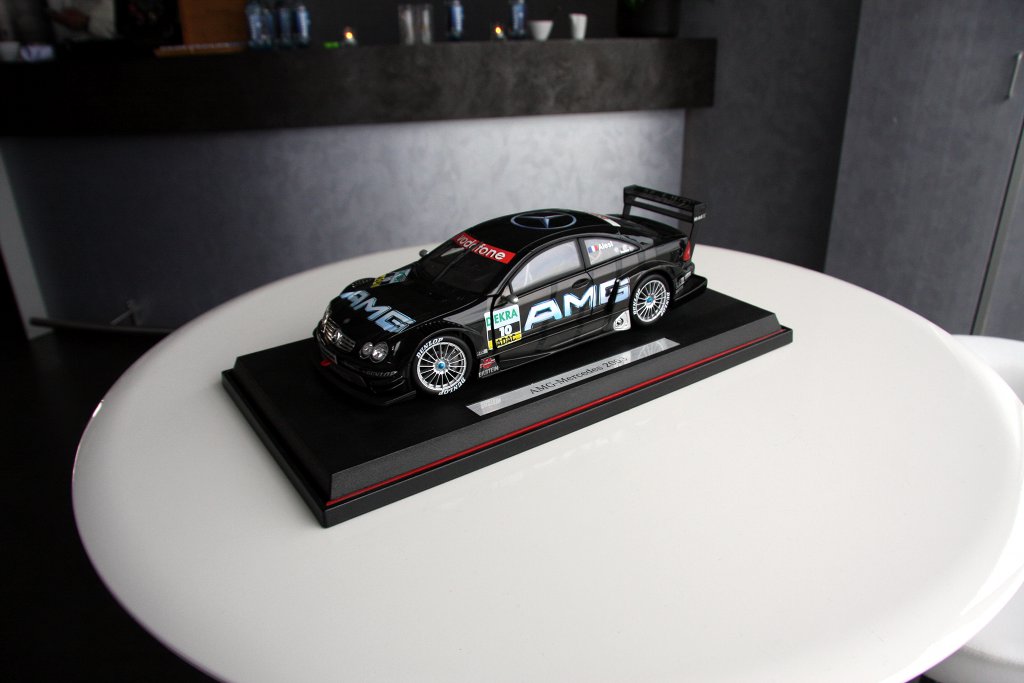 We learned that the Titanium Aluminide used in the case of the Ingenieur Perpetual Calendar Digital Date-Month is also used in race-cars. It has ideal properties for the pistons and other parts that need to be light, strong and also be able to withstand high temperatures. The weight is less than Titanium, a bit more than Aluminium and the luster looks a bit like a mix of steel and white gold.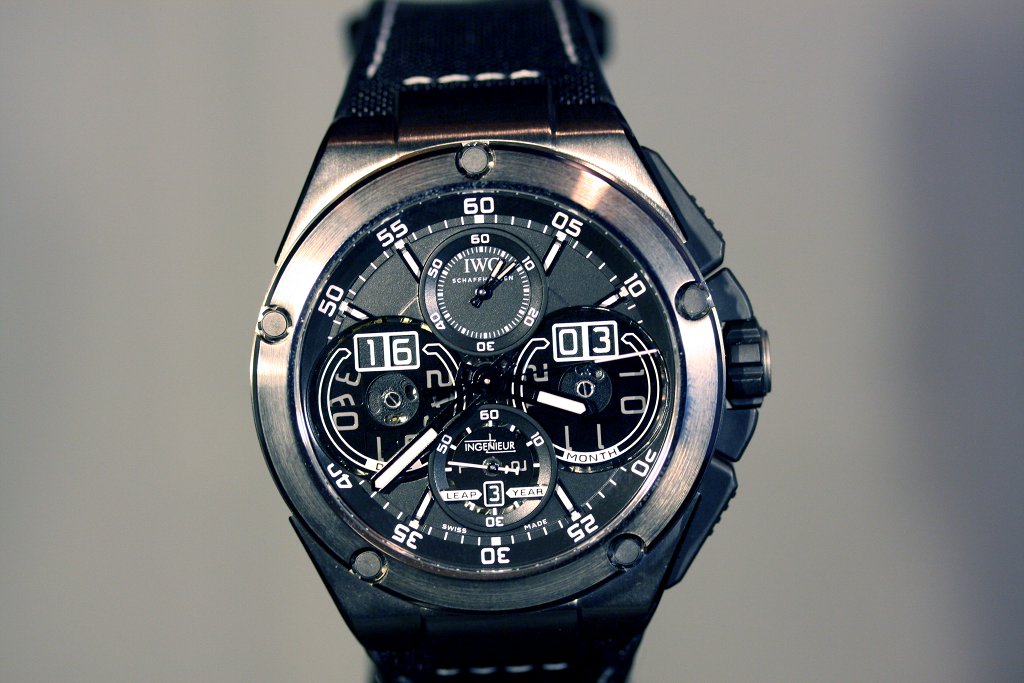 (picture taken at another event earlier this year)
This very complicated watch is really special and pictures don't do it justice. If you ever have the chance to see one in real life, take it and you will be surprised in how good it looks, how light it is and how well it sits on your wrist.
Another material used for watch cases is Carbon fiber. The way IWC makes the cases guarantees that all fibers line up perfectly. This makes these cases extremely difficult to manufacture and that's why they are only produced in a limited series.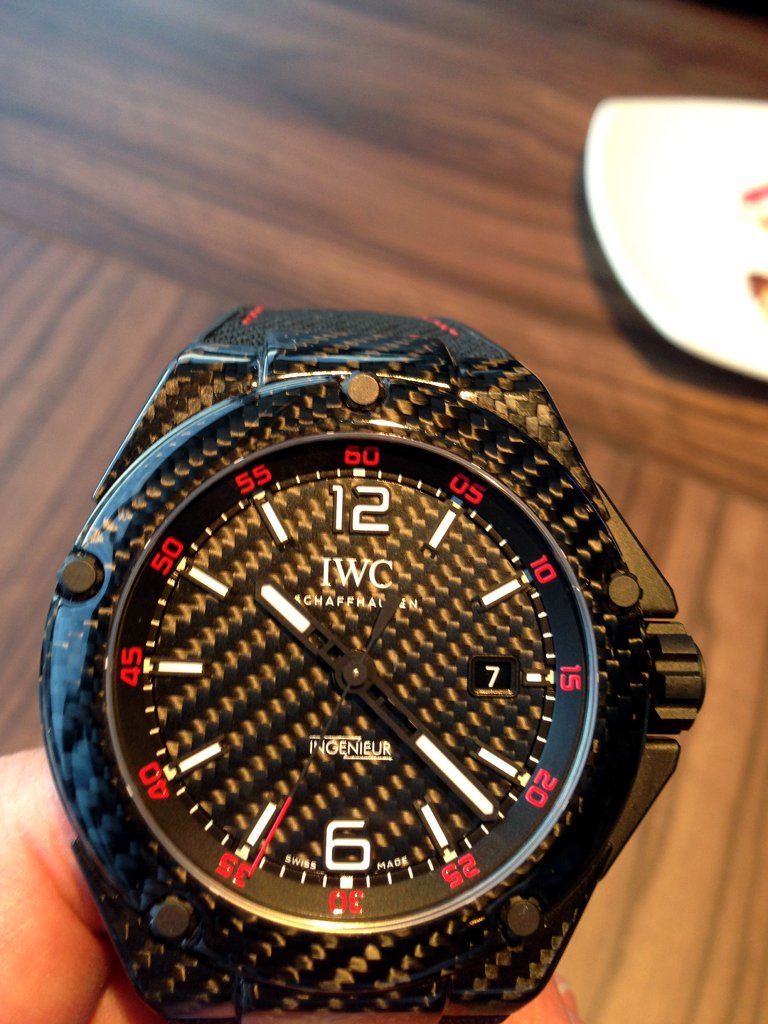 After this very informative session, we went back to the room where we started and had a wonderful meal. As usual, we discussed watches and several of the collectors brought some other pieces too. It didn't take long to get some of the watches together.
The Pilot's watches present at this event, after all, we were 'flying low' on the race track as one of the Collectors pointed out: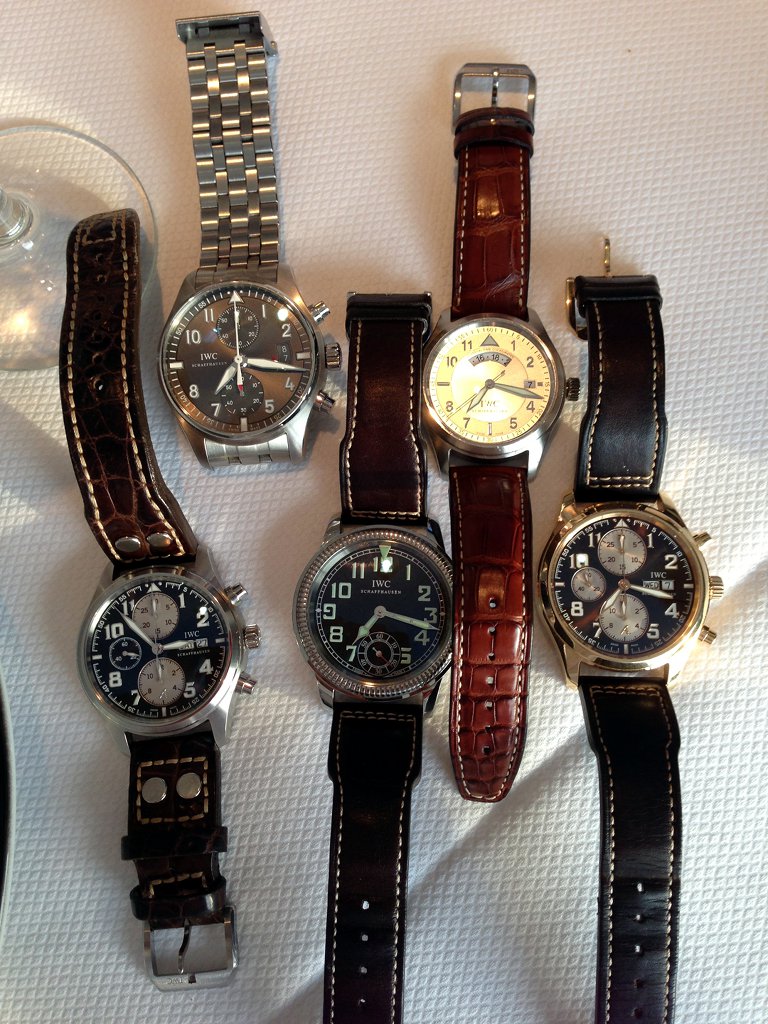 A few other watches join the club: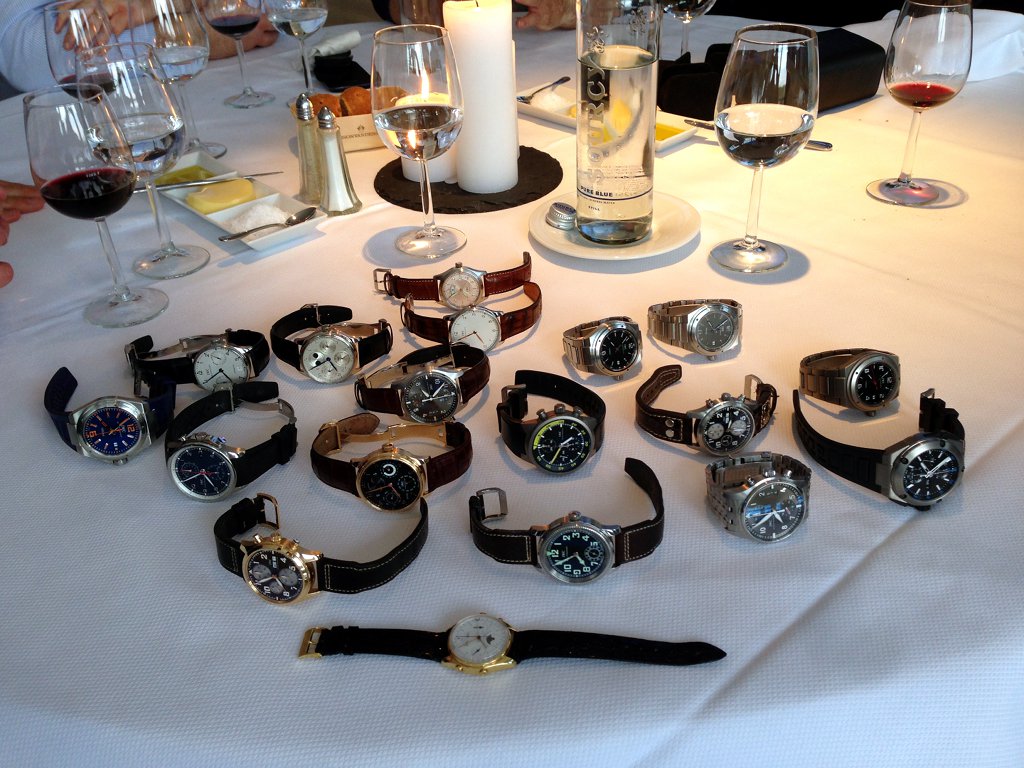 People started to wonder what was happening and stopped by to take a few pictures also: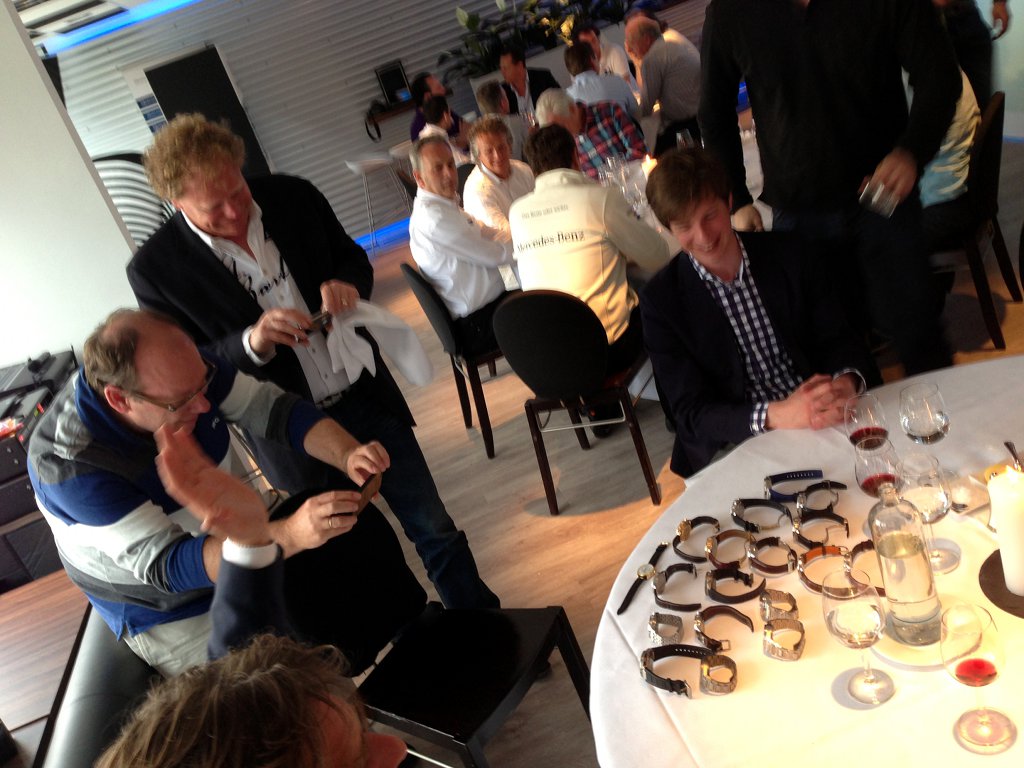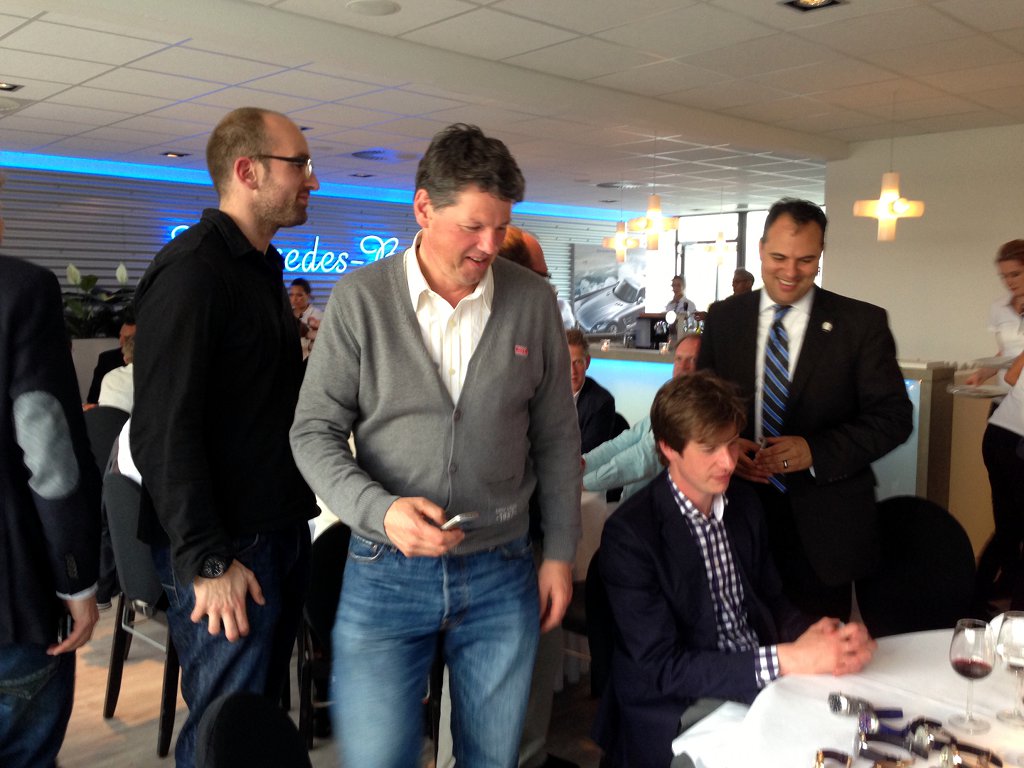 And finally, a whole lot more watches turned up, resulting in this impressive collection: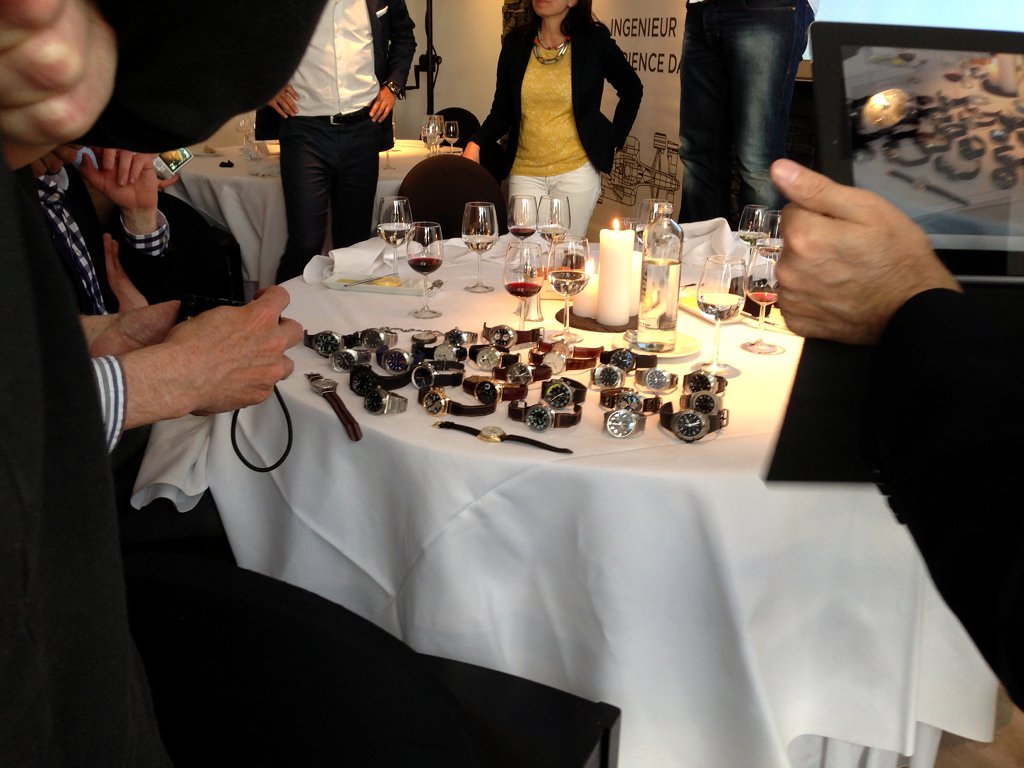 After dinner, we still had some time left so I took a few pictures of more watches:
Spitfire Chrono: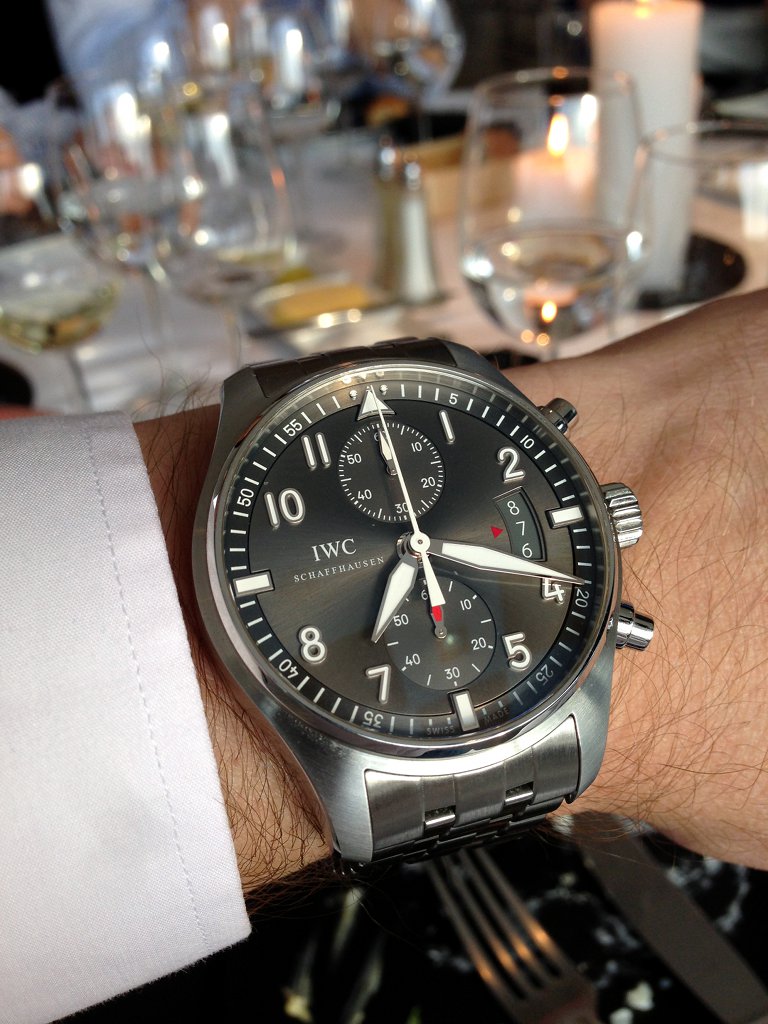 Portuguese Pure Classic on Santoni strap: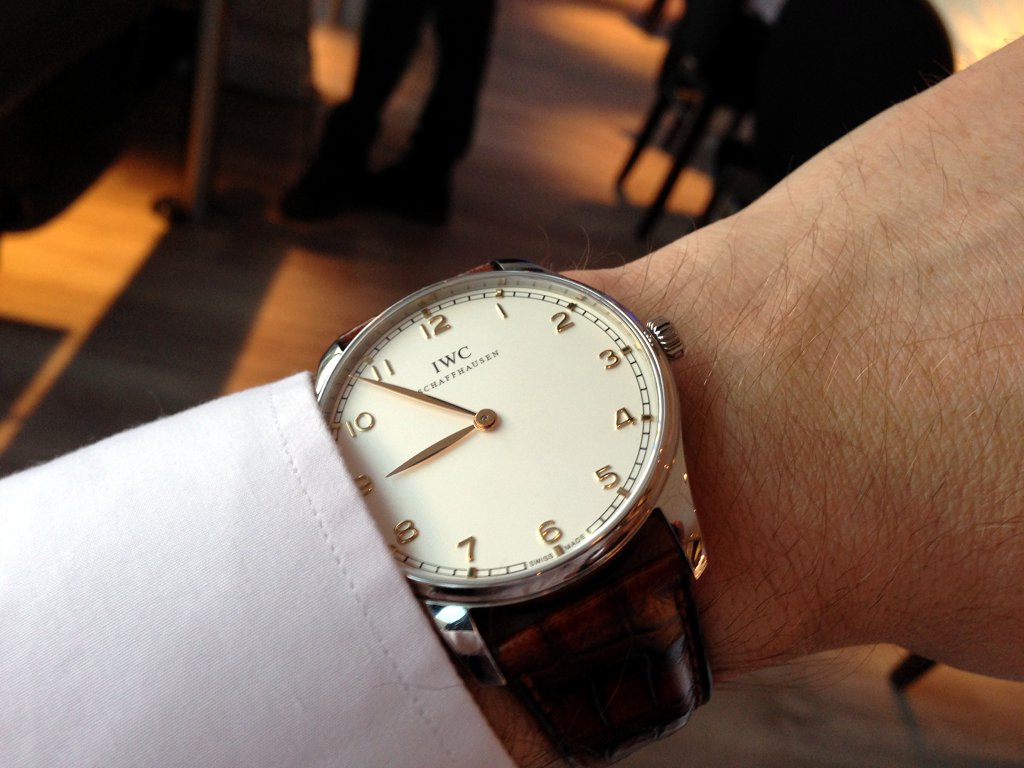 Ingenieur Double Chronograph: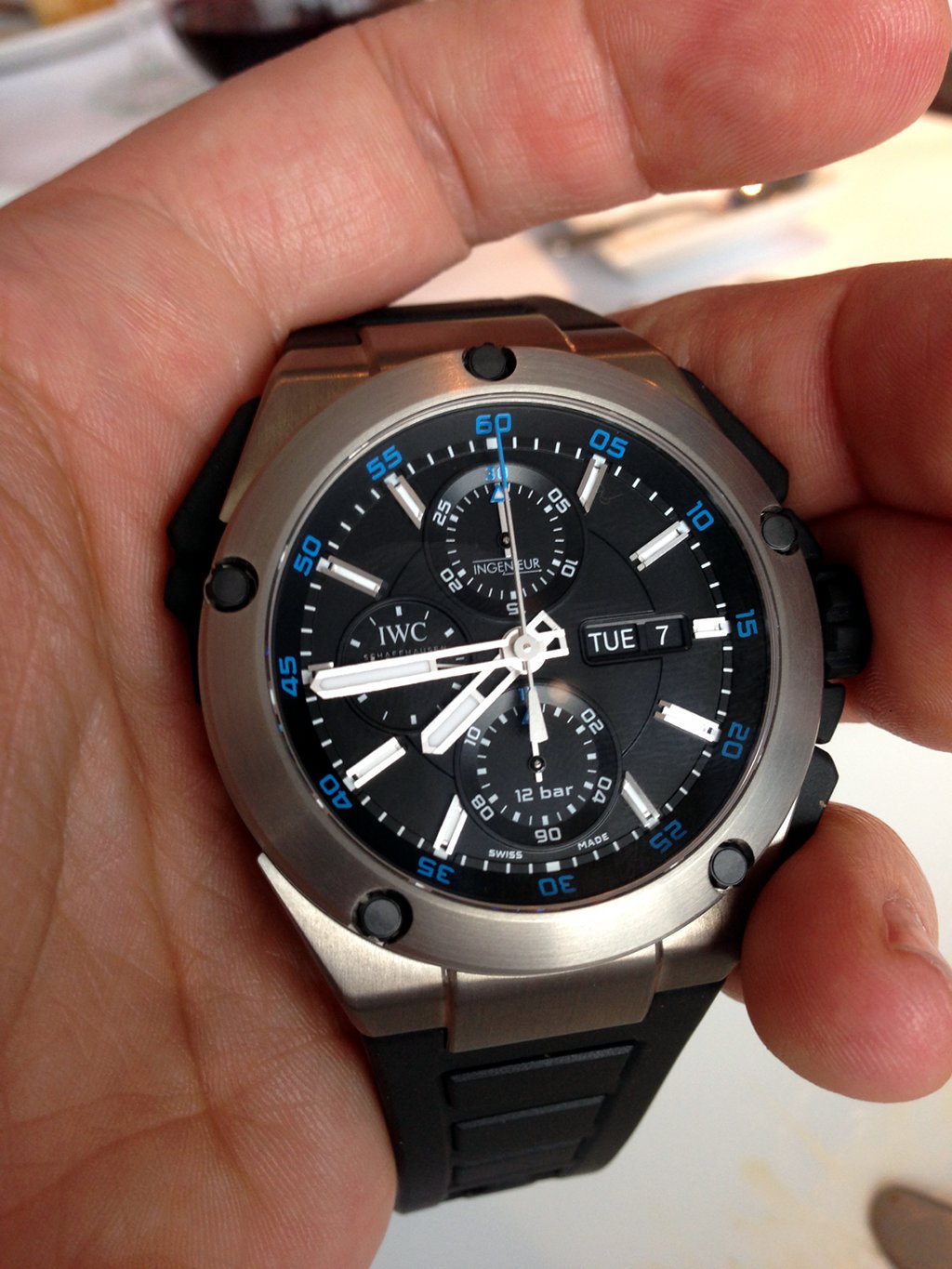 This brown dial Silberpfeil made a huge impression on me: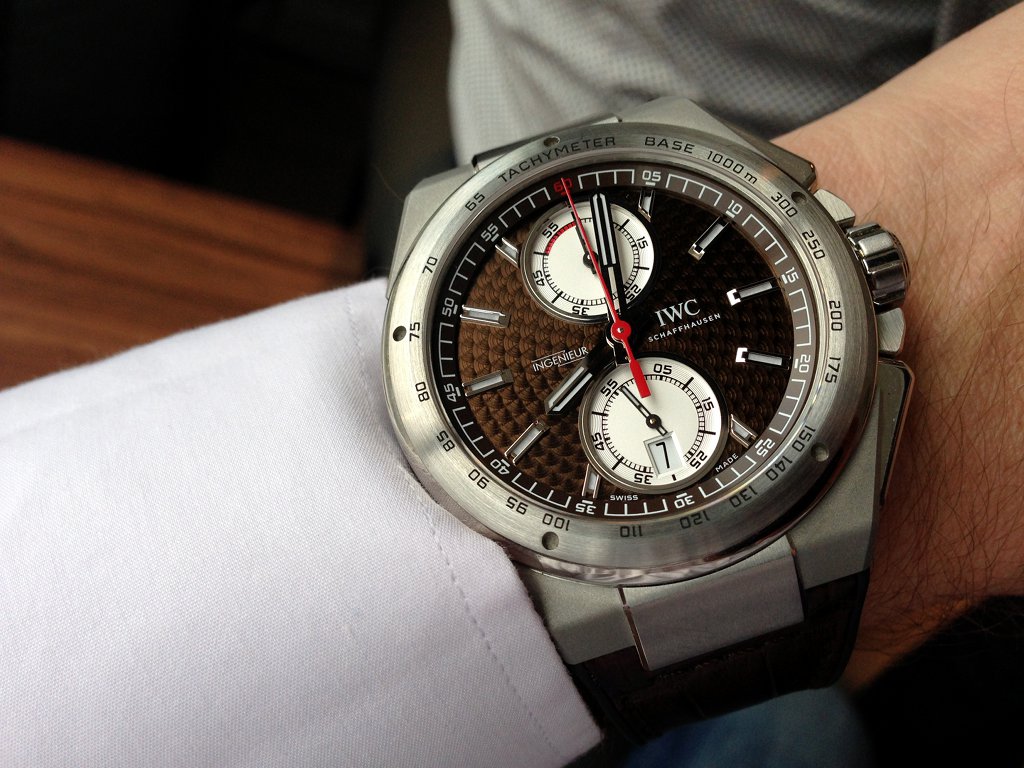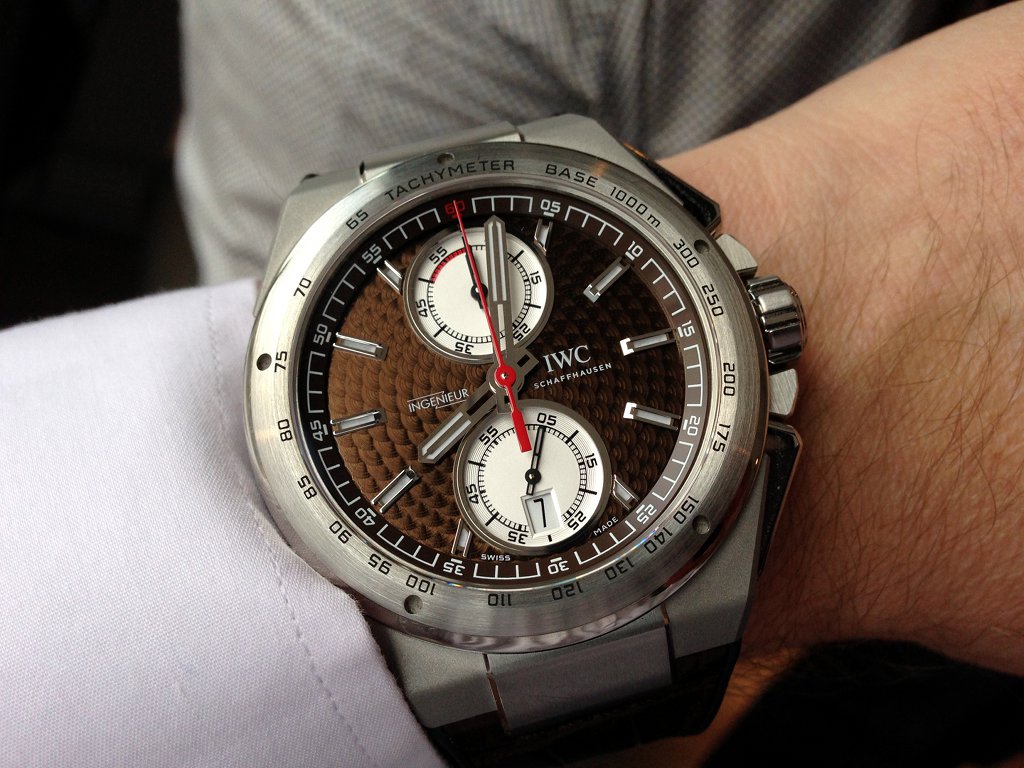 The Ingenieur 322702, the Titanium brother of mine: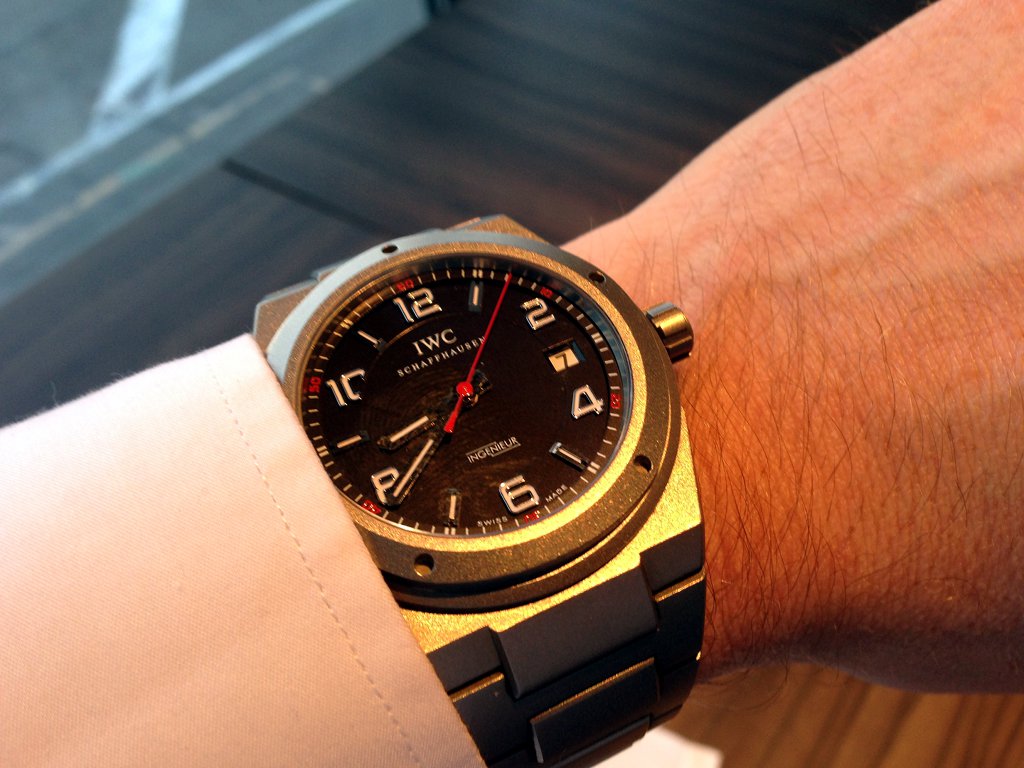 The new Ingenieur Chrono Racer: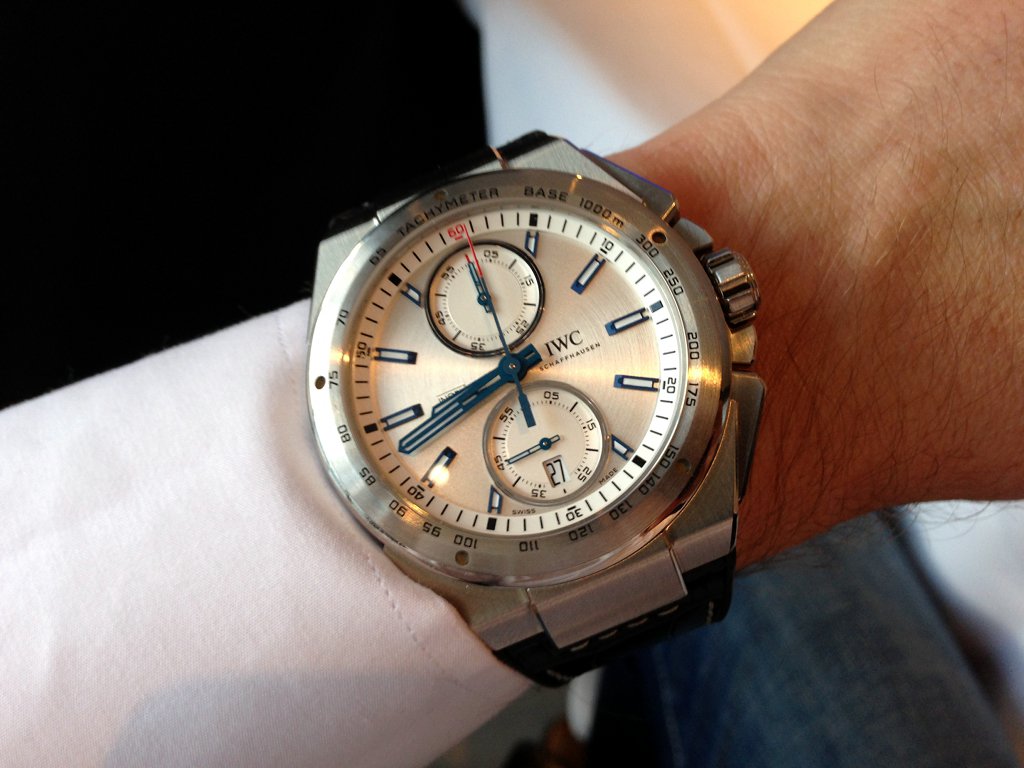 The silver dial Silberpfeil, sorry for the blurry picture: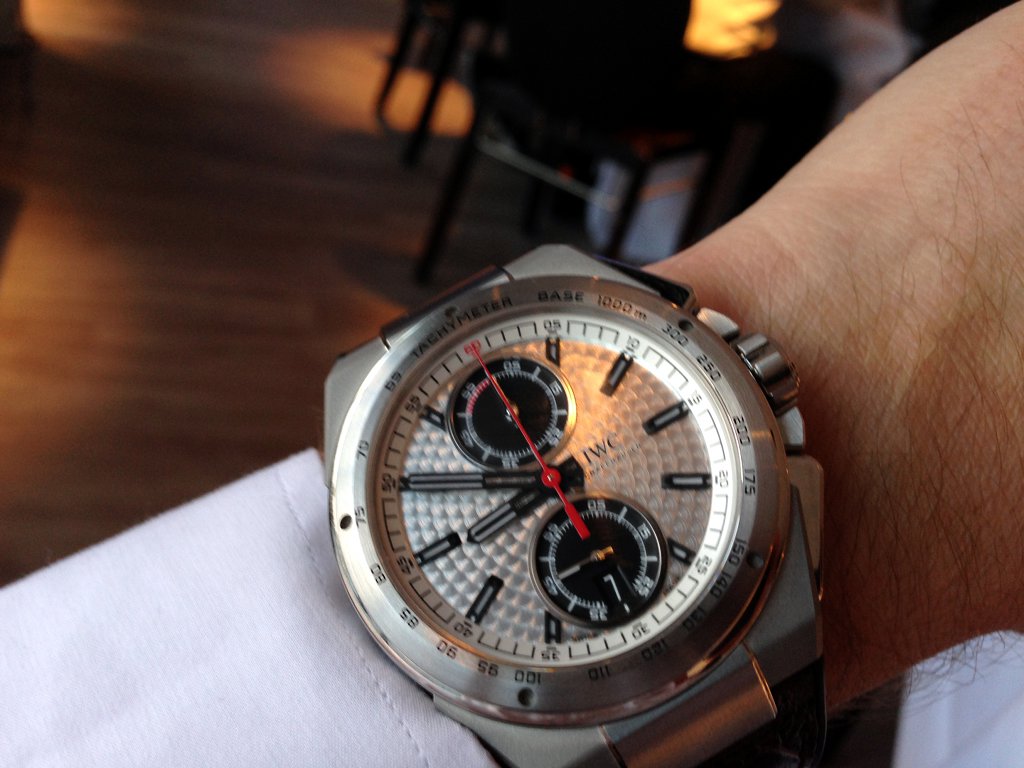 The Ingenieur Automatic AMG Black Series Ceramic with brown dial: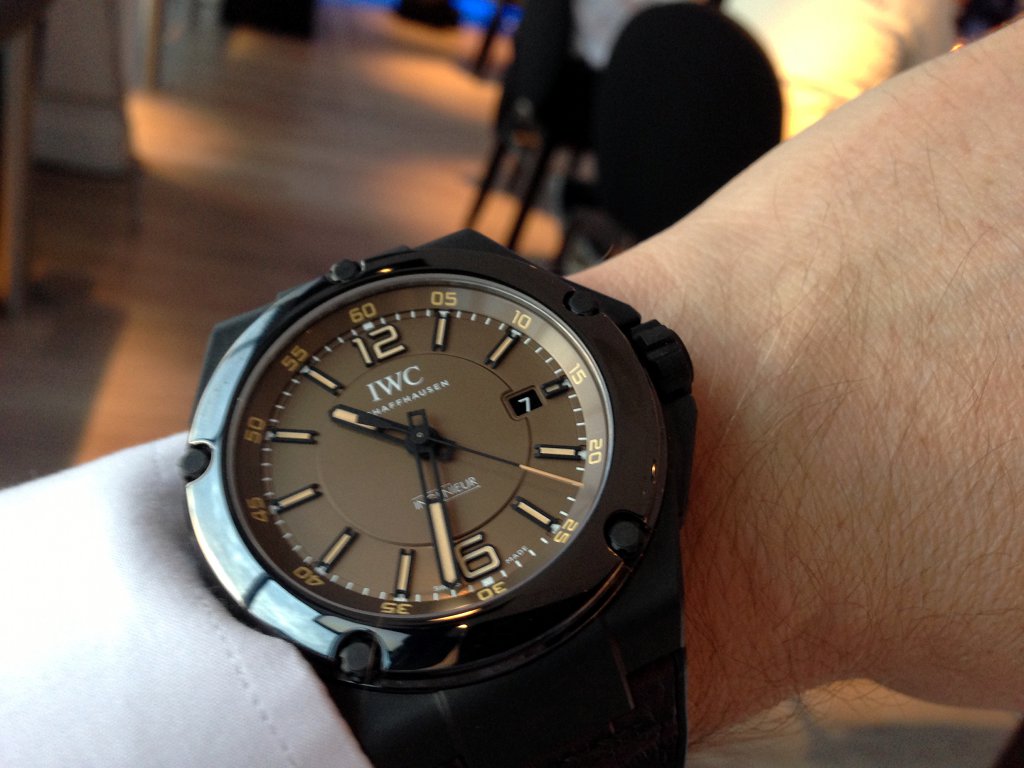 The Ingenieur Dual Time Titanium (pictures taken at another event):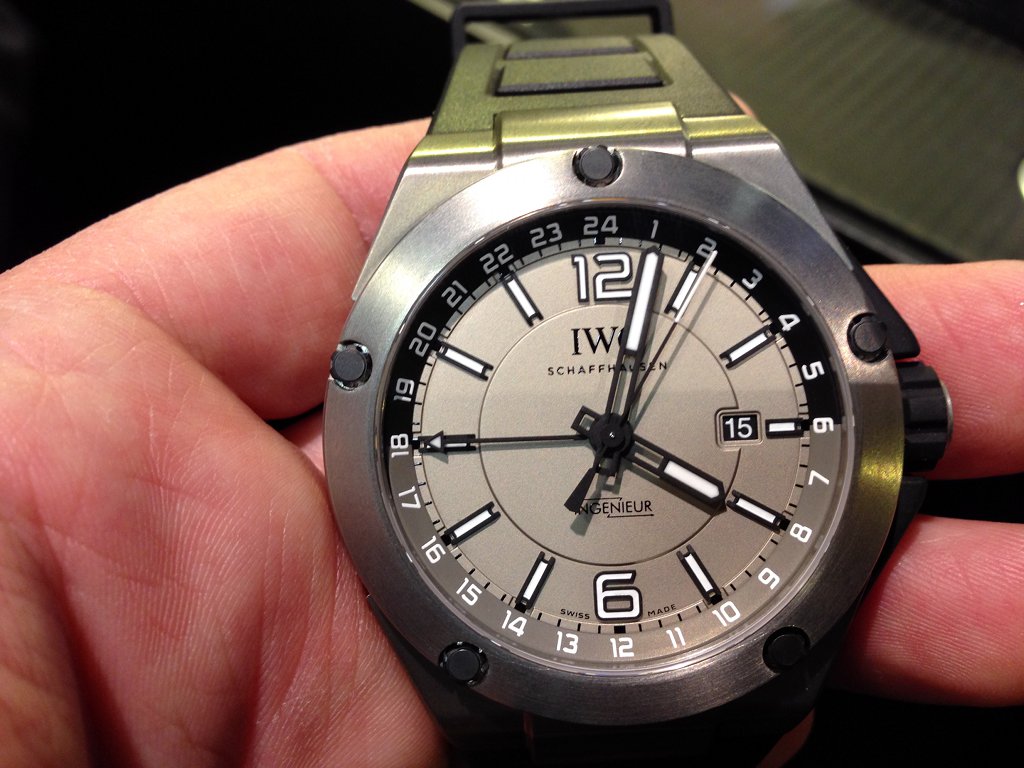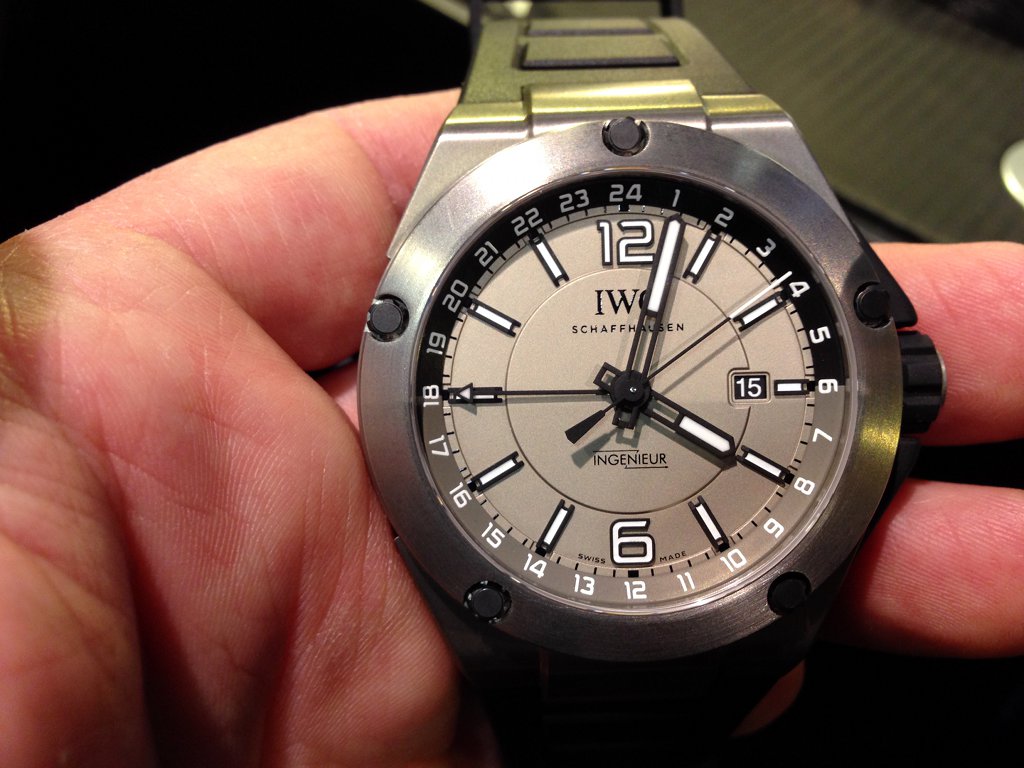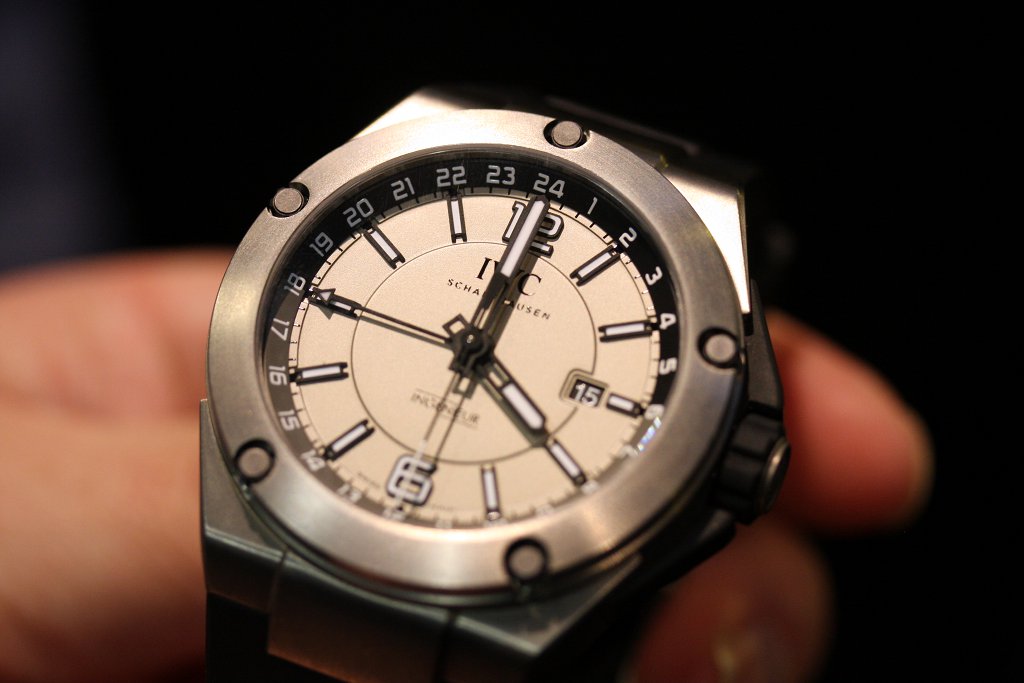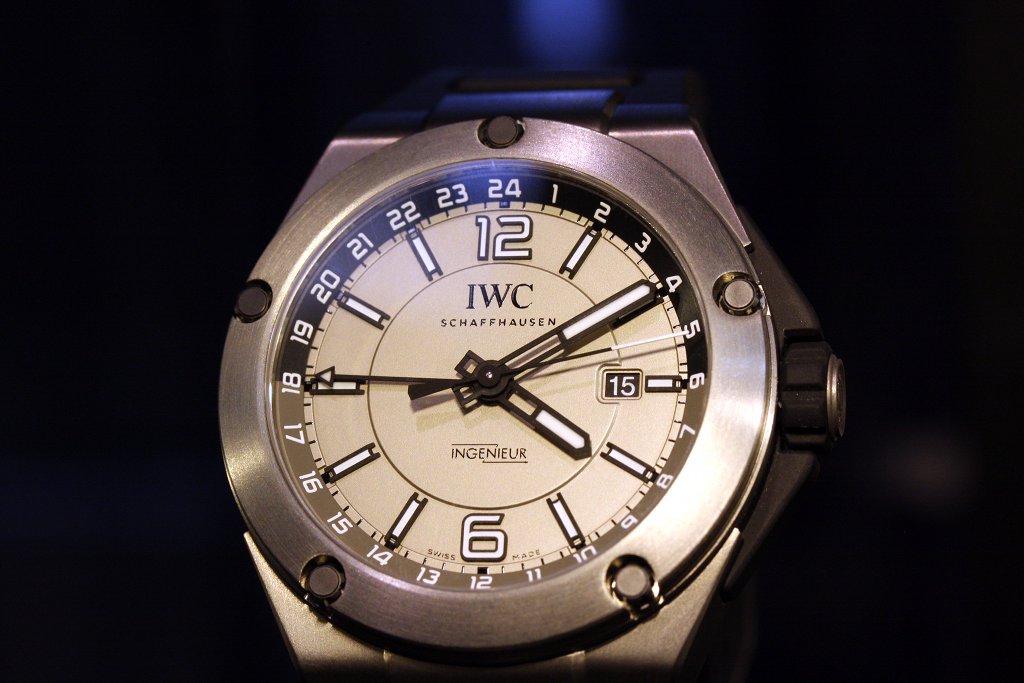 The new Ingenieur Automatic in 40 mm (picture taken at another event):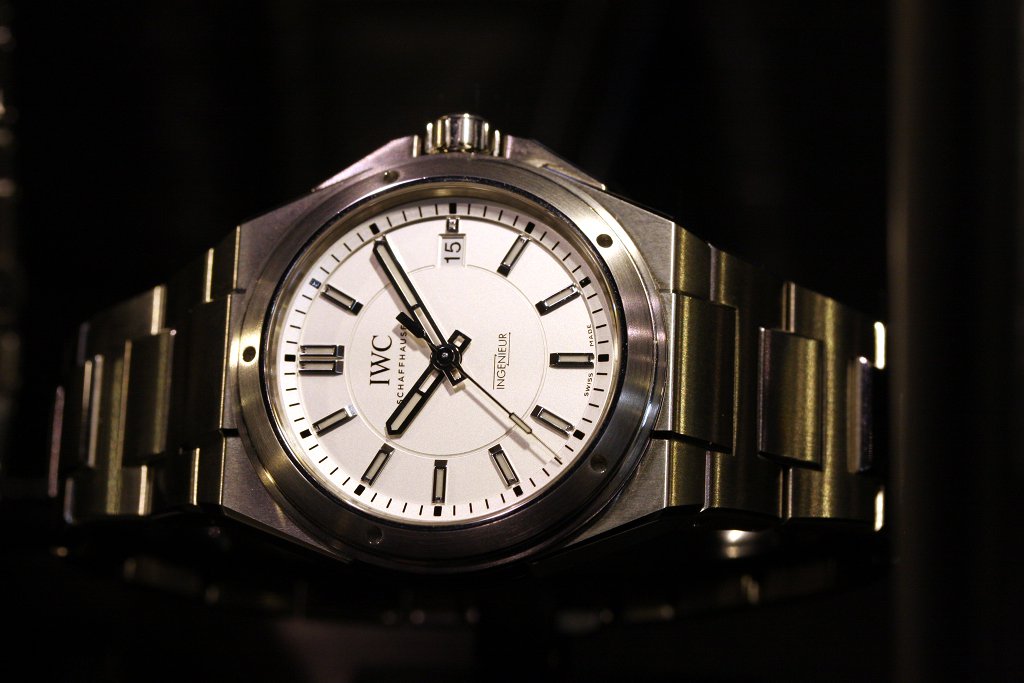 When Christian was looking at all the watches the collectors brought, he noticed a very special Portuguese Perpetual Calendar and after giving it a good look, he realized that he and a colleague, had built this series! When they built these movements, they had not seen the dials so they didn't know for whom they were built. This watch is one of a series of twenty built for the Italian jeweler Pisa. Apparently, this was the second small series of Portuguese Perpetuals, the first one was built for Bucherer.
Wrist shot of the Portuguese Perpetual Calendar for Pisa: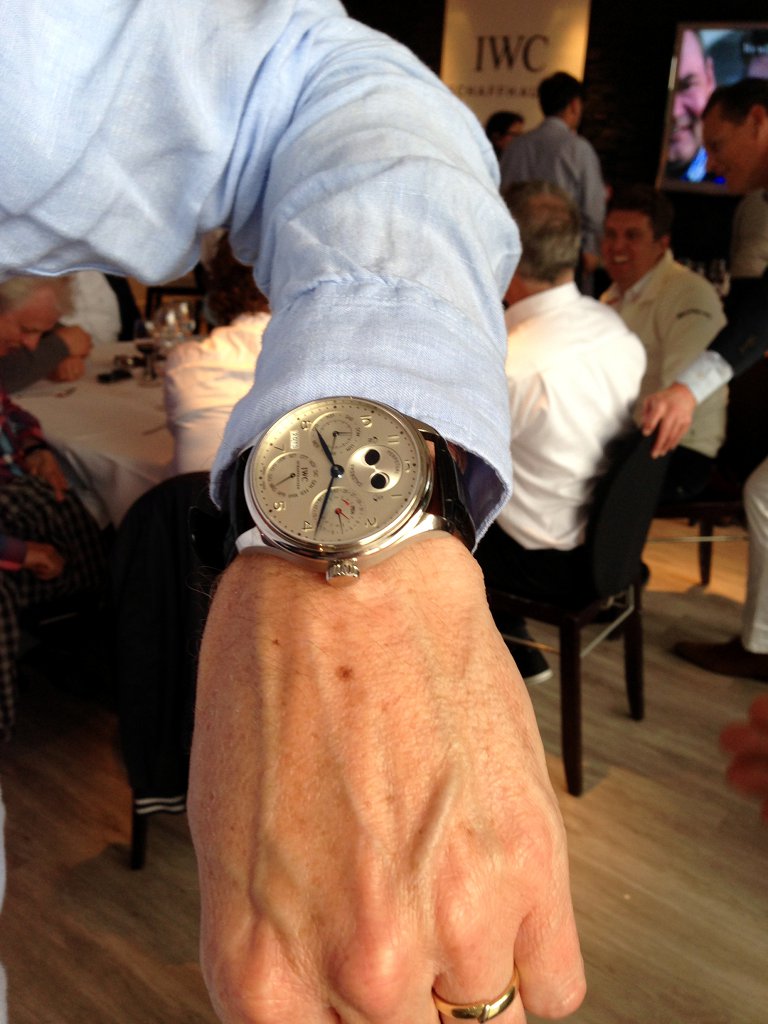 After a coffee and some more stories, it was time to leave. I want to thank IWC Benelux, Christian and Jan for making this a true Experience Day. IWC has done a great job with the new Ingenieur line and I am sure that we will see plenty of these watches around on the watch Forums we visit.
Kind regards,
Cinq